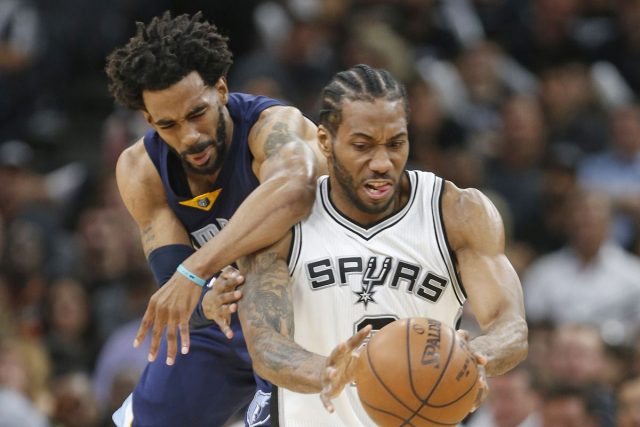 Public Money Moving Spurs-Grizzlies Line in Game 6
The Memphis Grizzlies (45-42 SU, 43-44 ATS) will host the San Antonio Spurs (64-23 SU, 44-41 ATS) this evening in Game 6 of their first-round playoff series. The Spurs currently lead the series 3-2 but if history is any indication there will likely be a Game 7 as the home team has won all nine meetings this season. Despite this recent trend, most bettors aren't optimistic about the Grizzlies' chances of covering the spread, let alone winning the game.
After opening as 4-point road favorites at Bookmaker, the Spurs have received 76% of spread tickets and 80% of spread dollars. San Antonio has also received 58% of moneyline tickets and 53% of moneyline dollars, while receiving 70% of all parlay wagers. With the market steadily pounding the chalk, oddsmakers have been forced to adjust their number multiple times, eventually landing at the current line of Spurs -5.
[click image below to enlarge]
The Spurs were the second-most public team in the league during the regular season, trailing only the Golden State Warriors. The Spurs received at least 51% of spread tickets in 76 of 82 games, at least 60% of spread tickets in 61 of 82 games, and at least 70% of spread tickets in 36 of 82 games. In other words, this level of one-sided public betting is par for the course.
We constantly preach the importance of betting against the public and capitalizing on artificially inflates lines, but that's particularly true in these heavily bet playoff games where public money has an increased impact on the spread. In tonight's game, contrarian bettors have an excellent opportunity to buy low and back the Grizzlies after a double-digit loss in Game 5 on Tuesday.
Sports Insights has been tracking the percentage of tickets placed on each game since the start of the 2005 season, and we have certainly found positive results by using those trends to fade the public. Over the past 12 seasons, NBA playoff teams receiving at least 60% of spread tickets have gone just 215-243 ATS (46.9%).
These ticket percentages provide valuable information, but last January we started offering real money percentages, which reflect the percentage of total dollars wagered. This allowed bettors to easily monitor all the factors influencing line movement, and the early returns from fading the public using these money percentages have been incredibly profitable.
It's important to know which side is receiving the majority of tickets, but it's far more crucial to understand which side is receiving a majority of money since books are far more likely to adjust their lines if they have significant liability on one side. By waiting until public money has artificially inflated the line, bettors can often capitalize on public perception and find additional line value.
During the 2016-17 NBA season, teams receiving at least 75% of spread tickets went 51-63 ATS (44.7%) and teams receiving at least 75% of spread dollars went 87-141 ATS (38.2%). By simply fading every team receiving at least three-fourths of the money, $100/game bettors would have earned $4,717 this season!
There haven't been any profitable bet signals triggered on San Antonio, which indicates that one-sided public money is largely responsible for this one-point line move. Considering the past struggles of these public darlings, bettors may want to consider going against the grain and backing the Memphis Grizzlies in tonight's must-win game.
Sportsbook Insider Pro subscribers also have access to real-time odds, public betting trends, money percentages, bet signals (including steam moves and reverse line movement alerts), injury alerts, value meter, line watcher, line predictor, and many other unique features. Looking to try our service? Sign up now for a 4-day trial and start winning today!
Have any questions for the staff at Sports Insights? Make sure to utilize our live chat or call us directly at 877-838-2853.