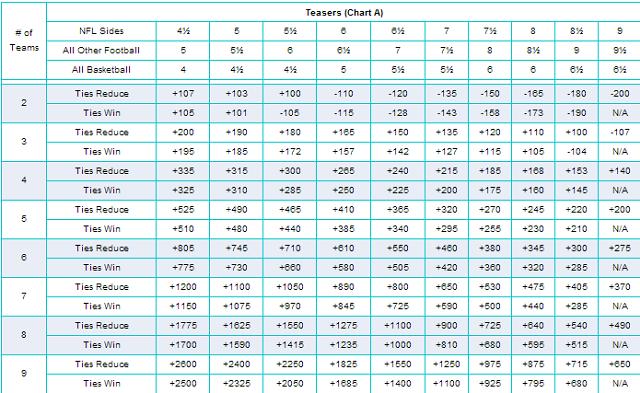 Parlays vs. Teasers: Which is the Better NFL Betting Strategy?
When dealing with favorites, we often get asked by our members whether teasers or parlaying moneylines provide the better payout.
For example, this week's NFL Wild Card Playoffs include Green Bay Packers (-7.5) vs. Minnesota Vikings and Baltimore Ravens (-7) vs. Indianapolis Colts.
By including Green Bay and Baltimore in a two-team, 7-point teaser, bettors are dropping the lines down to Green Bay at -0.5 and Baltimore at a pick.
Since the teaser above is essentially turning both teams' games into pick'ems, you can also parlay the two moneylines and get paid out for the same result.
So this begs the question, if you can place two unique wagers that both pay for the same result, which is the smarter option?
At Sportsbook.com, putting $100 on a two-team, 7-point teaser that includes the Packers and Ravens would pay $76.92 if both teams win.
Conversely, a $100 parlay including the two moneylines (Green Bay at -380 and Baltimore at -300) would only pay $68.42.
In this scenario, teasing instead of parlaying the moneylines results in a profit of $8 more, which is a significant amount when considering an initial wager of $100.
Please note that this is just one example of many potential combinations when attempting to compare the value of teasers vs. parlays and payouts will differ depending on sport, sportsbook, current odds, number of teams, etc.
And for the record, we're not necessarily endorsing this teaser as a play this week.
But if this scenario arises in your betting future, our goal is to encourage you to test both wager types in order to find the optimum payout and not leave money on the table.
Interested in live odds and parlay betting percentages this football season? Track them now for just $49!