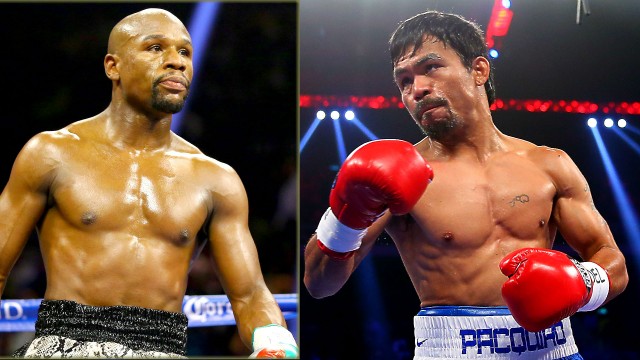 Opening Line Report: Manny Pacquiao vs. Floyd Mayweather
For years boxing fans and bettors alike have been clamoring for one marquee fight: 36-year old Manny Pacquiao (57-5-2) and 38-year old Floyd Mayweather (47-0). In fact, this fight has been rumored since 2010 when Pacquiao reportedly agreed to fight Mayweather, however, talks stalled due to disagreements over the Olympic-style drug testing.
Years passed with limited progress until December 12, 2014, when Mayweather finally suggested making this Fight of the Century happen, saying, "Let's make this fight happen for the people and for the fans. Mayweather versus Manny Pacquiao. May 2nd." This statement captured the attention of fans and oddsmakers with offshore Sportsbook.com posting the first odds for this potential fight.
In a hypothetical bout, @Sportsbook_com lists Floyd Mayweather as a -225 favorite over Manny Pacquiao (+175).

— SportsInsights.com (@SportsInsights) December 13, 2014
These hypothetical odds offered a stark contrast to earlier reports that Mayweather could open as large as a -400 favorite:
Hypothetical @FloydMayweather vs. @MannyPacquiao Odds Mayweather: -400 Pacquiao: +300 Draw: +2200 — SportsInsights.com (@SportsInsights) October 11, 2014
On January 13, 2015, Pacquiao finally agreed to terms for the fight although the terms were not finalized until February 20th. At the Westgate sportsbook in Las Vegas, Mayweather opened as a -275 favorite with Pacquiao listed at +235. Despite Mayweather boasting an undefeated record, bettors quickly hammered Pacman.
Floyd-Manny update from @golfodds at the Westgate: 90% of tickets on Pacman Multiple limit bets on Pacman ($10K) Floyd down to -240 — Joe Fortenbaugh (@JoeFortenbaugh) February 23, 2015
For those who are unfamiliar, Jeff Sherman is the assistant manager at the Westgate sportsbook and tweets under the handle @Golfodds. With numerous bettors laying max bets on Pacquiao, Mayweather's price slipped 35-cents from -275 to -240. It's interesting to note that early offshore action mirrored what was observed in Vegas.
BetOnline, another very pubic sportsbook, has taken 78% of early bets on Pacquiao. This one-sided public betting has already moved Mayweather's price 95-cents from -330 to -235. 
Mayweather down to -235 (opened -330). 78% of the early bets are on Pac Man (currently +200). http://t.co/3wo2QEKp9x — Dave Mason (@DaveMasonBOL) February 23, 2015
Watching this fight is a lot like sleeping with Cameron Diaz. Sure it may have been preferable five years ago when these fighters were still in their prime, but it's tough to complain. According to ESPN's David Payne Purdum, Las Vegas sportsbooks anticipate a handle of at least $30 million while John Avello, the sportsbook director at the Wynn, believes this will be the largest fight of his long career.
This fight could potentially generate revenues comparable to the Super Bowl — something practically unheard of for a boxing match. According to early reports, the average ticket price for Mayweather vs. Pacquiao ($10,506.41) is actually slightly higher than the average ticket price for Super Bowl XLIX ($10,466.11).
In an article published on Covers, the Vice President of Race and Sports for MGM Properties, Jay Rood, was quoted as saying, "I would anticipate some sizable wagers on this one. Some million dollar wagers – hopefully coming to us. That's what I envision. Fight night limits are negotiable for our established players. We'll see where we sit in the fight and if we need to position ourselves to fade some liability."
We will continue to monitor these odds as the fight approaches, but it will be interesting to see whether or not there is buyback on Floyd Mayweather. Pacquiao appears to be the more popular of the two fighters which could explain why he is receiving the majority of the early bets. It could also be that bettors expect the fight to be close and will just take the plus money on a perceived live dog. However, as sportsbooks increase their limits and start taking 6 to 7-figure bets, which boxer will the real sharps be taking?
Please leave your thoughts in the comment section below.
David Solar is the Content Manager at Sports Insights and can be reached directly at david@sportsinsights.com.