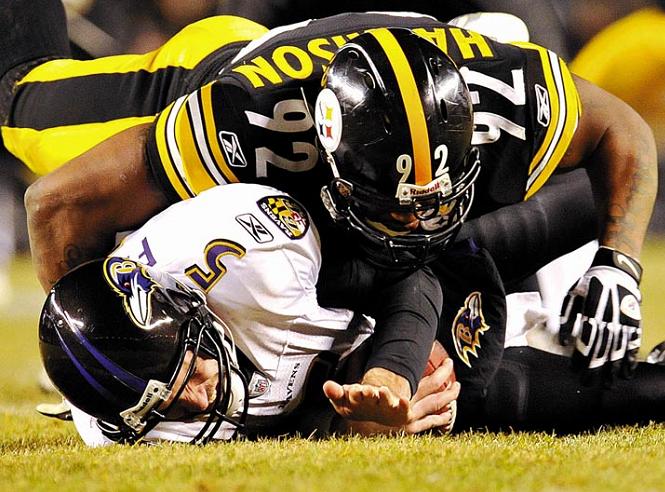 NFL Marketwatch – Baltimore Ravens at Pittsburgh Steelers
Welcome to the 2012-13 edition of NFL Marketwatch, where the team at Sports Insights gives sports fans unprecedented insight into the NFL point-spread market.
Every week we analyze the sports betting marketplace to pinpoint which games the public are chasing and which the sharps are pounding.
Overall Record: 2-3

The goal of this weekly column is to highlight games that offer true line value. Often if a line looks too good to be true, there is a reason. You'll occasionally need the worst teams on the board to come through. We typically buy on bad news and sell on good.
Baltimore Ravens (7-2) at Pittsburgh Steelers (6-3) – 11/18 at 8:25 p.m. ET
After receiving a thunderous beat down by the Houston Texans in Week 7, the Ravens quickly regained their footing on both sides of the ball, tallying 80 total points over their last two games. Leading the recent offensive onslaught was quarterback Joe Flacco, who passed for 341 yards and two touchdowns.
Pittsburgh enters this week's matchup with a record of 6-3, trailing only the Ravens by a game in the AFC North Standings. This season, staying healthy has been the Steelers' biggest challenge with quarterback Ben Roethlisberger going down as the latest victim with a rib injury that will keep him out of Sunday night's contest. In a sea of red and depleted field conditions, backup QB Byron Leftwich finished off the Chiefs in the second half with veteran game-management skills. In their last meeting against Baltimore in 2011, the Steelers limited All-Pro running back Ray Rice to 18 carries for 43 yards.
Pittsburgh opened as a 4-point favorite at The Greek before news broke of Roethlisberger's status for Sunday. The game was quickly pulled off the board across the betting marketplace before an adjusted line of -2.5 surfaced, favoring the Ravens. According to our NFL Betting Trends, the Ravens are receiving 78% of spread bets, 78% of moneyline bets and 79% of parlay wagers.
The table below shows a breakdown of the spread betting percentages from our seven contributing sportsbooks.
Teams

Sprtsbk

BetUs

Carib

Wager

5Dimes

SIA

CRIS

BAL
PIT
77%
23%
70%
30%
73%
27%
82%
18%
66%
34%
82%
18%
95%
5%
Generally, the public overreacts to injuries, especially to star-caliber players and this is exactly the case with this matchup. It is interesting to note that this game fits into our much discussed 80/20 betting rule.
The chart below shows the changes in spread betting percentages and line movement since this game opened at The Greek.

With that in mind, we encourage you to shop for the best line, fade the public, and take the home dog in this AFC North showdown.
Game to Watch:
Pittsburgh Steelers +4 (Sports Interaction)
It should be another exciting week of NFL Football action. Keep Marketwatch handy and your browser pointed to SportsInsights.com for the latest real-time updates.
Enjoy the games!
Daniel Fabrizio
President
SportsInsights.com