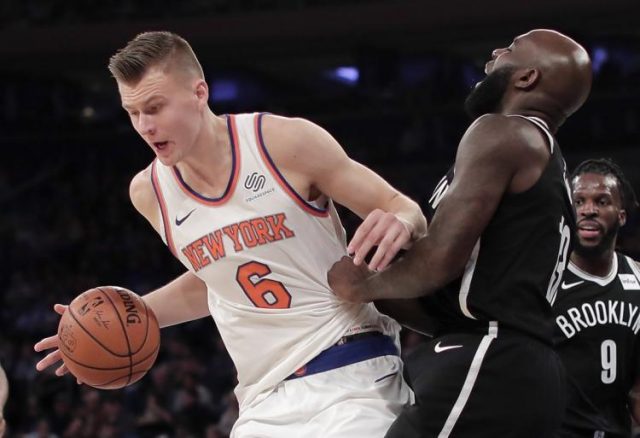 New York Basketball Teams Covering for Contrarians
The Knicks and the Nets…not exactly New York's finest if you ask me. Over the past three full seasons, they've gone a combined 159-333—a solid 32.3% win rate. Their combined win total from the oddsmakers for this year? 47.5.
Given their lackluster performance over the past few years and their low expectations for this season, the public just doesn't like betting on them. They don't bet on bad teams, it's just the nature of the beast.
Excluding the one game in which these two teams played each other, these teams have received the minority of bets 62.5% of the time and 30% or less 17.5% of the time. Across the league, there have been 62 instances of a team getting 30% or less this year and they are responsible for seven—nearly double their fair share if you were to take a league average.
That's not really my point, though. These Big Apple ballers have been covering like gang busters.
At 14-7, the Nets have been the fourth best ATS team this season and at 13-8, the Knicks are right behind them at number five. Once again, if you take out the game between the two, they've covered at a combined rate of 65%.
Contrarian situations are really where they have thrived, though. When getting less than half of spread bets, they've covered 68% of the time and when getting 30% or less, they've gone 6-1 ATS. This season, teams getting 30% or less have gone 46-37-4 ATS, but if you take out the Knicks and Nets, we see a much less impressive and hardly profitable 52.6% cover rate.
This hasn't been going on all season, though. These two teams sort of tread water for the first couple of weeks before bursting onto the betting scene this past month.

Last night, both teams won straight up, but Knicks fans are holding their collective breath right now.
Porzingis ankle injury doesn't look good pic.twitter.com/ep01IJ4Z6y

— Justin Phan (@jphanned) November 30, 2017
Knicks with the Unicorn: mediocre team. Knicks without the Unicorn: …………