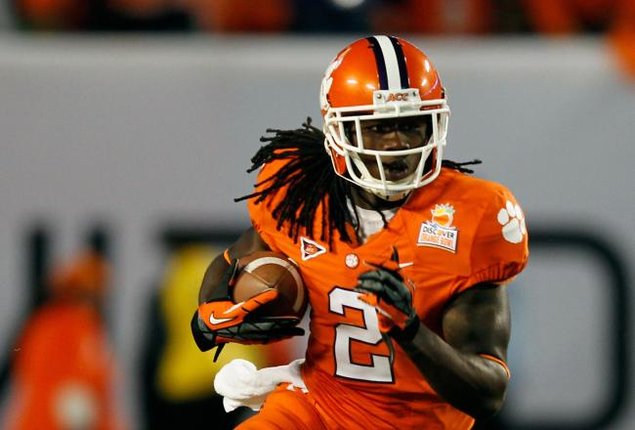 NCAA Football Marketwatch – Clemson at Boston College
Welcome to the 2012-13 edition of NCAA Football Marketwatch, where the team at Sports Insights gives sports fans unprecedented insight into the NCAA Football point-spread market.
Every week we analyze the sports betting marketplace to pinpoint which games the public is chasing and which the sharps are pounding.
Overall Record: 0-2
The goal of this weekly column is to highlight games that offer true line value. Often, if a line looks too good to be true, there is a reason. You'll occasionally need the worst teams on the board to come through. We typically buy on bad news and sell on good.
Boston College vs. Clemson (9/29 – 3:30 p.m. ET)
Holding a 31-21 lead midway through the third quarter, Clemson (3-1, 0-1 ACC) looked primed to knock off 4th-ranked Florida State and cement their status as one of the nation's premier teams. Unfortunately for Tigers fans, the Seminoles were able to run off 28 straight points en route to a 49-37 victory. This type of defensive collapse is nothing new for Coach Dabo Swinney's team. Last season in the Orange Bowl, Clemson gave up 595 total yards and 70 points in an embarrassing loss to West Virginia.
While Clemson's defense has been an area for concern, their offense is one of the most explosive and exciting in the country — in large part due to dynamic wide receiver Sammy Watkins. As a true freshman, the 6'1″ receiver was used in a variety of ways, hauling in 82 catches for 1219 yards with an additional 231 yards on the ground. The young playmaker was suspended for the first two games of the season after being arrested for marijuana possession, but Watkins has shown no signs of rust. In fact, last week against Florida State the sophomore showed off yet another weapon in his arsenal by throwing for a 52-yard score.
For Boston College (1-2, 0-1 ACC), this year's team looks far different than in years past. Typically known for their beefy offensive lines and an affinity for the ground game, the Eagles' offensive philosophy changed when RB Montel Harris (the school's all-time leading rusher) was dismissed from the team due to repeated violations of team rules. Without their top offensive weapon, even more of the offensive burden has been placed in the lap of quarterback Chase Rettig.
A third-year starter, Rettig has taken his game to a new level this season. Through three games, the junior signal caller leads the ACC in passing yards per game (317 ypg) and holds a 6:1 touchdown to interception ratio. Considering that last year's leading receiver, Bobby Swigert, is expected to make his season debut on Saturday, those numbers could continue to improve.
Clemson opened as a 10-point favorite at Pinnacle and is currently receiving an overwhelming 83% of spread wagers and 92% of parlay bets. Despite this heavily one-sided action, the line has actually dropped to -7, where it currently sits at most sportsbooks.
Thursday afternoon, news broke that Watkins would miss the game due to a virus, causing the most recent line move to 7. However, even with the key injury, the public has continued to pound Clemson, providing added contrarian value.
The table below shows a breakdown of the spread betting percentages from our six contributing sportsbooks.
Teams

Market %

Sprtsbk

BetUS

Carib

WagerWeb

5Dimes

SIA

CLEM
BC
83%
17%
80%
20%
82%
18%
93%
7%
86%
14%
58%
42%
95%
5%
Adding even more value to this game is the fact that a number of betting systems plays have been triggered, including a Smart Money Play on Boston College at BetUS (14-5, +8.29 units).
The line history chart below shows that the Eagles have been scarcely bet since the beginning of the week, yet we can see that the line dropped from 10 to 9.5 immediately, and eventually all the way down to 7.

Between the reverse line movement and one of our top Smart Money Moves, there is definitely value on the home underdog in this ACC rivalry.
Game to Watch (0-2)
Boston College +7
It should be another exciting week of NCAA Football action. Keep Marketwatch handy and your browser pointed to SportsInsights.com for the latest real-time updates.
Enjoy the games!
Daniel Fabrizio
President
SportsInsights.com