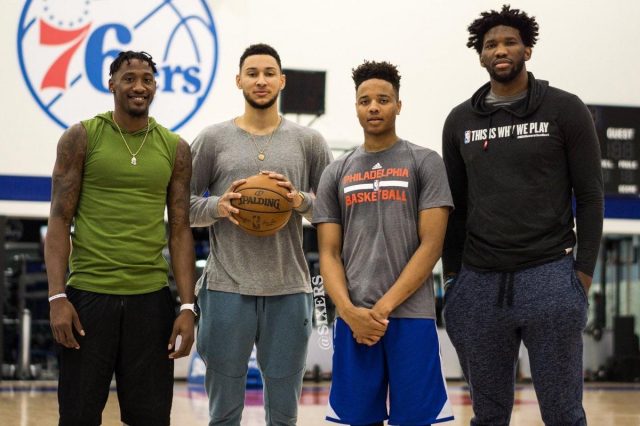 2017-18 NBA Playoff Odds
For a few weeks, a couple of offshore sportsbooks have been teasing us with NBA playoff odds for a limited number of teams. 5Dimes, for example, only offered odds for the Timberwolves, 76ers, Pelicans, and Lakers.
Odds to make the #NBA playoffs (5Dimes)#TWolves -850#Sixers -300#Pelicans +195#Lakers +1000

— Sports Insights (@SportsInsights) July 9, 2017
We now have odds for every team in the league from BetOnline. You can also see how each team's odds compare to their win totals.
Team
BetOnline (7/13)
Atlanta
Yes: +190
No: -240
Boston
Yes: -800
No: +500
Brooklyn
Yes: +2000
No: -8000
Charlotte
Yes: -175
No: +145
Chicago
Yes: +1000
No: -2000
Cleveland
Yes: -800
No: +500
Dallas
Yes: +400
No: -600
Denver
Yes: -230
No: +180
Detroit
Yes: -160
No: +130
Golden State
Yes: -10000
No: +2500
Houston
Yes: -1250
No: +700
Indiana
Yes: +300
No: -400
LA Clippers
Yes: -160
No: +130
LA Lakers
Yes: +1000
No: -2000
Memphis
Yes: +100
No: -130
Miami
Yes: -200
No: +160
Milwaukee
Yes: -300
No: +240
Minnesota
Yes: -500
No: +350
New Orleans
Yes: +135
No: -165
New York
Yes: +250
No: -325
Oklahoma City
Yes: -550
No: +375
Orlando
Yes: +190
No: -240
Philadelphia
Yes: -175
No: +145
Phoenix
Yes: +2000
No: -8000
Portland
Yes: +100
No: -130
Sacramento
Yes: +1400
No: -4000
San Antonio
Yes: -1000
No: +600
Toronto
Yes: -550
No: +375
Utah
Yes: +180
No: -240
Washington
Yes: -400
No: +300
I'm surprised that the Cavaliers and Celtics aren't closer to the Warriors, but I'm guessing the limits for these will keep your winnings to a minimum even if you want to max bet them.
There are a handful of teams that could be right around the #8 seed in their conference, with the playoff race in the western conference expected to be especially close. The first five teams are essentially locks, but there are six teams that follow whose implied probabilities range from 69.7% (Denver) to 35.7% (Utah). These teams with odds closer to an even payout on both sides are the ones that bettors can make some money on without taking a huge risk.
Depending on how you feel Anthony Davis and Demarcus Cousins will play together for a full year, there could be some value on New Orleans (Yes: +135). Personally, I don't love the pair, but some believe that the abundance of talent will eventually outweigh any chemistry or off-court issues.
The Eastern Conference doesn't have as large of a group of teams near the bubble, but the obvious story will be the 76ers. At -175 to make the playoffs, oddsmakers are clearly "trusting the process". Philly is bursting at the seems with potential, but the question is whether they will be good now or in a few years. They finished with 28 wins last season, but were a much better team with Joel Embiid on the floor. If he can stay healthy, the additions of Ben Simmons, Markelle Fultz, and JJ Redick should make them a dangerous foe even if there is a learning curve. I wouldn't be surprised if this number went into the -200 or higher range.
Check back over the offseason to see how the odds updates and analysis. Feel free to comment with any thoughts or questions below, on live chat, or via email at help@sportsinsights.com.