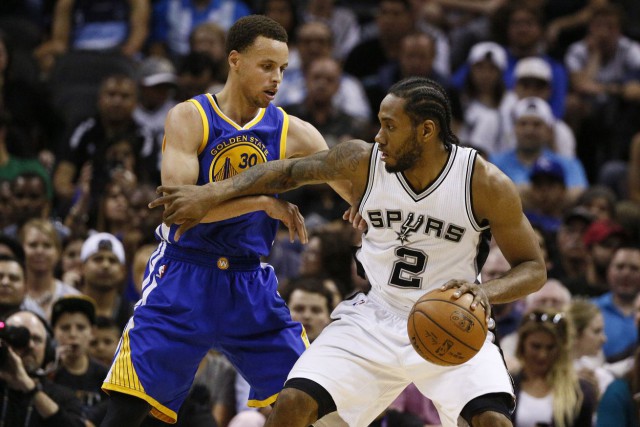 NBA Game of the Week: San Antonio Spurs at Golden State Warriors
All season long NBA fans have been captivated by the Warriors pursuit of history. After opening the season with 23 consecutive wins, people began to openly speculate about whether Golden State was capable of surpassing the 1995-96 Chicago Bulls who won 72 regular season games. This seems like a pipe dream until January 8th when oddsmakers listed the Warriors odds of winning at least 73 games at -115.
Those odds consistently improved, reaching -900 on March 31st when the Warriors improved to 68-7 on the season. However, after losing two of their last three games the Warriors odds of accomplishing this feat plummeted from -900 to +208. This was particularly surprising since both losses came at home, where Golden State had won 54 consecutive games.
Although oddsmakers no longer believe it's likely that Golden State will set the single season record for wins, the Warriors are still a heavy favorite to win the Western Conference (-175) and the NBA Championship (-135). That said, it's no longer a slam dunk that they'll even clinch the top seed in the West.
The Warriors still have two games against the Spurs and two games against the Grizzlies. If San Antonio wins both contests and Memphis manages to split their remaining games, the Spurs would actually have the tiebreaker and secure the number one overall seed.
It's amazing that after all these years; people continue to overlook the Spurs. San Antonio has gone 65-12 this season including a 39-0 record at home. For a quick historical context, entering this season there had only been three teams to win more than 65 games in a season:
1995-96 Chicago Bulls (72-10)
1996-97 Chicago Bulls (69-13)
1991-92 Chicago Bulls (67-15)
The Spurs are listed at +230 to win the Western Conference and +280 to win the NBA Championship. Tonight, they'll attempt to hand Golden State their third loss in the last four games and take the first step in potentially securing the top overall seed in the Western Conference.
The Warriors opened as 5-point favorites at the market-setting CRIS sportsbook and have received 67% of spread bets and 87% of total dollars wagered. The screenshot below displays the public betting trends at our contributing sportsbooks.

It's interesting to see that this one-sided public betting has moved the line from Golden State -5 to -7.5. This line stands in sharp contrast to the previous two meetings between these teams.
Golden State received 67% of spread bets as a 4.5-point home favorite. Warriors won 120-90.
Golden State received 69% of spread bets as a 4.5-point underdog. Spurs won 87-79.
You can see that the home favorite won and covered in each of their two previous matchups and that the Warriors received overwhelming public support in both games. On the surface this looks like an ideal time to take advantage of an artificially inflated line by taking the Spurs +7.5. This could be an excellent contrarian opportunity, but there are other factors to consider.
Spurs coach Gregg Popovich is notoriously unpredictable and has been known to rest his starters in late season games. However, star point guard Tony Parker believes that they'll be at full strength for tonight's game. "I think we'll play. Utah, I thought he was going to rest everybody. But we played Utah, so I don't see any reason we're not playing Golden State."
Assuming Kawhi Leonard, Tony Parker and Tim Duncan are active, there's a lot of reason to like the Spurs tonight. Using our Bet Labs software, we found that road underdogs receiving less than 35% of spread bets have gone 936-829 ATS (53%) with +64.81 units won and a 3.7% return on investment (ROI).
We have also found that underdogs have performed particularly well in conference games, as the familiarity between teams levels the playing field and disproportionately benefits the team getting points. As you can see, that simple addition causes our ROI to more than double.

In addition to this value on this value on the spread, there also appears to be value on the total. Since opening, 38% of bets and 98% of total dollars wagered have taken the under which has caused the total to drop from 212.5 to 209 at CRIS. Although we typically advocate betting against the public, this appears to be one of the rare instances where sharps and squares are on the same side.
Additionally, there has been a steam move triggered on Under 210 at Pinnacle. On the season, the Pinnacle O/U steam move has gone 327-266 (55.14%) with +20.1 units won which makes it the third most profitable NBA steam move this year.
The line graph below, which is available to Sportsbook Insider subscribers, displays how public betting has affected the total at CRIS.

Finally, there has been a highly profitable betting system which further indicates value on the under. Our past research found that the under has been very profitable when two élite teams face off.
Since 2005, the under has gone 704-618 (53.3%) with +52.29 units won in regular season games where both teams have a winning percentage of 60% of higher. In the final 25 games of the season when fatigue becomes a larger factor, this edge is magnified.

At the time of publication, it certainly appears that there is value on Under 209 and San Antonio +7.5. Obviously that would change dramatically if the Spurs decide to rest their key players, but that seems highly unlikely. The Spurs can still technically wrap up home court advantage throughout the playoffs, which is incredibly important since they haven't lost at the AT&T Center all season.
---
These numbers are subject to change before tip-off, so bettors should be sure to visit our free NBA odds page for the latest lines, injuries, public betting trends and more. We also would like to stress that the only picks we fully endorse are our Best Bets, which are available exclusively to Pro members.

Have any questions for the staff at Sports Insights? Utilize our live chat to speak with a customer service representative or e-mail us at help@sportsinsights.com.