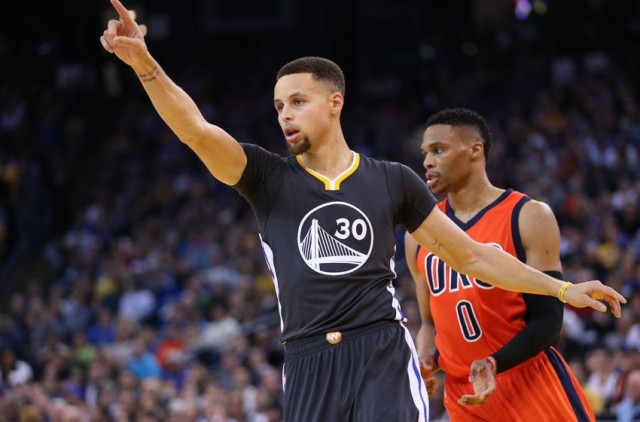 NBA Game of the Week: Oklahoma City Thunder at Golden State Warriors
Last Saturday the Golden State Warriors defeated the Oklahoma Thunder in arguably the most exciting game of the season. Oklahoma City led the game by 12-point lead early in the fourth quarter and clung to a comfortable 4-point lead with just 14.5 seconds remaining in the game. The Warriors answered with a quick layup, forced a turnover, and sank two free throws to force overtime.
The game remained tied until Stephen Curry launched a three-pointer from almost mid-court to give Golden State an improbable 121-118 victory. This last second shot helped the Warriors clinch a playoff berth, but more importantly it showed why bettors should always have access to multiple sportsbooks and always shop for the best line.
Golden State opened as 2-point favorites at Pinnacle and received 69% of spread bets at our seven contributing sportsbooks. This public support caused the line to move from Warriors -2 to -3.5. That means that bettors who took the Warriors early (-2) won on an unlikely cover, while bettors who waited until the last minute (-3.5) would have lost their bet.
It's worth noting that traditional thinking says that bettors should typically take favorites early and underdogs late. That's because the public overwhelmingly pounds favorites, which often times creates artificially inflated lines for the underdog. This is one of the hallmarks of our contrarian strategy.
---
After closing as 3.5-point road favorites in Saturday's game, we assumed that Golden State would open as an 8.5-point home favorite. Historically, home court advantage has been worth 2.5-points which means that the Warriors should hypothetically be -6 on a neutral court and -8.5 at home. That said, our research shows that home court advantage has been vastly overvalued by NBA bettors.
In fact, our hypothesis was correct and the Warriors opened as 8.5-point favorites at the market-setting CRIS sportsbook. However, less than an hour after opening the Warriors dropped from -8.5 to -7.5. This movement was caused by a steam move triggered on Oklahoma City, which caused the line to move across the sports betting marketplace.

As you can see from the line graph, sharp money pounded Oklahoma City almost immediately after the line opened at CRIS. You can also see that the line bounced back and forth before settling at 7.5.
At the time of publication, public betting has been fairly even with the Warriors receiving 52% of spread bets and 58% of total dollars wagered. The screenshot below, which is available to Sportsbook Insider subscribers, displays the public betting at our contributing sportsbooks:
This type of split public betting negates most of our contrarian strategies, but there are several profitable betting systems that point towards value on Oklahoma City — especially on the moneyline. Using our Bet Labs software, we found that elite teams have traditionally been undervalued when they're an underdog in the midst of a prolonged road trip.
We have typically defined "elite" teams as having a winning percentage of 65% or higher. At the time of publication there were six teams fitting that criteria: Golden State (91.5%), San Antonio (85.0%), Cleveland (71.2%), Oklahoma City (68.9%), Toronto (67.8%) and LA Clippers (66.7%).
It's rare that bettors will be able to get these high caliber teams at plus money, which makes this such an interesting opportunity. Although these elite teams have gone just 273-396 (40.8%), bettors would have earned +84.63 units with an impressive 12.7% return on investment (ROI).

Golden State has only lost five times this season, but being a contrarian bettor means constantly taking unpopular viewpoints. In this instance, it means taking the Thunder moneyline (+265 at CRIS).
We should also note that there has been some fascinating line movement on the total. The over/under for tonight's game opened at 233, which was the closing total for their previous matchup. It was also the highest closing total in nearly six years (first total of 233+ since April 2, 2010).
In early action, 66% of bettors and 93% of total dollars pounded the under, which caused the total to drop from 233 to 228.5 at CRIS. It's very rare to see a 4.5-point line move and it's even more bizarre to see overwhelming public support on the under. We believed that this massive overreaction could have created value on the over, and our historical analysis confirmed that theory.
Since 2005, the over has gone 219-168 (56.6%) with +42.67 units won when the total drops at least 4.5-points from open to close.

---
These numbers are subject to change before kickoff, so bettors should be sure to visit our free NBA odds page for the latest lines, injuries, public betting trends and more.

Have any questions for the staff at Sports Insights? Utilize our live chat to speak with a customer service representative or e-mail us at help@sportsinsights.com.
David Solar is the Content Manager for Sports Insights and can be reached directly at David@sportsinsights.com.