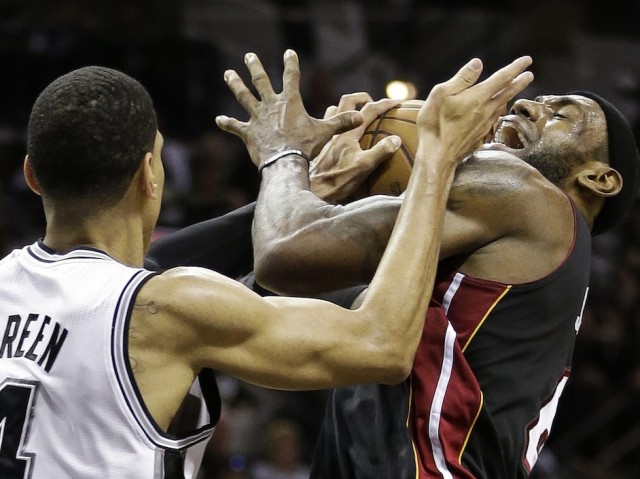 NBA Finals Game 6: Where is the Sharp Money Falling?
Following the Spurs' surprising 114-104 victory in Game 5, the supposedly unbeatable Miami Heat find themselves fighting to stave off elimination. However with back-to-back home games, the Heat are actually still -130 series favorites — using our consensus line — at the time of publication. Considering Miami's 37-4 home record during the regular season, it's easy to see why oddsmakers have so much faith in the defending champs.
Game 6 Betting Trends
Miami opened as a 7-point favorite and, according to our NBA Finals Betting trends, are currently receiving just 44% of spread bets and 47% of moneyline wagers. Even with bettors evenly split, a majority of sportsbooks have moved their line to Miami -6.5.
With balanced public betting, limited line movement and no betting systems triggered, it doesn't look like sharp money has taken a side on tonight's spread. However, there does appear to be some value on the total.
Tonight's total opened at 191.5 at CRIS and currently 66% of bettors have taken the over. Despite that heavily one-sided public betting, the total has actually dropped a half-point to 191. This reverse line movement is a strong indicator of sharp money, but it's not the only data supporting the under. In fact, almost two weeks ago we detailed a highly profitable NBA Finals betting system focusing on reverse line movement on the under.
All Sportsbook Insider subscribers have access to the information dashboard — a one-stop source for all of your sports betting needs. Here users can see the betting percentages at each of our contributing sportsbooks, view line graphs, value ratings, key injuries, betting systems and officials. In fact, it's that last piece of information that is particularly interesting to bettors.
As you can see in the screenshot below, two of tonight's refs (Ken Mauer and Mike Callahan) have been money for under bettors, while the third (the infamous Joey Crawford) can be qualified as neutral.
(Click image to enlarge)

Should I bet the Series Price?
We've received multiple questions regarding whether or not to bet the series price or the individual game price for the remainder of the series. Right now the consensus series price for the Heat is -130, which means a $100 bet would yield a $77 profit. However, you could also potentially take the Heat moneyline for the next two games, rolling over your game 6 winnings into your game 7 bet.
The Heat are currently -310 favorites for tonight's game, which means a $100 bet would yield a $32 profit. If we assume that the line would be the same for game 7 (and considering both games are being played in Miami that seems like a fair assumption) then a Miami backer could bet $132 on the Heat at -310. This would result in a $43 profit for Game 7 and a $75 profit overall.
Of course, bettors could find better prices for both the moneyline and series prices by shopping for the best line, but this basic analysis shows that it's actually slightly more profitable to bet the series price than rolling over your moneyline bet.
Who do you like in this evening's matchup? Can San Antonio end the series tonight — or at least cover the spread? Leave your thoughts and predictions in the section below.