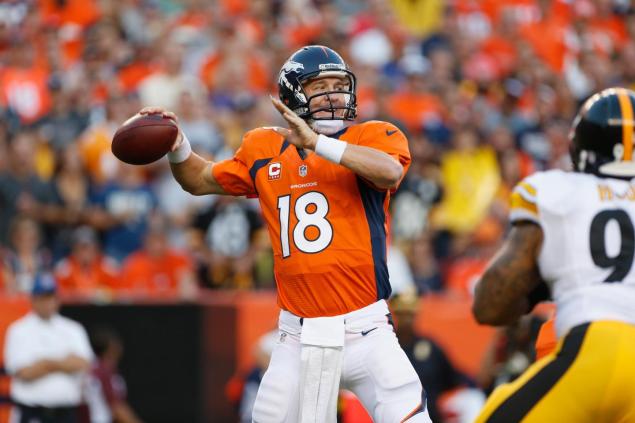 Monday Night Football: Breaking Down the Prop Bets
Peyton Manning. Matt Ryan. Enough said. Tonight in Atlanta, two of the NFL's best quarterbacks will square off in what should be a thrilling matchup on the league's brightest stage. Both teams made the postseason a year ago, but many questions remain about whether they are legitimate Super Bowl contenders.
For the Broncos, it looks like Manning has quickly found his old form — but can he remain healthy following multiple neck surgeries? Meanwhile, Atlanta has posted a winning record every season since drafting Matty Ice with the third overall pick in the 2008 NFL draft; however, the team has failed to win a playoff game during that time. Can they overcome these past disappointments? Tonight offers a unique opportunity for either team to cement their status as one of the Super Bowl front runners.
A survey of the marketplace shows that most sportsbooks have the Falcons listed as 3-point home favorites, but what type of individual performances can we expect? By examining the available Prop bets at both Bovada and Sportsbook.com, we can determine which players are expected to shine in tonight's game. Perhaps equally important, we can help give fantasy owners some insight into their players point projections in this final game of week 2.
Will Either Team Score in the First 6 Minutes of the Game?
Many times, viewers will switch off the television if there isn't a quick score to keep their attention. Well, if oddsmakers are right you shouldn't be waiting very long. With -135 on "Yes" and +105 on "No," sportbook.com has essentially estimated that there is a 54.5% chance that we'll see points on the board before the nine minute mark in the first.
Total Receiving Yards for Willis McGahee – Over/Under 4.5
McGahee has never been known for his receiving prowess (last season he had just 12 catches for 51 yards), which helps to explain why his expected receiving output is so low. Despite playing with a quarterback who loves checking down to his receivers, McGahee is barely expected to haul in one ball tonight. In fact, one of the available prop bets at Bovada gives the former Hurricane an over/under of 1/2 receptions with the juice (-150) coming on the over. That means technically you could take under 1/2 reception at +120, over 4.5 yards (-115) and pray that he doesn't finish with one reception for under four yards. That is not a recommendation, but it is certainly interesting to see available props at such low numbers.
Total Receiving Yards for Julio Jones – Over/Under 90.5
Coming into the season Jones was one of the trendiest sleepers as fans and analysts alike dreamed about the potential of a 6'3″ receiver with that type of off-the-charts athleticism. After hauling in six receptions for 108 yards and two scores in his first game, it appears that all of that hype was fully justified. With the juice on over 90.5 (-125) and over 5.5 receptions (-145), you can see that bookmakers are anticipating a big game out of the Alabama product. Additionally, Jones has better than a 50% chance of scoring a touchdown with -140 odds of reaching the end zone tonight. Those numbers are all higher than teammate Roddy White — who has been the team's number one receiver for the past several years.
Who will have more Passing Yards in the game?
Last season, Matt Ryan passed for 4,177 yards and 29 touchdowns (good for 261 passing yards per game) while Manning was sidelined with his neck injury. However, during Manning's last full season in 2010, the future hall of famer piled up 4,700 yards (293.75 ypg) with 33 scores. It seems like oddsmakers believe that Manning is back to his old self, as he is expected to throw for 15.5 yards more than his younger counterpart. In spite of those yardage projections, Ryan (-125) is actually favored to throw for more touchdowns than Manning (-105).
 Player to score the first TD in the game?
The table below — with data taken from Bovada — show the odds for which player will score the first touchdown of the game. (Note: Quarterbacks must rush for touchdown to qualify).
| | | |
| --- | --- | --- |
| Player | Team | Odds |
| Julio Jones (WR) | Atlanta | 6/1 |
| Michael Turner (RB) | Atlanta | 13/2 |
| Willis McGahee (RB) | Denver | 13/2 |
| Demaryius Thomas (WR) | Denver | 8/1 |
| Roddy White (WR) | Atlanta | 8/1 |
| Eric Decker (WR) | Denver | 9/1 |
| Tony Gonzalez (TE) | Atlanta | 10/1 |
| Jacob Tamme (TE) | Denver | 12/1 |
| Jacquizz Rodgers (RB) | Atlanta | 15/1 |
| Joel Dreessen (TE) | Denver | 15/1 |
| Knowshon Moreno (RB) | Denver | 15/1 |
| Harry Douglas (WR) | Atlanta | 16/1 |
| Brandon Stokley (WR) | Denver | 18/1 |
| Jason Snelling (RB) | Atlanta | 22/1 |
| Matt Ryan (QB) | Atlanta | 30/1 |
| Peyton Manning (QB) | Denver | 50/1 |
| Field | N/A | 7/1 |
| No TD scored in the game | N/A | 100/1 |
Are there any prop bets that you like in tonight's game? Make sure to share your thoughts in the comments section below.