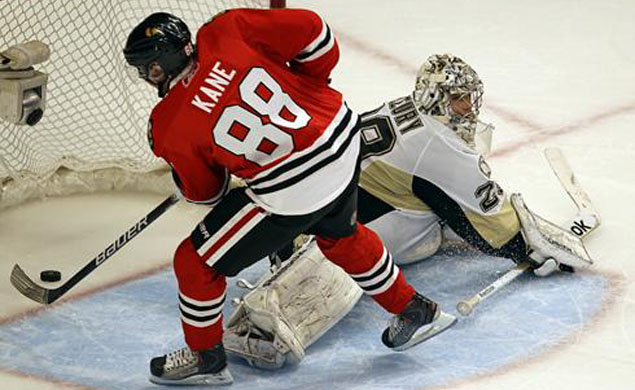 How to Make a Profit Betting the NHL Playoffs
With the NBA postseason in full swing, the NHL Playoffs are set to begin on April 30th and the team at Sports Insights has developed some profitable betting systems to use during the NHL Stanley Cup run. Keeping consistent with our contrarian strategies, we've found that betting against the public once again proves valuable while using our Bet Labs software.
To start, we know historically in the NHL that when betting against the public in the regular season, road underdogs have fared better than home underdogs. Since the 2005 regular season, road underdogs receiving less than 45% of moneyline bets have an overall record of 1712-2654.  Though the system has a losing record, it has still produced a profit of +28.24 units and a +0.6% Return on Investment. Because it's unrealistic to bet every match with this system due the sheer volume of games in the regular season, filtering the public betting percentage down to <23% of moneyline bets results in a much higher ROI of +7% and more than +60 units won (overall record of 325-538).
Regular Season Road Underdogs and Betting Against the Public since 2005
| | | | |
| --- | --- | --- | --- |
| Betting Percentage | Number of Games | Units Won | ROI |
| 45% | 4,366 | +28.24 | +0.6% |
| 35% | 2,668 | +30.02 | +1.1% |
| 23% | 863 | +60.06 | +8.8% |
Similar to its regular season success, the contrarian approach has worked in the NHL playoffs as well. Over the last six postseasons, visiting underdogs receiving <40% of moneyline bets have profited +24.61 units with an ROI of +13.1%. If you're a more patient bettor, filtering the system to <23% of public bets has a sample of just 25 games but with a record of 14-11, has produced +17.85 units won and an astounding ROI of +71.4%. When we examined these systems a little further, we found that there has been even greater success over the last three postseasons.  In the past three NHL Playoffs, betting all road underdogs receiving <40% of moneyline bets propels the ROI to +40.6% with +38.18 units won and an overall record of 50-44.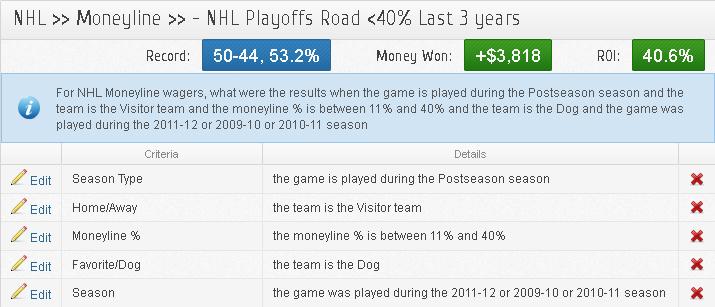 Since there's always a level of desperation in postseason games, we wanted to revisit the zig zag theory to see if there was any value on teams coming off of a loss. We created a simple system looking at playoff teams coming off of a loss, and immediately saw a bias towards visitors. We then took it a step further and found that road playoff teams coming off a 1, 2, or 3-game losing streak have gone 97-104 since the 2007 postseason, good for +26.45 units won and an ROI of +13.2%. When we add our "betting against the public" filter to road teams getting <40% of moneyline bets, the ROI excels to over 40% and nearly +28 units won (overall record of 34-35). Looking at just the last three postseasons below, the system has had even more success, earning a profit of +25.24 units and ROI of +63.1%.
[ Interested in seeing Bet Labs in action? Signup for a Free Live Demo ]
To summarize, we've found success in the NHL Playoffs betting against the public and filtering the road teams rather than home teams.  Desperation also plays a big role, earning a profit for bettors willing to take visitors coming off a loss or losing streak.
We'd love to get your thoughts on the NHL Stanley Cup Playoffs — Do you like to lay the chalk on the favorites, or do you like parity to take over in the postseason? Is it worth betting against the Penguins and Blackhawks, or are they destined to meet in the Finals? There are currently four games that fit one of the above systems so as always, check out our new and improved NHL Betting Trends to see which way the public is leaning and which teams to fade during the postseason.