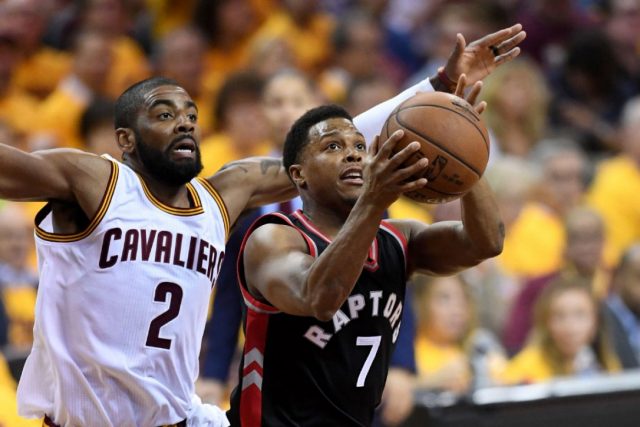 Kyle Lowry's Injury Affecting the Cavs-Raptors Game 3 Line
Earlier this morning, my co-worker PJ Walsh explained how tonight's showdown between the Cleveland Cavaliers (40-46 ATS overall, 19-24 ATS as visitors) and Toronto Raptors (47-41 ATS overall, 22-21 ATS at home) is receiving historically one-sided levels of public betting. This is hardly surprising considering that any team with LeBron James on the roster will be hammered by casual bettors. In fact, Cleveland received the majority of spread tickets in all but eight regular season games this season and some of those instances occurred when James was resting.
Cleveland (opened -6.5) received 62% of spread tickets in Game 1 of this series and cruised to an easy victory. Emboldened by that success, 66% of bettors took Cleveland (opened -7.5) once again just two days later. Those bettors enjoyed a 22-point blowout victory in Game 2.
The screenshots below, which are available to Sportsbook Insider subscribers, display the line movement and public betting information from the first two games of the series.
Game 1: May 1, 2017

Game 2: May 3, 2017

After two consecutive easy wins, bettors are more than happy to forget about home-court advantage and snatch up the Cavs as a smaller favorite in Game 3.
Cleveland opened as 1.5-point road favorites at Bookmaker and have received 83% of spread tickets and 86% of spread dollars. Bettors have also been pounding the Cavs to win straight up, with 78% of moneyline tickets and 67% of moneyline dollars backing the chalk. Additionally, 79% of parlays and teasers have backed LeBron and company. Based on that one-sided public betting, it's easy to suggest that public money is responsible for the 3-point line move, but that's not entirely true.
[click image below to enlarge]

There's no question that casual bettors have been hammering the Cavs, but sharp action has also been backing the road favorite in this matchup. As you can see from the line graph, there have been several steam moves and smart money alerts triggered on Cleveland since the line was first posted on Thursday morning.
"Both sharps and squares on the Cavs' side here, and we have massive liability with 91 percent of the money handle on Cleveland at this point," according to Scott Cooley, a spokesman from Bookmaker. There's no question this one-sided action has contributed to the line movement, but there's another factor to consider: the health of Raptors point guard Kyle Lowry.
Lowry, who sustained a sprained ankle in Wednesday's loss, is listed as questionable and is expected to be a game-time decision. The three-time All-Star averaged 22.4 points and 7.0 assists during the regular season, but his production has taken a sharp dive in six postseason games. The Raptors hopes of a comeback likely hinge on Lowry's health, but his status remains uncertain.
Before the season, I spoke with oddsmakers from three different sportsbooks (Bookmaker, CG Technology, and William Hill) to determine which NBA players have the greatest impact on the point spread. The general consensus was that Lowry is a Tier 3 player, worth between 2-3 points to the spread depending on the situation. Although oddsmakers were aware of Lowry's injury when the opening spread was posted, most experts believe that Lowry will attempt to play tonight — even if he's not at 100 percent.
"Lowry's injury certainly has impacted the spread some, but not the full three-point move," stated Cooley. "If he plays it might drop a half point, and it might sit where it's at currently. If he doesn't, it could conceivably get to -5.5."
In other words, the Raptors would likely be 5.5-point underdogs without Lowry and 4-point underdogs with him. No matter what, Lowry won't be playing at full strength which explains why he's not worth the full three points to the spread. "We believe he'll give it a go," confirmed Cooley, "but will his inability to cut, drive, plant, etc. end up hurting the Raptors? That's a good possibility."
Sportsbook Insider Pro subscribers also have access to real-time odds, public betting trends, money percentages, bet signals (including steam moves and reverse line movement alerts), injury alerts, value meter, line watcher, line predictor, and many other unique features. Looking to try our service? Sign up now for a 4-day trial and start winning today!
Have any questions for the staff at Sports Insights? Make sure to utilize our live chat or call us directly at 877-838-2853.