The Warriors defeated the Indiana Pacers on Tuesday night, giving Golden State their 23rd straight win to start this season. The Warriors dropped 131 points on one of the league's top defenses, but these type of feats have become commonplace for the Bay Area's finest.
The defending NBA champions have already eclipsed the best start in NBA history, breaking the 22-year old record that was previously held by the Houston Rockets. More recently, they broke the 131-year old record for best start to a season in all of major US professional sports. The previous record holder? That would be the now defunct St. Louis Maroons.
This red-hot start has had wide-reaching ramifications around the sports betting marketplace. The table below compares various Golden State futures movement at 5Dimes since the start of the season.
| Prop | Current Odds (12/9) | Preseason Odds (10/27) |
| --- | --- | --- |
| NBA Champions | +150 | +480 |
| Western Conference | -115 | +260 |
| Pacific Division Winner | -2500 | -200 |
| Stephen Curry MVP | -245 | +650 |
| Win Total | N/A | 60.5 |
It's interesting to note that, although Golden State opened the season with the highest win total, they were not the favorite to win the NBA Championship. That honor belonged to the Cleveland Cavaliers who were listed at +240. That doesn't necessarily mean that oddsmakers believed Cleveland was the superior team, simply that their path to the finals would be more manageable.
Prior to the start of the season, the Cavs were listed at -180 to win the Eastern Conference with the field listed at +158. Despite a less than stellar 14-7 record, Cleveland's odds of winning the East have improved from -180 to -300. That translates to an implied probability of 75%.
Over the first two months of the season, oddsmakers have become even more certain that Cleveland will represent the East in the NBA Finals. In theory, this should have caused their title odds to improve substantially; however, they have actually dropped from +240 to +280. This type of contradictory line movement speaks volumes about the quality of Golden State.
With a 23-0 record, speculation has run rampant about whether the Warriors can break the single season win record. The 1995-96 Chicago Bulls finished the season 72-10 en route to their fourth NBA title in six seasons and, in late November, oddsmakers started posting prop bets regarding whether Golden State could win at least 73 games.
Will the Warriors break the record for most wins in a regular season? November 24: +300 November 27: +240 December 5: +190 Current: +160

— Sports Insights (@SportsInsights) December 8, 2015
Anybody planning to bet on this prop bet should consider that interim head coach Luke Walton has warned the media that he may eventually begin resting players. It's unclear if Walton (or Steve Kerr) would heed this warning if the record is within reach, but it's certainly worth monitoring.
Two of the most amazing proposition bets were posted by Bovada, which is one of the more public/square offshore sportsbooks. Their first prop listed the Warriors at -300 to finish the season with more regular season losses than the 49ers (+200). Considering that the NBA plays an 82-game schedule and the NFL plays a 16-game schedule, it's incredible that there's any doubt about this question.
For the 49ers, the worst case scenario would be a 4-12 record. To provide some context, there has only been one NBA team (the 95-96 Bulls) to lose fewer than 12 games during the regular season.
The second prop bet involves the Warriors losing back-to-back games. Golden State was listed at -310 to lose consecutive games at some point this season and, when we account for the juice, which works out to an implied probability of 74.02%. That means there's a nearly 1 in 4 chance that Golden State won't lose two consecutive games all season!
The Warriors are listed at -310 to lose consecutive games at some point this season, but +260 to lose three in a row.

— Sports Insights (@SportsInsights) December 5, 2015
Another interesting situation involves the Warriors ongoing streak of closing as the favorite. Golden State has been favored in every single game this season, posting a league-best 16-7 ATS record during that time. Simply betting $100 on every Warriors game would have resulted in a profit of $800.
Looking ahead, it's unlikely that Golden State will be an underdog until January 18th when they travel to Cleveland to take on LeBron James and the Cavaliers. The two teams also square off on Christmas Day at the Oracle Arena and, on Wednesday afternoon, the Warriors opened as an 8.5-point home favorite.
It's also interesting to note that back on December 5th; the Warriors were listed at +800 to remain undefeated (32-0) through the start of the new calendar year. Since that time they have defeated the Raptors, Nets and Pacers. In order to accomplish this feat, they will need to win another nine consecutive games.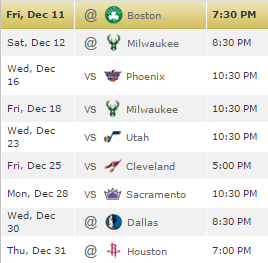 If Golden State is able to remain undefeated through January 1st, they will be sitting on a 32-0 record. That's just one win short of the all-time record for consecutive wins which was set by the 1971-72 Lakers.
We typically advise buying on bad news and selling on high, which means the Warriors could be an excellent fade candidate down the stretch. Golden State has already been a double-digit favorite in ten games this season and double-digit favorites have gone just 955-1,049 ATS (47.4%).
Do you think the Warriors will break the single season win record? Can Golden State repeat as champions? Is Stephen Curry a shoe-in for the MVP award? Please leave your comments in the section below.
Have any questions for the staff at Sports Insights? Utilize our live chat to speak with a customer service representative or e-mail us at help@sportsinsights.com.
David Solar is the Content Manager for Sports Insights and can be reached directly at David@sportsinsights.com.
The following two tabs change content below.
David Solar
David Solar is the Content Manager at Sports Insights. He specializes in sports betting analytics and creating data-driven betting systems. He can be reached directly at david@sportsinsights.com or on twitter at @TheDavidSolar.
Latest posts by David Solar (see all)