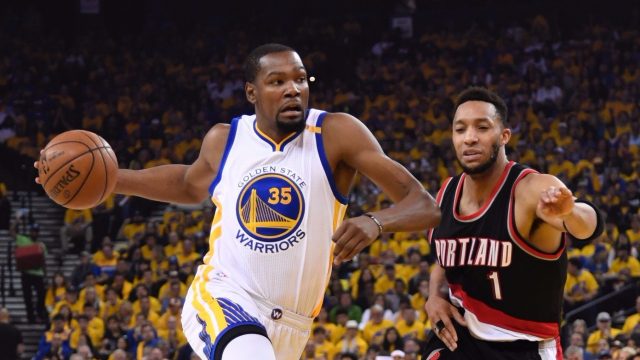 How Has Kevin Durant's Injury Affected the Blazers-Warriors Game 2 Line?
Golden State's All-NBA forward, Kevin Durant, tallied a game-high 32 points in Sunday's Game 1 playoff victory over the Portland Trail Blazers. Unfortunately, the Warriors may need to look elsewhere for production in tonight's Game 2 matchup. Durant did not practice on Tuesday due to a left calf strain and is currently listed as questionable.
The Warriors opened as 15-point home favorites at the market-setting Pinnacle sportsbook and, after briefly ticking up to GS -15.5, the line had settled back at GS -15 until Durant's injury was announced. When head coach Steve Kerr stated that Durant could potentially miss tonight's game, the Warriors dropped from -15 to -13.5 across the marketplace. This line movement represents a hedge by sportsbooks, as our past research found that Durant is worth roughly 3-points to the spread.
"[We're] just trying to play it safe either way," according to Scott Cooley, a spokesman for Bookmaker.eu. "If Durant is indeed out, the spread will drop another point or two."
[click image below to enlarge]

The Warriors have consistently been one of the most popular teams amongst bettors, and sportsbooks have been forced to consistently shade their lines all season. My research found that Golden State has received less than 50% of spread tickets on just four occasions this season, with all of those games coming with the Warriors listed as massive home favorites.
November 3, 2016: Warriors (-12) received 49% of spread tickets against the Thunder
April 8, 2017: Warriors (-17.5) received 34% of spread tickets against the Pelicans
April 12, 2017: Warriors (-13.5) received 43% of spread tickets against the Lakers
With Durant's status for tonight's game in question and the Warriors once again listed as double-digit home favorites, bettors have been hammering the road 'dog. According to our public betting trends, Portland has received 54% of spread tickets and 73% of spread dollars in tonight's matchup. Public bettors are increasingly willing to take the underdog during the NBA Playoffs, and it wouldn't be surprising to see even more bettors backing the Blazers if Durant is eventually ruled out.
In addition to this movement on the spread, Durant's impact can also be seen on the total. Despite the majority of public bettors taking the over, early sharp action on the under caused the Game 2 total to drop from 220.5 to 220 at Pinnacle. The line remained unchanged until Kevin Durant's injury announcement, at which point the total dropped an additional 1.5-points. Since that time, sharp buyback on the over caused the total to jump from 218.5 to 219.5. Assuming Durant is unable to play, that total will continue to plummet. "The total will move down even more if Durant is sidelined," confirmed Cooley.
[click image below to enlarge]

Playoff bettors become increasingly willing to take the points and hope for a competitive game and, as a result, these types of large favorites have historically provided more value during the postseason than they have during the regular season. Since 2005, double-digit NBA favorites have gone 1,146-1,253 ATS (47.8%) during the regular season and 48-36 ATS (57.1%) during the playoffs.
If Kevin Durant suits up for this game, I would expect Golden State to move from -13.5 to -15. If Durant is unable to play, Golden State will likely drop from -13.5 to -12. The Warriors received 59% of spread tickets as 15-point favorites in Game 1, but it seems unlikely that they'll receive that level of public support regardless of whether or not Durant plays. The Warriors rarely receive this low level of public support, which could make this an intriguing opportunity for contrarian bettors.
Update: After this article was published, Kevin Durant was downgraded from questionable to doubtful. This caused the Warriors to drop from -13.5 to -12.5.
Sportsbook Insider Pro subscribers have access to real-time odds, public betting trends, money percentages, bet signals (including steam moves and reverse line movement alerts), breaking injury alerts, value meter, line watcher, line predictor, and many other unique features. Sign up now for a 4-day trial and start winning today!
Have any questions for the staff at Sports Insights? Make sure to utilize our live chat or call us directly at 877-838-2853.