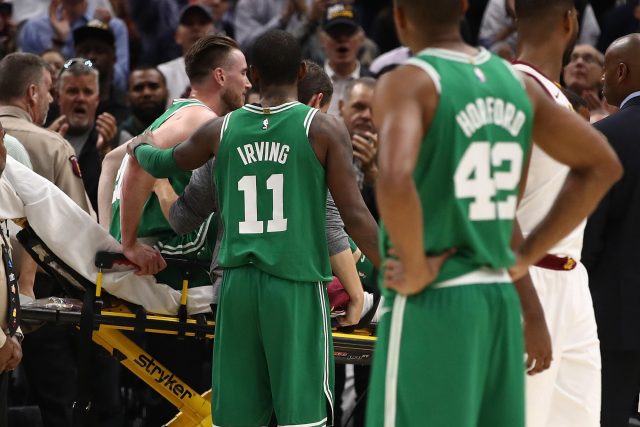 Gordon Hayward Injury Fallout
Last night, just about the worst case scenario for the Celtics and sport of basketball happened when Gordon Hayward landed awkwardly and broke his ankle. There is no definite recovery timetable as of now, but there's a decent chance he'll be out for the year. Some hope is being held out for now, as early reports say that there is no ligament damage, which could potentially mean a late season return.
So is Boston done? As a Celtics fan, I don't really want to think about their title odds right now, but I guess that's what they pay me for. Watching that play last night was both surreal and saddening. Celtics fan or not, you have to feel bad for the guy. I still can't even believe it happened, but he'll survive and the Celtics will have to move on without him for the time being.
Right now, sportsbooks around the market are handling this situation differently.
NBA Title adjustments

Cavs 13/4 (from 4/1)
Celtics 20/1 (from 10/1)

Eastern Conference

Cavs 1/3 (from 1/2)
Celtics 7/2 (from 9/4)

— Jeff Sherman (@golfodds) October 18, 2017
The Westgate Superbook in Vegas moved their odds from 10/1 to 20/1, while CG Tech in Vegas moved from 8/1 to 15/1. Offshore books are a bit more hopeful, though. Bookmaker.eu has moved the Celtics odds from +1200 to +1750, while 5Dimes has only moved them from +1200 to +1500. Scott Cooley, odds consultant at Bookmaker, says that the odds don't reflect Hayward returning this year.
If Hayward can return, then the Celtics' odds shouldn't be impacted to an extreme level. They'll still make the playoffs regardless, though most likely in a lower seed. Their biggest challenge in the conference will still be taking down the Cavs, but in theory, I think they'd still be able to make the eastern conference finals even if they had to do so from the four or five seed.
On an individual basis, Kyrie Irving is going to have to pull a Greg Jennings and carry the team on his back. He was viewed as a tier 3 player (worth 2-3 points to the spread) by Bookmaker as of yesterday, but will now be a tier 2 (worth 4 points) according to Cooley. Hayward had been viewed as a tier 3 player by Bookmaker and a tier 4 player (worth 1-2 points) by CG Technology.
Cheyne Redenius of CG Tech says, "Irving would now be a borderline tier 1, however this all depends on how the rest of the team rallies around the loss of Hayward. As we monitor more games, we will have a better understanding of his point value."
What we ended up seeing from Boston's young players last night was actually very promising. Nobody would've blamed the Celtics if they all curled up into the fetal position and packed it in for the rest of the night, but instead they put up one hell of a fight. Jaylen Brown, Jayson Tatum, and Marcus Smart—all three of whom will be heavily relied upon going forward—played with guts and showed a ton of potential.
Is Brown going to average 25 points a game? No. Is Tatum going to average a double-double? No. But they both look like they can potentially be major contributors this year. In fact, according to Cooley, Tatum will likely move from +1214 to +700 when Rookie of the Year odds re-open. Redenius says that Tatum even has a better chance of becoming a "tier player" than Al Horford.
Let's hope we get some good news as far as his recovery goes…fingers crossed!