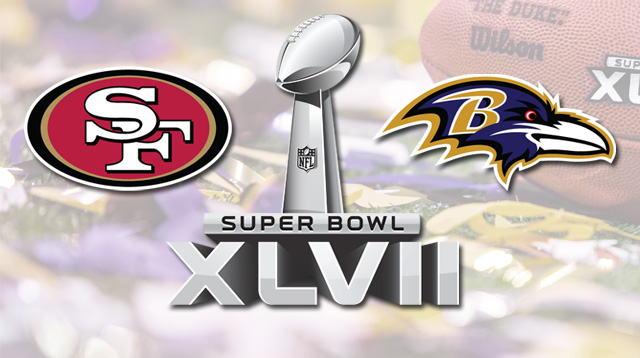 SportsInsights.com's Favorite Super Bowl Prop Bets
Super Bowl week is officially upon us and sportsbooks, both offshore and Las Vegas, have released their prop bets for Super Bowl 47. With this in mind, we polled everyone in the office about their favorite Super Bowl prop bets and have compiled some of the results below.
Disclaimer: The following article is not a recommendation on which Super Bowl props to bet, just a list we find interesting, funny or entertaining.
Dan Fabrizio – President
How many times will Harbaugh be said during the game? (Bovada.lv)
Being a true contrarian, I couldn't resist betting the under on this prop. I believe the media hype surrounding the Harbaugh coaching matchup has distorted the value toward the Under 20.5 (+110).
Yes, the Harbaugh name will be uttered many times, but what I like is how restrictive the prop is (from kick off until final whistle. Live pictures only, any taped pictures or past video does not count towards wager. Half time does not count towards wager) when the Harbaugh name counts toward the total.
The pick: Under 20.5 (+110)
P.J. Walsh – Director of Sports Information
Beyonce – Will she be showing cleavage first song? (BetOnline.com)
The sports betting market is full of 5-Star Locks and Games of the Year that advertise wagers guaranteed to win. Unfortunately, bets that can't lose are like Manti Te'o's girlfriends, they don't exist.
Well, until now.
With Yes currently listed at -500, the implied probability that Foxy Cleopatra shows cleavage during the first song of her Super Bowl halftime performance is 83.33%. While that seems like a lock, contrarian cleavage bettors can earn a nice profit if Beyonce decides to go the conservative wardrobe route.
While the odds indicate there isn't much of a chance Beyonce bursts onto stage donning a turtleneck, how upset are you going to be if you lose this bet? Sure, nobody likes losing money, but some things are too valuable for a price tag.
The pick: No (+300), but root like hell for Yes.
David Solar – Content Editor
Who will the Super Bowl MVP thank first? (Bovada.lv)
"It's been a wild game, it's been a wild season but we've got a great, tough, bunch of guys that never quit and have great faith in each other and I'm just proud of our team. The way we've dealt with everything all season and came on strong." That was how Eli Manning began his post-game interview with NBC's Dan Patrick following the Giants 21-17 victory in Super Bowl XLVI. Strangely enough, that one hackneyed cliche was responsible for a large sum of money changing hands.
Options include paying homage to your teammates (8/5), the head coach (12/1), family (15/1), God (5/2), owner (20/1) or — believe it or not — nobody whatsoever (3/2).
The top MVP candidates are currently Colin Kaepernick, Joe Flacco, Frank Gore, Ray Lewis and Ray Rice. Those offensive skill position players are traditionally smart enough to thank their teammates (or at least the offensive line), but things could be different for the lone defensive player listed. Do you think Ray Lewis is going to end his farewell tour in style by winning the Super Bowl MVP? Then you may want to consider walking with the Lord and placing a bet on "God."
The pick: God (5/2)
Travis Reed – Sports Information Manager
How many times will Harbaugh be said during the game? (Bovada.lv)
If you thought Tebow was bad, get ready to be bashed over the head with Harbaugh-mania.  Jim Harbaugh, John Harbaugh, and even Jack and Jackie Harbaugh are going to get some serious airtime.
Though, the real reason why this prop will win is Phil Simms. Don't be surprised to hear this sentence from Simms: "That appears to be incomplete partner, and Jim Harbaugh throws the challenge flag, excuse me John Harbaugh. No wait, that is Jim Harbaugh, but either way that looks like it might have hit the ground."
This goes way over.
The Pick: Over 20.5 (-150)
Carl Sack – Sports Information Specialist
Total number of pass interceptions made by both teams in the game (Bookmaker.eu).
Both teams were in the top 2 in their respective conferences in INTs given away during the regular season. Including the post-season, Baltimore has given away 0.6 INTs per game and SF has given away 0.5 INTs per game. I think both teams rely on their D in this game and play conservative in each coach's first Super Bowl appearance.
The Pick: Under 1.5 (-105)
Josh Appelbaum – Sports Information Specialist
What will Joe Flacco do first? (Bovada.lv)
While Flacco's 2012 regular season stats were only slightly above average (3,817 passing yards, 22 TDs, 10 INTs, 87.7 rating), his performance during the Postseason has been otherworldly.
In three games against the Colts, Broncos and Patriots (two of which were on the road), the former Delaware signal caller has been nearly perfect (853 passing yards, 8 TDs, 0 INTs, 114.7 rating) while leading the Ravens to their first Super Bowl appearance since the 2000-01 season.
However, with Flacco set to face arguably the NFL's best defense (who also has an extra week to rest up and game plan against him), is the Baltimore quarterback primed for a let down?
Or will Flacco continue to shine on the league's biggest stage and solidify himself as one of the game's premier QBs as he enters free agency?
The pick: Throw an Interception (+180)
Dan St. Pierre – Sports Information Specialist
Who will have more on 2/3/13: Sidney Crosby Points (Goals + Assists) or Colin Kaepernick Touchdown Passes? (Sportsbook.ag)
Jumbalaya & Molsons on a Sunday afternoon? Where do I sign up? What's better than a combined prop bet involving the greatest American sporting event and Canada's beloved past time? For hockey diehards and those who love dead presidents, you should be foaming at the mouth about this prop bet.
In 5 career games away from San Francisco, Kaepernick has passed for multiple TDs ONLY once, while Crosby has owned the Capitals in his career to the tune of 35 points in 22 career games.
The pick: Crosby (-115)
Dan McGuire – Sports Information Specialist
Who will have more on 2/3/13: Liverpool + Manchester City Goals (+0.5 -115) or Ravens + 49ers Field Goals (-0.5 -115)? (Sportsbook.ag)
If you don't want to wait until the game to see your bet in action, there are plenty of props out there that intertwine the Super Bowl with sporting events that have nothing to do with it.  Two of the higher scoring sides in the English Premier League will meet on Sunday before the Super Bowl and we should expect to see some goals.  City is stingy on their home turf but they could be without key defender Vincent Kompany, which could cripple them against a formidable front line of the Reds.  I'll take my chances with the +0.5 and hope for goals and touchdowns this Sunday.
The pick: Liverpool + Manchester City Goals (+0.5 -115)
Rick Floyd – Director of Marketing
What will happen with the Dow Jones the day after the Super Bowl? (Bovada.lv)
The Dow is up +7.34 (0.05%) in the last month, and one would think that with all the money spent on Super Bowl advertising there will be an uptick in sales for some of America's biggest companies. Studies have shown that when customers like a Super Bowl ad, the company's stock price tends to go up as well. With 11.2 million pounds of potato chips and 1.25 billion chicken wings to be consumed it would seem that food stocks might be a good bet to rise as well.
So do you take a bit of that cash you were going to wager on the game and dump it in the market, or just take this prop bet and see if you might have made a killing had you been a bit more brave?
Consider this: Traders at HL Camp & Co. have come up with a huge number of correlations between market movements and the game. For instance, traders might want to go short over the weekend. "Since 1967, any Mondays after any Super Bowl Sundays have seen the Dow close negative 55.8 percent of the time," it notes. "More recently within the past ten years, these Mondays have seen the Dow close negative 60 percent of the time."
As New York Times columnist Floyd Norris once observed, "Anyone foolish enough to bet on a game based on the stock market, or credulous enough to believe a football game can forecast the stock market, probably should hire a money manager, or a psychiatrist, or both". So why do I like this prop bet? Because my shrink told me to do something frivolous and enjoy life for the fun of it.
The pick: Market Down (+100)
What props are you betting this week? Have you seen any interesting, funny or unique prop bets not listed above? We invite you to leave your thoughts on Super Bowl prop bets in the comments section below.