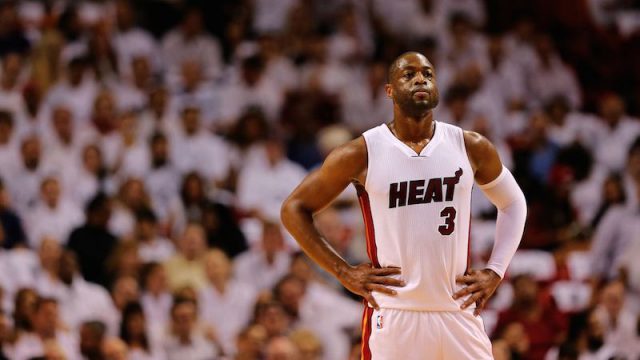 Dwyane Wade Signs With the Chicago Bulls
On Wednesday evening, free agent guard Dwyane Wade created heat waves when he announced that he would be signing a two-year, $47.5 million contract with the Chicago Bulls. Although he's originally from the windy city, Wade has spent his entire career with the Miami Heat since being drafted by the team with the fifth overall pick in the 2003 NBA Draft. According to reports Wade rejected a two-year, $40 million offer from the Heat.
During his 13-year career, Wade helped lead the Heat to three championships (2006, 2012 and 2013) while making the All-Star team every year with the exception of his rookie season. Despite this impressive resume, Wade's production has started to wane in recent years as he's dealt with countless injuries. Over the past five seasons, the 34-year old Wade has played in just 305 of 394 regular season games (77.4%).
Wade and the Miami Heat were synonymous with each other for years but, according to multiple reports, Wade felt like the team no longer appreciated him. The Heat were unwilling to add a third year to their contract offer which may have irked Wade given his repeated willingness to take pay cuts for the franchise.
This was is a stunning decision given Wade's connection to the city of Miami, but also due to the roster being built in Chicago. When the Bulls decided to fire head coach Tom Thibodeau and replace him with Fred Hoiberg, they showed a commitment to dramatically change their style of play. Hoiberg's coaching strategy encourages up-tempo play, ball movement and three-point shooting. Wade's addition does not fit into that scheme.
On his career, Wade has shot just 28.4% from downtown including an anemic 15.9% last season. His addition gives Chicago three ball-dominant players (Wade, Jimmy Butler and the recently acquired Rajon Rondo) with limited range. Despite this seemingly poor fit, Wade's addition caused the odds of the Bulls winning the 2017 NBA Championship to move from 100/1 to 80/1 at the Westgate Superbook.
Dwyane Wade's decision to join @chicagobulls shifted the odds to win the Eastern Conference & NBA title pic.twitter.com/LIHnctD6Wd

— ESPN Stats & Info (@ESPNStatsInfo) July 7, 2016
At the time of publication, the Bulls were tied for the fourth-best odds (25/1) of winning the Eastern Conference behind the Toronto Raptors (12/1), Boston Celtics (8/1) and Cleveland Cavaliers (1/4). Clearly oddsmakers still view Wade as an impact player, but I wanted to determine the true value of the 2006 NBA Finals MVP.
According to Scott Cooley, an Odds Consultant for the market-setting Bookmaker.eu, Wade is worth "a solid two points to the spread, nothing more. It does not change with the new team." During his prime, Wade was worth 4-5 points to the spread although that figure was slightly lower when he was playing with LeBron James.
Wade used to have the same type of impact on the spread as reigning MVP Stephen Curry, but now he's more comparable to former Warriors forward Harrison Barnes, who recently signed a four-year, $94 million contract with the Dallas Mavericks. Comparing his value to other recent free agent acquisitions, Wade is "well behind Durant and closely behind Horford and Parsons," according to Cooley. "I'd say he's on par with Barnes and ahead of Howard and Gasol."
[easy-tweet tweet="Dwyane Wade is worth a solid two points to the spread. He was worth 4-5 points during his prime." user="SportsInsights"]
Although Wade's still a valuable player, I have a lot of concerns about his fit in Chicago. Entering the offseason, Bulls general manager Gar Forman said that his team was "going younger, more athletic, and building it back up moving into the future." Instead, they added a 34-year old Dwyane Wade and a 30-year old Rajon Rondo. In a copycat league where every team is trying to build around pace and space, the Bulls are doing the exact opposite.
Big market teams typically receive overwhelming support from bettors, and that has definitely been the case for Chicago. Despite posting the second-worst ATS record in the league last season (36-46, -12 units lost), the Bulls were a public favorite in 57 of their 82 regular season games (69.5%). With Wade providing the star power and name recognition, I fully expect the Bulls to be a public darling once again. That could create excellent fade value in early season games.
The 2016-17 regular season doesn't start until October, but the NBA Summer League is underway. Bettors can track the latest odds, public betting trends, injuries and even futures by visiting our free NBA odds page.
Have any questions for the staff at Sports Insights? Utilize our live chat to speak with a customer service representative or e-mail us at help@sportsinsights.com.