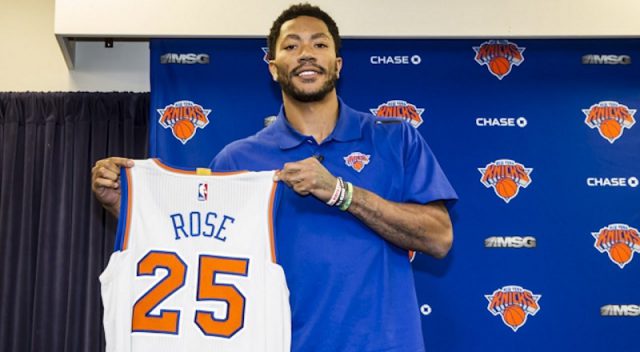 Does Acquiring Derrick Rose Really Help The Knicks?
On Wednesday, the New York Knicks acquired 2011 NBA MVP Derrick Rose from the Chicago Bulls in exchange for center Robin Lopez, guard Jose Calderon and guard Jerian Grant. Public opinion has been split on this blockbuster trade, with many analysts doubting that Rose will be able to fully rebound from the injuries that have derailed his once-promising career.
Since tearing his ACL nearly five years ago, Rose has played in just 166 of a possible 410 regular season games while his per-game averages have dipped significantly. Although Rose played in 66 games last season, he averaged just 16.4 points per game on 42.7% shooting. His advanced stats have been even worse, with just 1.4 win shares over the past three seasons compared to 13.1 win shares during his MVP season.
Despite Rose's recent struggles, there are reasons for Knicks fans to be optimistic about this trade. Rose is still only 27-years old and provides a clear upgrade over last season's starting point guard, Jose Calderon. It can also be argued that New York has created their own Big Three with Rose, Carmelo Anthony and Kristaps Porzingis — an argument that could help the Knicks in free agency.
"I feel like we have a great shot at acquiring free agents this summer," said Anthony. "It's going to take work, because all of the teams are in the same situation, the same boat, but like I said, the Derrick Rose piece was a great first step."
Although the Knicks failed to land a one-on-one meeting with free agent Kevin Durant, New York has the seventh-best odds (+2450) of landing the seven-time All-Star. Many big name free agents are expected to re-sign with their current team, but the Knicks are expected to pursue Dwight Howard, Pau Gasol< and/or Joakim Noah. It's unlikely that Derrick Rose will ever return to his pre-injury form, but the Knicks believed the opportunity cost was low enough to justify acquiring the three-time All-Star. This is also a low-risk move since Rose only has one-year remaining on his current contract. Even if he struggles, the Knicks can allow Rose to walk at the end of the season and clear up additional salary cap space. Earlier today our friends over at Bet Labs examined whether the acquisition of Derrick Rose made the Knicks more attractive by using box plus/minus, which estimates the points per 100 possessions that a player contributed above a league-average player. Last season Stephen Curry led the league with a BPM of 12.5, but Rose has posted a negative BPM in each of the past three seasons. Despite those anemic numbers, Rose still provides an upgrade over the combination of Calderon and Grant.
Last season Rose played in the most games since his 2010-11 MVP campaign, yet the Bulls went just 36-46 ATS with -12.01 units lost. That made them the second worst team in the league for spread bettors. Many fans seem to believe that Rose is still a star, but his numbers are more reminiscent of a replacement level player who's receiving too much playing time and attempting too many shots.
It's interesting to note that following this trade, the Knicks odds of winning the 2017 NBA championship moved from 100/1 to 55/1 at the Westgate Superbook. Converted into implied probabilities, New York's odds of winning the title improved from 1% to 1.79%. This isn't a major move, but it seemed largely due to public perception rather than sharp money.
[easy-tweet tweet="'Last year his absence was negligible to the line.'" user="@SportsInsights" hashtags="#DerrickRose"]
I wanted to determine whether oddsmakers still believe that Rose is a valuable player so I spoke with Scott Cooley, an Odds Consultant for Bookmaker.eu. "We can't place a firm value on him until we've seen a finalized Knicks lineup, but last year his absence was negligible to the line," confirmed Cooley. "With his injuries and decline in production he's fallen drastically in the eyes of the oddsmakers. When he was playing like the MVP, he was worth 3-4 points [to the spread]."
Cooley also validated my notion that the Knicks odds of winning the championship ticked up solely because of public perception. Bettors love taking star players and major market teams, which explains why teams like the Dallas Cowboys, Los Angeles Lakers and New York Yankees are often shaded. "The power ratings did not move whatsoever," stated Cooley. "Despite the Knicks being largely inept, they are a public team and get championship action every year so we would make a very small adjustment there. It's not so much Rose as it is the perception. The small adjustment would have very little to do with Rose."
It will be interesting to see how the rest of free agency unfolds, but I think that the Knicks actually got worse with this trade. New York will struggle to replace Robin Lopez, who averaged 10.3 points and 7.3 rebounds per game last season while providing stellar defense. Lopez is locked into a long-term contract that will look even better once the likes of Bismack Biyombo and Festus Ezeli sign massive contracts under the new CBA.
During the 2015-16 NBA season, the Knicks received a majority of spread bets in just 43.9% of their games. They were one of the least popular teams among bettors; however, they were actually the sixth most profitable team for spread bettors (44-38 ATS, +3.26 units) in spite of their losing record. I wouldn't be surprised to see the Knicks start receiving more public support next season, which could create contrarian value by fading New York in early season games.
Have any questions for the staff at Sports Insights? Utilize our live chat to speak with a customer service representative or e-mail us at help@sportsinsights.com.