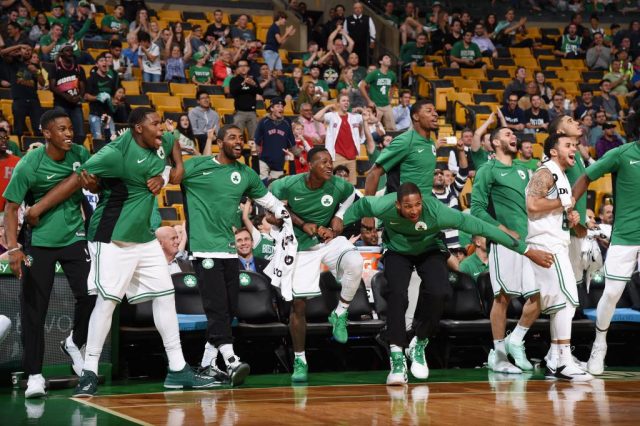 Celtics off to Historic Start Against the Spread
The date was October 17th. Kyrie Irving's return to Cleveland, seemingly the first chapter in what could be an epic rivalry. Gordon Hayward's first game back alongside his former sensei Brad Stevens. Celtics fans such as myself were preparing for what looked like a monumental season and another step closer to banner #18.
And then…within a blink of an eye…poof. Season over. Alright, maybe I'm exaggerating, but without Gordon Hayward, expectations for the Celtics took a substantial hit. Within a week of the injury, their title odds dropped from 12/1 to nearly 21/1 at 5Dimes.
Fast-forward a few weeks and what do you know, the Celtics have the best record in the NBA at 8-2. Go figure. However, what is perhaps even more surprising is that they are 9-1 against the spread.
How many other teams have had a 9-1 ATS start to the season since 2005? Two. The Celtics are now the 3rd team in the past 13 seasons, joining the 2009-10 Hawks and the 2010-11 New Orleans Hornets team (RIP.)
So how have they continued to defy the odds and beat the books?
The key reason, as Justin Phan of Fantasy Labs noted in the Action Network Slack channel, is their defense. At 93.2 points allowed per game, Boston is stifling offenses on a nightly basis. During their eight game winning (and covering) streak, they've allowed 100 points zero times. One big reason for this is their league-best opponent three point field goal percentage of 30.8%. With threes playing such a huge factor in the NBA these days, keeping your opponent in check from deep is crucial.
Al Horford has stepped up big time on both ends of the court and some are already making an early case for him winning defensive player of the year. Marcus Smart and Jaylen Brown are no slouches on D, either.
There are still things the Celtics will want to improve, though. Their 102.9 points per game are 23rd best in the league and right now, it doesn't appear that they'd be able to keep up in a high scoring game. Though they've had excellent offensive contributions from their two young stars in Brown and Jayson Tatum, they'll eventually need more from Kyrie Irving, who is shooting 4% worse from the field, 6% worse from deep, and averaging more than four points less than he did last year.
It's a small sample size, but you may be wondering how the other teams to start 9-1 fared the rest of the year. The Hawks ending up going 48-34 ATS and 53-29 straight up, losing in the second round of the playoffs. The Hornets ended up going a mediocre 40-41-1 ATS and 46-36 straight up, losing in the first round of the playoffs.
The Celtics have a quick turnaround tonight, ending their three-game road trip against the Hawks. Atlanta is coming off an increasingly popular big upset against the Cavs. Right now, bettors are siding bigtime with Boston. At -8.5, they are getting close to 80% of spread bets. They'll need a few more covers to top the Hawks, who started 11-1 ATS, for the definitive best ATS start to a season.
Check our NBA free odds page for the latest odds and percentages. Are the Celtics due for a loss or will their winning ways continue?