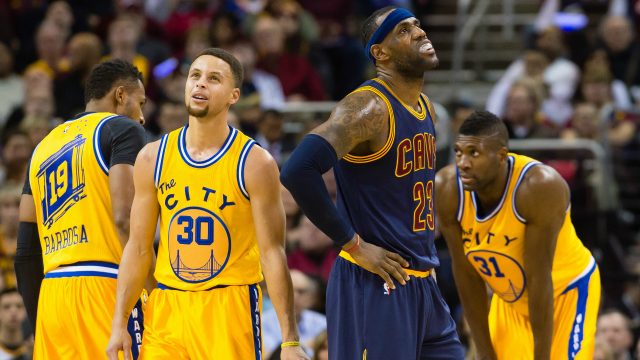 Are the Warriors and Cavs Experiencing an NBA Finals Hangover?
We're just a few weeks into the season, but last year's title teams have bettors scratching their heads. The Warriors and Cavs are struggling to live up to expectations set by oddsmakers and are killing public bettors' bankrolls.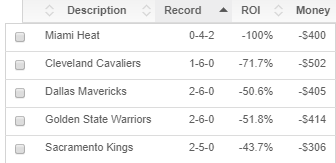 Sportsbooks are certainly happy with these lackluster starts, as these two teams have had 50% or more spread dollars in 12 of the 13 games. But this is all in the past…will they continue to suck at an alarming rate going forward?
Since these teams are coming off NBA Finals appearances, it had me wondering whether there is a "hangover" the next season. I went ahead and looked at each of the finals teams in the following season to see if there are any trends that we can use to our advantage. The statistics are based on the closing lines at Pinnacle, the champion is listed first in the left column, and by 1st and 2nd half, I mean games 1-41 and 42-82, not 1st or 2nd half game lines.
Year
Champion 1st Half ATS
Champion 2nd Half ATS
Champion Total ATS
Runner Up 1st Half ATS
Runner Up 2nd Half ATS
Runner Up Total ATS
2005-06
Spurs & Pistons
18-22-1
22-18-1
40-40-2
23-18-0
15-24-2
38-42-2
2006-07
Heat & Mavs
20-19-2
23-18-0
43-37-2
22-16-3
18-21-2
40-37-5
2007-08
Spurs & Cavs
20-21-0
18-22-1
38-43-1
19-22-0
18-23-0
37-45-0
2008-09
Celtics & Lakers
21-20-0
22-19-0
43-39-0
19-22-0
24-17-0
43-39-0
2009-10
Lakers & Magic
18-22-1
16-23-2
34-45-3
20-20-1
26-14-1
46-34-2
2010-11
Lakers & Celtics
18-23-0
20-21-0
38-44-0
19-20-2
19-22-0
38-42-2
2011-12*
Mavs & Heat
20-13-0
12-21-0
32-34-0
17-16-0
15-18-0
32-34-0
2012-13
Heat & Thunder
20-21-0
26-15-0
46-36-0
23-15-3
25-16-0
48-31-3
2013-14
Heat & Spurs
18-23-0
19-19-3
37-42-3
21-20-0
24-17-0
45-37-0
2014-15
Spurs & Heat
19-21-1
22-18-1
41-39-2
18-21-2
18-22-1
36-43-3
2015-16
Warriors & Cavs
24-16-1
21-20-1
45-36-2
19-21-1
19-21-1
38-42-2
2016-17
Cavs & Warriors
18-22-1
18-22-1
36-44-2
18-22-1
23-17-1
41-39-2
Total
234-243-7 (49.1%)
239-236-10 (50.3%)
473-479-17 (49.7%)
238-233-13 (50.5%)
244-232-8 (51.3%)
482-465-21 (50.9%)
* Strike shortened 66 game season
Just based on the statistics, there is a slight, slight hangover, but both of these teams would be huge outliers if they kept up their current paces. Both the champion and loser of the NBA Finals have done better in the second half of the year than the first. Since they have a much shorter offseason than other teams, it's understandable that their opponents have an edge during the first half of the season.
You'll also notice that they do a bit better as a whole during the second half of the season. I was hoping these teams would go like 40% in the first half and 60% in the second half or something along those lines, but unfortunately, that's not the case.
I think the big thing with these two teams is just whether they play hard or not. They have no reason to go 100% during the regular season because they know they'll make it deep into the postseason regardless of their records.
Another thing to keep in mind is that these teams don't care about the spread. Sorry to burst your bubble "games are fixed" crowd, but it's true. They can still win games even if they don't cover by double digits. In fact, as a double digit favorite, the Warriors and Cavs have gone a combined 64-78 ATS since the start of the 2015-16 season.
I'm sure the Cleveland and Golden State will rip off 10 straight covers to shut me up. Keep track of the NBA lines and percentages on our free odds page to decide whether you want to play or fade these top teams.