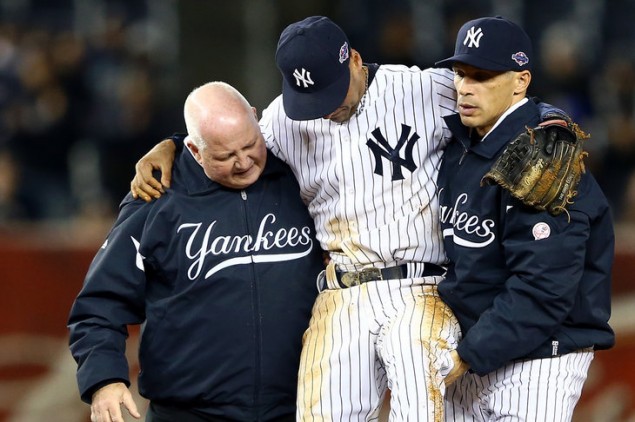 Captain Crutch: Are the Yankees "Bettor" Off Without Derek Jeter?
On Sunday, the Yankees played their first postseason game without Derek Jeter for the first time in nearly two decades. The future Hall of Fame shortstop, who has played in 158 playoff games over his illustrious career, limped off the field after breaking his ankle in the 12th inning of Saturday's 6-4 loss to the Tigers.
Now, trailing the series two games to none, many have already begun to count the Yankees out. After all, it's fairly difficult to replace a 13-time All-Star who has accumulated over 3,300 career hits — including 216 this season. The news may be tragic to the sports world of the Big Apple but has Jeter's injury opened up a unique opportunity for MLB bettors?
Using our BetLabs software, we examined the Yankees' overall performance since 2011, then looked at the team's record when Jeter played. By subtracting the two records, we uncovered New York's performance without their captain in the lineup.
| | | | |
| --- | --- | --- | --- |
| Filter | Record | Units Earned | Return on Investment |
| Yankee Games Since '11 | 204-147 | +3.44 | 1% |
| Yankees With Jeter | 165-126 | -3.66 | -1.3% |
| Yankees Without Jeter | 39-21 | +7.1 | 11.8% |
* Pinnacle's closing lines were used to determine moneyline.
As you can see, bettors taking the Yankees in every game since 2011 would have turned a negligible profit, while betting every game in which Jeter played would have produced slight losses. That means taking the Yankees when "Mr. October" is out of the lineup would be fairly lucrative.
In 60 games without Jeter, the Yankees have gone 39-21 for 7.1 units earned and an 11.8% return on investment. At Sports Insights we constantly preach the importance of buying on bad news while selling the good and these results directly correlate our philosophy. Nonetheless, Jeter is a future first-ballot Hall of Famer with a laundry list of career accomplishments, fans likely overestimate his value.
With Justin Verlander taking the mound for Detroit in Game 3, it's no surprise that the Tigers are receiving 63% of moneyline wagers as -180 favorites, however, there could be some value on the Yankees as +169 underdogs.