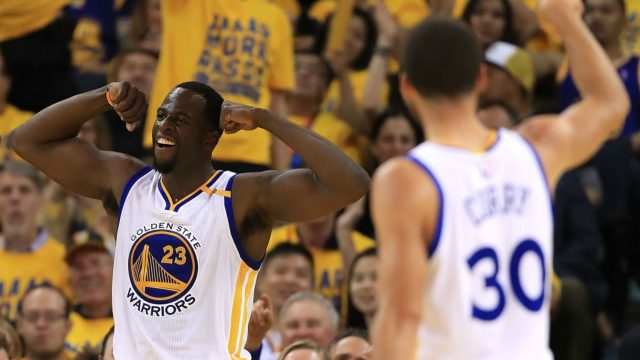 Bettors Once Again Hammering the Warriors in Game 4
The Golden State Warriors (45-42 ATS overall, 22-21 ATS on the road) will be looking to sweep the Utah Jazz (42-45 ATS, 19-22 ATS at home) in Game 4 of their second-round playoff series. The Warriors have won a franchise-best seven straight playoff games and will advance to their third consecutive Western Conference Finals with a victory this evening. Not surprisingly, bettors are once again hammering the league's most public team.
Golden State opened as 8-point favorites at the market-setting Bookmaker.eu and have received 83% of spread tickets at our contributing sportsbooks. Although that figure will likely drop before tip-off, no NBA playoff team in our historical database has ever received more than 81% of spread tickets. Much like tonight's game, both of these matchups involved the number one seed with their opponent facing elimination.
Celtics (closed -8) received 81% of spread tickets in Game 7 of their first-round series against the Hawks on April 26, 2008
Suns (closed -8) received 81% of spread tickets in Game 4 of their first-round series against the Grizzlies on April 27, 2005
Since 2005, there have only been 16 road favorites of 8-points or greater during the NBA playoffs, but that hasn't stopped bettors from taking the chalk across the sports betting marketplace. As you can see from the screenshot below, the Warriors have received at least two-thirds of spread tickets at every offshore sportsbook we monitor.
[click image below to enlarge]

This has been historically one-sided public betting, and our money percentages have been even more dramatic. At the time of publication, the Warriors had actually received a whopping 98% of spread dollars. Bettors have also been taking Golden State to win straight up, with 78% of moneyline tickets and 98% of moneyline dollars backing the road favorite.
[Public bettors] are piling on at a pretty good rate, more so than they have in any of the first three games," according to Scott Cooley, a spokesman from Bookmaker.eu. "Wiseguys laying low up to this point."
The Warriors received the majority of spread tickets in 85 of 89 games this season including all 44 road games. In fact, the Warriors averaged 72.8% of spread tickets on the road versus just 63.6% of spread tickets at home. Bettors clearly aren't placing much value on home-court advantage and see an opportunity to take the league's best team at a discounted price.
The table below displays the closing line and public betting trends in each of Golden State's previous seven playoff games.
| Date | Closing Line | Opponent | GS Betting | Result |
| --- | --- | --- | --- | --- |
| 5/6/17 | Golden State (-6.5) | @ Utah | 78% | GS 102, UTA 91 |
| 5/4/17 | Golden State (-12.5) | vs. Utah | 65% | GS 115, UTA 104 |
| 5/2/17 | Golden State (-13) | vs. Utah | 64% | GS 106, UTA 91 |
| 4/24/17 | Golden State (-9) | @ Portland | 64% | GS 128, POR 103 |
| 4/22/17 | Golden State (-4.5) | @ Portland | 67% | GS 119, POR 113 |
| 4/19/17 | Golden State (-11.5) | vs. Portland | 54% | GS 110, POR 81 |
| 4/16/17 | Golden State (-15) | vs. Portland | 59% | GS 121, POR 109 |
In addition to the one-sided betting on the spread, bettors also continue to pound the over in tonight's game. At the time of publication, 84% of tickets and 94% of money had taken the over. This isn't surprising considering that a majority of tickets have been placed on the over in 963 of 1070 (90%) of NBA playoff games over the past 13 seasons. That's compounded by the fact that the Warriors led the league with 115.9 points/game during the regular season, and their overs were routinely pounded by bettors.
During the regular season, the majority of tickets were placed on the over in 78 of 82 (95.5%) Warriors games. Unfortunately for these public bettors, the Warriors were actually tied with the Chicago Bulls for the best under record (50-32). Although the Warriors have the league's best offense, the combination of lofty totals and an underrated defense caused their totals to consistently go under the closing total.
Despite this public betting, there's been limited line movement in tonight's game. The Warriors are still listed as 8-point road favorites, with the total holding steady at 206. Bookmaker has adjusted the juice from Golden State -8 (-110) to -8 (-115), but they haven't actually moved the spread. Although Bookmaker briefly adjusted their total from 206.5, sharp action on the under immediately caused the total to drop a point before settling back at 206.
[click image below to enlarge]

Assuming public bettors continue hammering the Warriors and the over, it will be interesting to see whether oddsmakers adjust their numbers.
Sportsbook Insider Pro subscribers also have access to real-time odds, public betting trends, money percentages, bet signals (including steam moves and reverse line movement alerts), injury alerts, value meter, line watcher, line predictor, and many other unique features. Looking to try our service? Sign up now for a 4-day trial and start winning today!
Have any questions for the staff at Sports Insights? Make sure to utilize our live chat or call us directly at 877-838-2853.