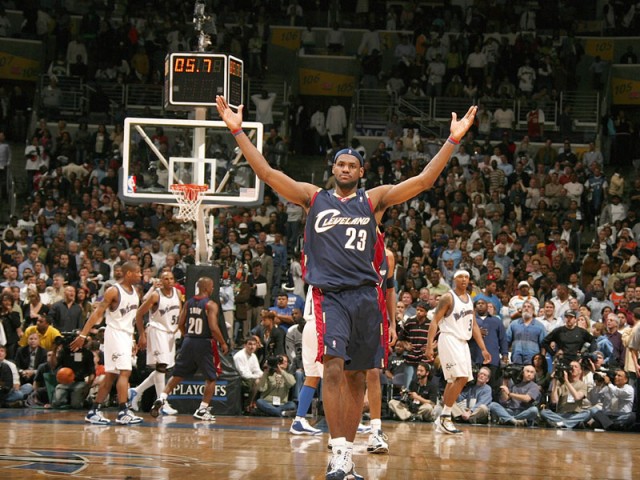 What Should Bettors Know About LeBron James Return To Cleveland?
Friday July 11, 2014 — a monumental day for the long-suffering fans of the Cleveland Cavaliers. After taking his talents to South Beach and betraying his hometown with The Decision four years ago, LeBron James will return to Cleveland. The impact of this massive announcement took the league by storm and caused major moves in the NBA Futures market.
On June 11th, Sportsbook.com listed the Cavaliers at 60/1 to win the 2015 NBA Championship. Following LeBron's free agent signing, the Cavaliers skyrocketed up the charts and are now the favorite to win it all at 4/1. Additionally, they posted season win totals and listed the Cavs over/under at 57. For a quick comparison, LeBron's Heat teams have had the following records:
2013-14: 54-28
2012-13: 66-16
2011-12: 46-20 (Strike shortened season)
2010-11: 58-24
Of course, for every action there is an equal and opposite reaction and the shock waves caused by LeBron's latest decision are being felt the hardest in Miami.
Just one day before LeBron's announcement, the Heat were a +500 favorite to win the 2015 Championship. A day later? The Heat have plummeted to +7500. In fact, LeBron's exodus will likely set off a chain reaction including Chris Bosh's likely departure from Miami to Houston where he will team up with James Harden and Dwight Howard to create a Big Three of his own. Since yesterday the Rockets futures at Sportsbook.com ticked up slightly from 15/1 to 12/1.
The day before LeBron signed with Cleveland, 5Dimes had posted a prop bet regarding where King James would be playing this upcoming season. As you can see from the table below, there was a great deal of fluctuation throughout the day.
| | Odds on Thu 12 pm ET | Thu 3 pm ET | Thu 4 pm ET | Thu 8 pm ET | Thu 9 pm ET | Fri 8 am ET |
| --- | --- | --- | --- | --- | --- | --- |
| LeBron back to Cavs | -320 | -560 | -320 | -190 | +325 | -155 |
So with LeBron returning home to Cleveland, what type of production should we expect? On Friday Bovada actually posted a prop bet regarding LeBron's 2014-15 production where they set an over/under of 25.5 points, 7.5 rebounds and 7 assists per game. They also listed LeBron at +150 to win the 2015 NBA MVP (You can also bet that he won't win the MVP at -200). Those odds give King James a 40% implied probability to take home his fifth career Maurice Podoloff Trophy.
Note: The +150 odds for LeBron to win the MVP are identical to his odds prior to last season.
---
It should also be noted that the Cavaliers are currently pursuing a trade for Timberwolves forward Kevin Love.
Cavs have opened trade talks for Kevin Love by offering Dion Waiters, Anthony Bennett & 1st-round pick to T-Wolves. » http://t.co/IkA4qiJQ3K

— SportsCenter (@SportsCenter) July 11, 2014
Kevin Love, who will be a free agent at the end of the season, has made it abundantly clear that he will not be returning to Minnesota when his contract expires. That makes a Love trade very likely as the Timberwolves are unlikely to risk losing their star player for nothing. That said, it's hard to imagine a situation where Minnesota would accept a trade package including a one-dimensional shooting guard, arguably the worst #1 pick of all-time, and a late first round draft pick.
One has to imagine that Cleveland would need to part with the top overall pick in the 2014 draft: Andrew Wiggins. A potential trade of Wiggins and Anderson Varejao (who has an expiring $9.7 million contract) for Love would seem far more likely. Assuming that hypothetical trade comes true, Cleveland's starting five would look something like this:
PG Kyrie Irving
SG Dion Waiters
SF LeBron James
PF Kevin Love
C Tristan Thompson
Cleveland would still have Anthony Bennett coming off the bench and would likely use their remaining salary cap room to sign LeBron favorites like Ray Allen and Mike Miller. On paper that team looks superior to last season's Heat team which closed at +200 to win the 2013-14 NBA Championship.
One thing is for certain: LeBron's new supporting cast is far superior to the Larry Hughes, Antawn Jamison and Mo Williams hodgepodge from four years ago. Despite that, the two teams have very comparable futures. During the 2009-10 season (LeBron's last season in Cleveland), the Cavs were +300 to win the NBA Finals (ranking second behind the Lakers +225). That team was ultimately eliminated from the playoffs by the Boston Celtics.
In James first season with Miami, the Heat were far and away the favorite to win the title with pre-season odds of +175. That team ultimately lost to the Dallas Mavericks in the Finals. The following table shows the future prices for LeBron James teams over the last six years along with the team's final outcome:
Note: Historical odds courtesy of SportsOddsHistory.com.
| Season | Team | Pre-Season Futures | Outcome |
| --- | --- | --- | --- |
| 2014-15 | Cleveland Cavaliers | +400 | ? |
| 2013-14 | Miami Heat | +200 | Lost In Finals |
| 2012-13 | Miami Heat | +220 | Won Championship |
| 2011-12 | Miami Heat | +225 | Won Championship |
| 2010-11 | Miami Heat | +175 | Lost In Finals |
| 2009-10 | Cleveland Cavaliers | +300 | Lost In ECS |
It's interesting to note that at the time of publication, these are actually the worst future odds for any LeBron James led team over the past six seasons. We will continue to monitor these odds, as we expect public bets to pound Cleveland which could cause a drop in their futures.
Do you think this new look Cavs team should be the favorite to win the 2015 Championship? Are they really a better team than the Heat were last season? If Cleveland wins the East will they be over-matched by Western powerhouses like San Antonio, Houston, Oklahoma City or the LA Clippers? Please leave your thoughts and comments in the section below.
[adrotate group="4″]