Bettors Continue to Pound Golden State in Game 3 of the NBA Finals
Following two consecutive blowout wins, the Golden State Warriors (81-15 SU, 51-43-2 ATS) will travel to the Quicken Loans Arena to face off against the Cleveland Cavaliers (63-34 SU, 44-50-3 ATS). Several analysts have stated that this Warriors roster is among the best of all-time, and many respected oddsmakers have speculated that Golden State would be a small favorite against Michael Jordan's 1995-96 Chicago Bulls squad that went 72-10 en route to an NBA title.
Jeff Sherman, the manager for the Westgate Las Vegas SuperBook, set the hypothetical series price at Golden State -360 and stated that the Warriors would potentially be 6.5-point favorites on a neutral court. Aaron Kessler, an oddsmaker for the Golden Nugget, set the hypothetical line at Golden State -4.5. These lines likely assume the game is being played under the current rules (which don't allow for hand checking), but these lines show just how much oddsmakers respect the Warriors.
For many bettors, it's a foregone conclusion that Golden State will win the championship, and that's certainly bolstered by the current series price which has the Warriors listed at -1500. However, let's not forget that just last season the Cavs became the first team in league history to overcome a 3-1 series deficit in the NBA Finals. The Warriors were listed as slightly larger favorites (-1600 before the Draymond Green suspension) to win the title after their Game 4 victory, so it may be too soon to write off LeBron James and the Cavs.
Although the Warriors were originally listed as 2-point underdogs for the Game 3 lookahead line, they actually opened as 2-point road favorites at the market-setting Bookmaker.eu. Despite this inflated price, bettors have been lining up to pound the chalk. According to our public betting trends, the Warriors have received 70% of spread tickets and 64% of spread dollars.
[click image below to enlarge]

The Warriors have received the majority of spread tickets at all seven of our contributing offshore sportsbooks, but I wanted to learn more about tonight's public betting trends so I spoke with Scott Cooley, a spokesman from Bookmaker.
"Similar to Game 2, we've seen both betting parties on the Warriors," stated Cooley. "With the sharps and squares lining up on the same side, we'll be rooting for Cleveland in a big way. We keep thinking we'll get some smart money on the home dog, and it still may come, but we haven't seen enough."
Those trends were confirmed by Scott Kaminsky, sports director at The Greek. "Money on [Golden State] from sharps and public," said Kaminsky. "Total staying steady as of now."
With both casual and respected bettors taking the chalk, oddsmakers have been forced to adjust their lines several times, moving from Golden State -2 to -3.5. At some of the more square sportsbooks (including BetOnline, Bovada, and SIA) the spread has already reached Golden State -4.
[click image below to enlarge]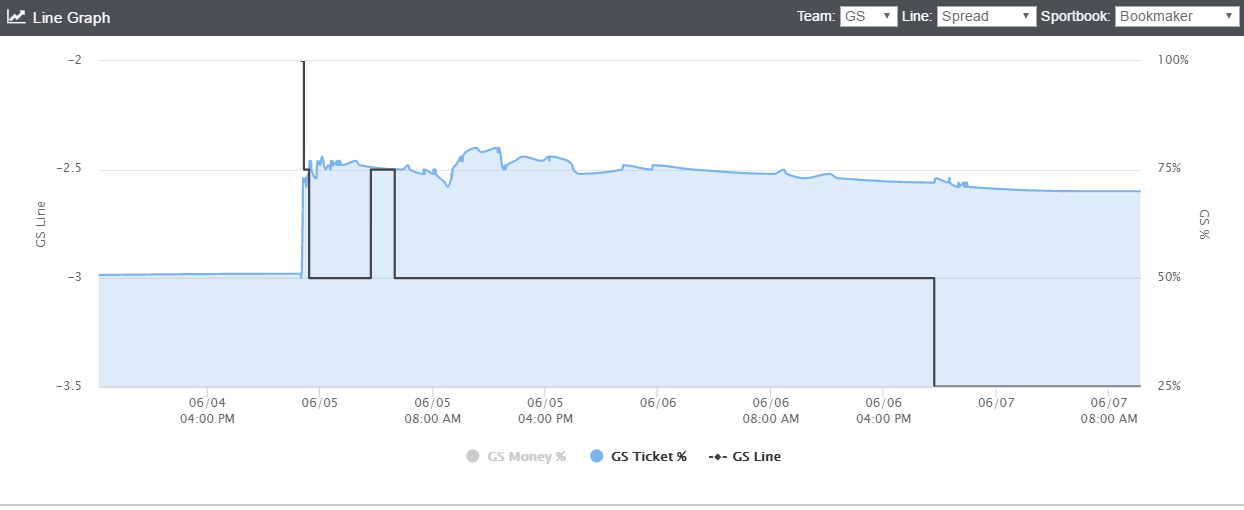 Sharp money on the Warriors caused the spread to move from -2 to -3 within 30 minutes of opening, and steady one-sided public betting caused the line to reach Golden State -3.5. We still haven't seen any buyback on the Cavs, but it will be interesting to see whether that comes down before tip-off.
It's also worth noting that no team in our historical database has ever received more than 69% of spread tickets during the NBA Finals. Assuming the current public betting trends hold up until game time, the Warriors will become the most popular NBA Finals side of all-time.
2012 NBA Finals, Game 4: OKC (+3) received 69% of spread tickets against MIA (Lost 104-98)
2009 NBA Finals, Game 4: LAL (+1.5) received 69% of spread tickets against ORL (Won 99-91)
There's no question that public perception and one-sided public betting are largely responsible for the line movement in tonight's game, which could make Cleveland an excellent buy-low opportunity. There's far more value fading the public during the NBA Finals, that's especially true about contrarian home teams. Since 2005, home teams receiving less than 50% of spread tickets have gone 29-18 ATS and home teams receiving less than 40% of spread tickets have gone 10-4 ATS during the NBA Finals.
Most models indicate that Golden State should be listed as a 1.5-point favorite, so there's definitely value on the Cavs tonight. It may be tough to fade the Warriors given their recent dominance, but being a successful contrarian bettor often means going against the grain and selling on good news.
Sportsbook Insider Pro subscribers also have access to real-time odds, public betting trends, money percentages, bet signals (including steam moves and reverse line movement alerts), injury alerts, value meter, line watcher, line predictor, and many other unique features. Looking to try our service? Sign up now for a 4-day trial and start winning today!
Have any questions for the staff at Sports Insights? Make sure to utilize our live chat or call us directly at 877-838-2853.