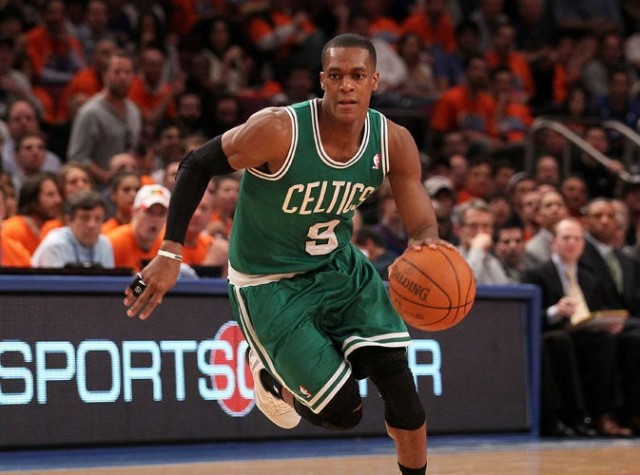 Betting Impact of Rajon Rondo Trade
Yesterday, in the first blockbuster trade of the season, the Boston Celtics traded star point guard Rajon Rondo to the Dallas Mavericks. After years of speculation, the Celtics dealt Rondo along with F/C Dwight Powell to the Mavericks in exchange for F/C Brandan Wright, G/F Jae Crowder, PG Jameer Nelson, a conditional 2015 1st round draft pick, a 2016 2nd round draft pick and a $12.9 million trade exception.
The effects of this deal were immediately felt across the sports betting marketplace with sportsbooks taking Friday's Celtics/Timberwolves game off the board and adjusting their future prices.
Sportsbook.com moved the Mavericks title odds from +1600 to +1200 and BetOnline moved the Mavericks from +1200 to +1000, while the sharper Greek sportsbook adjusted the Mavs from +1600 to +1000. The odds of Dallas winning the West also improved significantly as you can see from the tweet below:
#Mavs odds to win the West: TheGreek: +500 BetOnline: +500 Sportsbk: +600 5Dimes: +900 Heritage: +900

— SportsInsights.com (@SportsInsights) December 19, 2014
It's interesting to note that following the trade of Rondo, Dirk Nowitzki, who took a huge hometown discount to re-sign with the Mavericks this past off-season, is now the lowest paid starter on the Mavericks.
#Mavericks starters by salary: Parsons $14.7 million Chandler: $14.6 million Rondo: $12.9 million Ellis: $8.4 million Nowitzki: $8 million — SportsInsights.com (@SportsInsights) December 18, 2014
Last week the Celtics were already listed as a +10,000 long shot to win the NBA Championship at BetOnline, but following the trade they dropped all the way down to +25,000. It's also noteworthy to point out that this move wasn't exactly unexpected, since prior to the season Rondo was listed as a -175 favorite to be traded.
Will #Celtics PG Rajon Rondo be traded during the 2014-15 NBA season? "Yes" -175 | "No" +125 (via Bovada)

— SportsInsights.com (@SportsInsights) October 24, 2014
Another interesting aspect is Friday's (12/9) Celtics game against the Minnesota Timberwolves. After opening as a 7.5-point home favorite at BetOnline, the game was taken off the board following the trade. With none of the players acquired in Thursday's trade expected to play, Boston re-opened as a 5.5-point favorite at BetOnline. This indicates that oddsmakers believe Rondo is worth 2-points to the spread.
Bettors may also be interested to know that the popular offshore sportsbook Bovada posted a prop bet concerning Rondo's statistics for the remainder of the season along with the odds he re-signs with Dallas in the off-season. Rondo is listed at -300 to play Game 1 of the 2015-16 regular season with the Mavericks and +200 to play elsewhere. They also posted the following props regarding his rest of season production:
Rajon Rondo O/U for Season Averages w/ #Mavericks (via Bovada) 10 points, 5.5 rebounds & 11 assists per game. — SportsInsights.com (@SportsInsights) December 19, 2014
Later in the day, Bovada also released prop bets regarding the overall success of the Mavericks this season. Entering the season, Bovada listed the Mavericks season win total at 50 games and so far this season they've gone 19-8 which puts them on pace for 57.7 wins. Despite their early success and this key acquisition, their updated season win total is only 50.5.
When will the #Mavs be eliminated? (Bovada) Miss Playoffs +400 1st round +140 2nd round +250 Conf. Finals +700 Finals +800 Win Title +750

— SportsInsights.com (@SportsInsights) December 19, 2014
The Celtics clearly took a step backwards this season while adding to their treasure trove of draft picks and further embracing their rebuilding efforts. One potential beneficiary of this trade is Marcus Smart — the sixth overall draft pick in the 2014 NBA Draft. Before the season Smart was listed at +1500 to win the NBA Rookie of the Year Award, but with this trade the 6'4″ guard should see his minutes increase sharply.
There have been an almost unimaginable number of significant injuries to this year's rookie class including Jabari Parker (ACL), Joel Embiid (Foot), Aaron Gordon (Foot), Julius Randle (Tibia), Noah Vonleh (Back) and Doug McDermott (Knee). Although no sportsbook has released updated Rookie of the Year odds, Smart should see his odds increase significantly.
We have recently introduced a new and improved free NBA odds page where bettors can access the latest odds, injuries, futures and other valuable information. This one-stop destination can service almost all of your sports betting needs, so make sure to bookmark this page for later use.
Have any questions for the staff at Sports Insights? Utilize our live chat to speak with a customer service representative or e-mail us at help@sportsinsights.com.