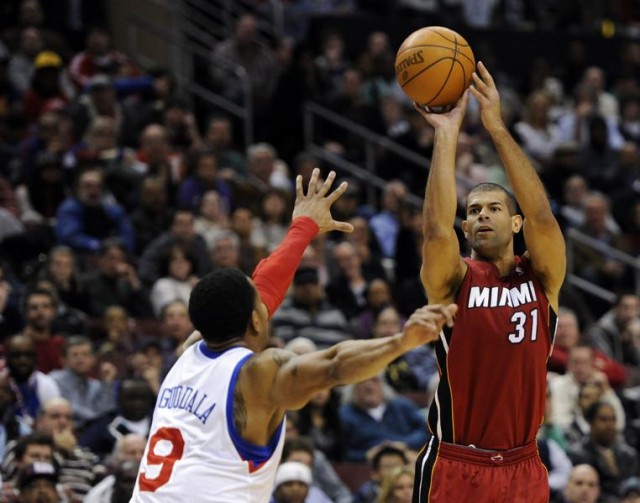 3 and D: Does Shooting Plus Defense Equal Profits for NBA Bettors?
This year's all-star game marked the first time in event history that there was not a starting center in the line-up, with the league instead opting for three forward spots — and this hardly comes as a surprise. Over the past few years, many of the league's most successful teams have been playing with smaller lineups with three premier small forwards (LeBron James, Carmelo Anthony and Kevin Durant) frequently shifting over to play power forward for their respective teams.
With centers being devalued league-wide and many teams having success with non-traditional lineups, the biggest benefactors have been players renowned for their three-point shooting and defense — or, as the kids refer to it, "3 and D." Players like Miami's Shane Battier, San Antonio's Danny Green and Portland's Wesley Matthews have been poster boys for this new trend, and each of their teams have been extremely successful in recent history.
In fact, as the basketball analytics movement continues to grow, NBA teams are shooting more and more three-pointers. This season the league is on pace to break the single season record for both three pointers made and attempted. What's even more telling is that the "old" record was set just last season. But how can bettors profit from this? As always, we went to our Bet Labs software to find out.
Using our statistical filters, we were able to isolate teams with a three-point shooting percentage of greater than 30% with defenses that allow less than 95 points per game (ppg). This basic system produced a winning record (1,809-1,750), however it was unable to overcome the juice charged by sportsbooks. However, once we focused on underdogs we saw an incredible schism.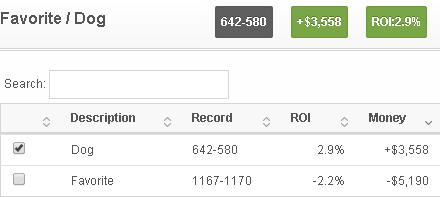 Armed with the knowledge that it was historically profitable to bet on underdogs who can shoot and defend, our aim was to narrow down the number of system results and increase the return on investment (ROI). By doing so, we are able to put less money at stake and increase our expected return for each bet placed.
Knowing that home court advantage has been chronically overvalued by NBA bettors, we opted to narrow our search by focusing solely on road teams. This resulted in no adjustment to the overall units earned, but increased our ROI by 0.9%.
Our past research had also indicated that teams were undervalued when they were in the midst of a road trip, so we used the "Previous Game Home/Visitor" filter in Bet Labs and selected visitor. The resulting system results were better than we had expected.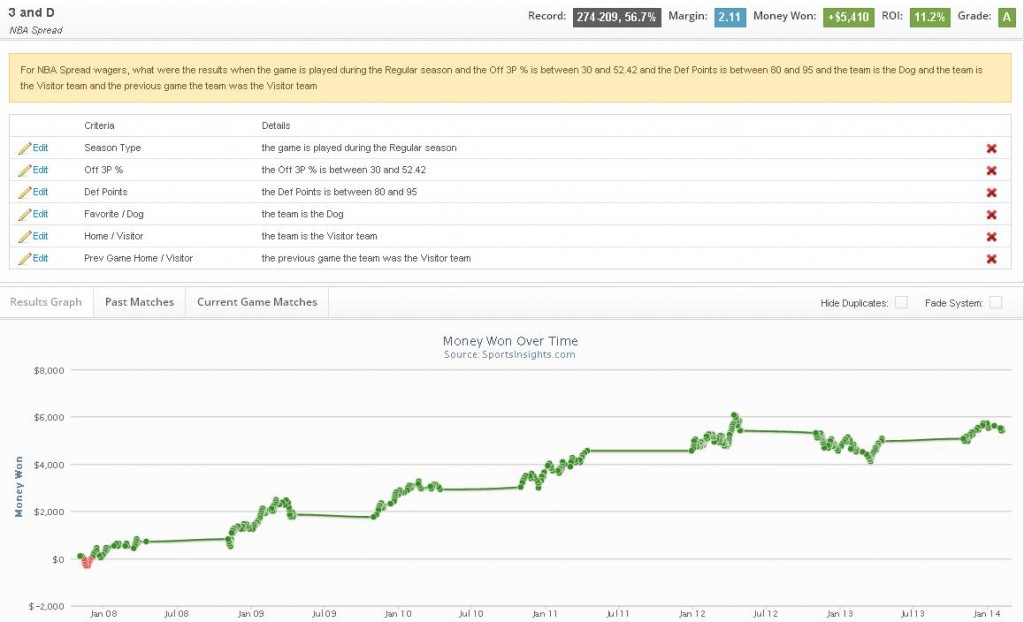 As you can see from the Bet Labs screenshot above, we were able to cut down the number of previous game matches to just under 500 while increasing our overall units won to +54.1. By increasing our profits while cutting down on the number of games bet, the ROI skyrocketed to 11.2%.
By examining teams who shoot at least 35% from downtown we're able to increase the return on investment to 12.4%, however, our overall units earned wanes from 54.1 to 30.69.
This season all 30 NBA teams are shooting above 30% from downtown, however just three teams (the Pacers, Bulls, and Grizzlies) are allowing 95 ppg or less. We will continue to monitor this system as the season progresses, so make sure to check back with our blog for all of the latest news and trends.
We've recently added a number of new filters to Bet Labs, so make sure to try a 4-day trial to create winning betting systems of your own.
12/6/14 Update: This system has gone 7-2 ATS (+4.58 units) this season and is now 302-235 (+54.99 units, 10% ROI) overall.
[adrotate group="4″]