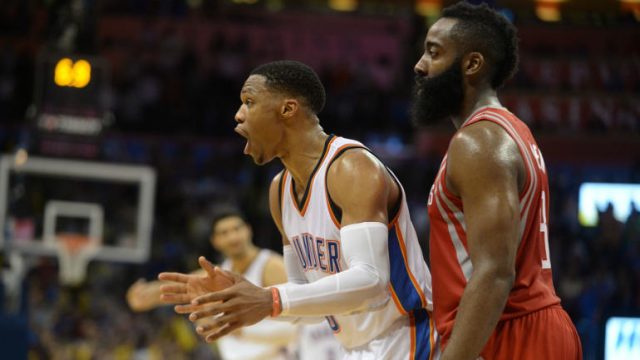 2017 NBA Playoffs: Sharp Money Buyback on the Thunder
The 2017 NBA Playoffs begin this weekend and we've already seen sharp money take a side in one of the more exciting Western Conference matchups.
The Houston Rockets (55-27 SU, 42-40 ATS) opened as 7-point favorites against the Oklahoma City Thunder (47-35 SU, 45-36 ATS) at the market-setting Pinnacle sportsbook. Although the ticket count was fairly even, Houston received 90% of early spread dollars. This one-sided public betting caused the line to move from Houston -7 to -7.5 at Pinnacle. That line remained unchanged for three hours until sharp bettors jumped on Oklahoma City +7.5, triggering a steam move at Pinnacle.
[click image below to enlarge]

As you can see from the line graph, the Pinnacle steam move on Oklahoma City caused the line to move from +7.5 to +7 earlier this afternoon. It's important that bettors realize not all steam moves are created equal and market-setting sportsbooks like CRIS and Pinnacle consistently produce the most profitable moves across all six major US sports.
We have previously discussed why MLB bettors should follow the Pinnacle moneyline steam move, but it's also true for NBA spread bettors. This season the Pinnacle steam move has gone 376-315-14 ATS (54.4%) with +23.6 units, meaning $100/game bettors would have earned $2,360 by following this move. This is one of our best sharp money indicators, and it's clear that sharps were eager to capitalize on that artificially inflated line.
We recently introduced a new sharp action report for all Sportsbook Insider subscribers and, although there are several games where sharp money has hammered the total, this is the only spread where sharp money has taken a side.
[click image below to enlarge]

Sign up now for a 4-day trial of Sportsbook Insider Pro for access to real-time odds, public betting trends, money percentages, steam moves, reverse line movement alerts, contrarian plays, our official Best Bet picks and much more.
Have any questions for the staff at Sports Insights? Make sure to utilize our live chat or call us directly at 877-838-2853.