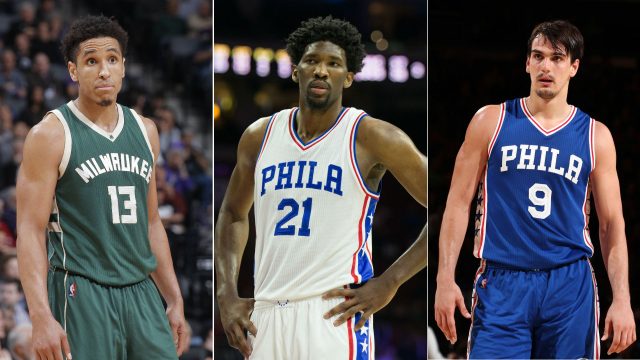 2017 NBA Awards Odds
On Thursday, the NBA will announce the selections to this year's All-NBA teams. These three teams are voted on by a group of sportswriters and broadcasters who each select two guards, two forwards and one center for each team. The outcome of this vote could have massive ramifications on the earning of several potential free agents (including Utah's Gordon Hayward), but this vote is merely an appetizer before the main course.
On June 26, the inaugural NBA Awards will be broadcast live from Basketball City in New York. This voting includes marquee awards like Most Valuable Player, Rookie of the Year, Coach of the Year, Most Improved Player and many others. We discussed the odds for many of these awards before the start of the season, but 5Dimes recently updated their odds for four of the biggest awards along with odds for the field.
Most Valuable Player
Russell Westbrook -1050, Field +550
James Harden +700, Field -1500
Rookie of the Year
Dario Saric -165, Field +125
Malcolm Brogdon +125, Field -165
Joel Embiid +600, Field -1200
Sixth Man
Eric Gordon -475, Field +325
Coach of the Year
Mike D'Antoni -1050, Field +550
As you can see, oddsmakers think it's a slam dunk that Russell Westbrook will win the MVP Award, Eric Gordon will win the Sixth Man Award and Mike D'Antoni will win the Coach of the Year Award. Perhaps the most interesting debate involves the Rookie of the Year, where Dario Saric (-165) is a slight favorite over the field (+125).
Each of these players has compelling — albeit very different — arguments as to why they should win this award. Saric was arguably the most consistent player of the group, averaging 12.8 points, 6.3 rebounds, and 2.2 assists in 81 regular season games. Unfortunately, his team won just 28 games and Saric was very inefficient, shooting just 41.1% from the floor.
Brogdon, a second-round pick from Virginia, was a key contributor to a playoff team and would be my Rookie of the Year selection. The 24-year old guard averaged 10.2 points, 4.2 assists, and 2.8 rebounds in 75 games while playing lockdown defense and shooting better than 40% from long range. He may have scored fewer points than Saric, but his points came in meaningful minutes for a contending team.
Joel Embiid, who reached -2500 to win this award before suffering a season-ending injury, is considered a long shot at +600. The versatile big man averaged 20.2 points, 7.2 rebounds, 2.1 assists and 2.5 blocks in just 31 games. There's no doubt that Embiid was the most impressive first-year player, no Rookie of the Year winner has played fewer than 50 games (Patrick Ewing in 1986) in league history.
There are no odds available for some of the other major awards, but we'll likely see those posted in the upcoming weeks. For what it's worth, Kawhi Leonard was the preseason Defensive Player of the Year favorite.
Looking for the latest NBA odds, betting trends and injury updates? Make sure to check out our free NBA odds page.
Have any questions for the staff at Sports Insights? Utilize our live chat to speak with a customer service representative or e-mail us at help@sportsinsights.com.