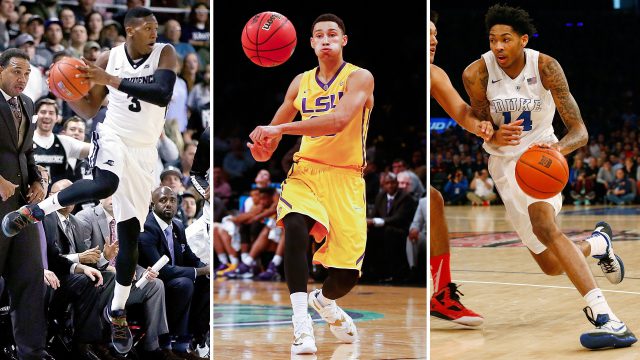 2016 NBA Mock Draft: An Oddsmakers Take
The NBA Draft lottery took place last night and the Philadelphia 76ers finally landed the first overall pick after years of "trusting the process", or as most basketball fans call it, tanking. The Los Angeles Lakers, who had the second-best odds of winning the lottery, landed the second overall pick. In fact, there were no surprises with the lottery going all chalk.
Bryan Colangelo, the new Sixers general manager, will now be tasked with a difficult decision between LSU's Ben Simmons and Duke's Brandon Ingram. Simmons was viewed as the consensus top pick throughout the season, but his stock took a massive hit late in the year due to concerns about his assertiveness and shooting ability.
According to oddsmakers, it's almost a toss-up on who Philadelphia will select.
Who will be selected 1st overall in the #NBADraft? (via @BovadaLV)

Ben Simmons -160
Brandon Ingram +125
Field +1000

— Sports Insights (@SportsInsights) May 18, 2016
Bovada is taking a 15% hold on this prop bet; however, when we account for juice we find the following implied probabilities for each player:
Ben Simmons: 53.48%
Brandon Ingram: 38.62%
Field: 7.90%
The odds for the field seem like they should be longer, but Bovada is a fairly square sportsbook and they don't always post the best lines. Looking across the sports betting marketplace there are several oddsmakers posting similar NBA Draft prop bets with dramatically different odds. For example, TopBet.eu lists the odds of Simmons going number one and Ingram going number two at -500.
These types of prop bets never take large limits but, as I've stated before, I think that Ben Simmons is clearly the best player in this draft and will be selected with the first pick in June's draft. That sentiment seems to be shared by the Sixers front office. According to an article published on Bleacher Report this morning, "The Philadelphia 76ers are leaning heavily toward taking Simmons on June 23, according to league sources."
It's also interesting to see that TopBet has posted a prop bet that includes some of the most likely candidates to be selected by the Celtics with the third overall pick. Although it's still unclear whether GM Danny Ainge will be shopping the pick, Kentucky guard Jamal Murray (+200) is a slight favorite to be picked ahead of Dragan Bender (+220), Buddy Hield (+240) and Kris Dunn (+300).
Using these prop bets, we were able to create a rudimentary mock draft for the top six picks which we compared with some of the most respected NBA Draft experts.
| Team | Oddsmakers | NBADraft.net | Chad Ford | Draft Express |
| --- | --- | --- | --- | --- |
| Philadelphia 76ers | Ben Simmons | Ben Simmons | Ben Simmons | Brandon Ingram |
| Los Angeles Lakers | Brandon Ingram | Brandon Ingram | Brandon Ingram | Ben Simmons |
| Boston Celtics | Jamal Murray | Buddy Hield | Jamal Murray | Dragan Bender |
| Phoenix Suns | Dragan Bender | Dragan Bender | Dragan Bender | Jaylen Brown |
| Minnesota T'Wolves | Buddy Hield | Jamal Murray | Kris Dunn | Kris Dunn |
| New Orleans Pelicans | Kris Dunn | Kris Dunn | Buddy Hield | Jamal Murray |
This situation is somewhat reminiscent of the 2014 NBA Draft where draft experts were torn between Andrew Wiggins, Jabari Parker and Joel Embiid. People may not remember this, but Embiid initially opened as a -400 favorite to be selected with the first overall pick before injury concerns derailed his stock. That announcement caused Wiggins to emerge as a -250 favorite with Parker listed at +160.
It will be interesting to see how these odds fluctuate over the next few weeks, but I can almost guarantee that the odds of Simmons being selected with the first overall pick (-160) will continue to soar.
We will continue to update this mock draft as new props are posted, but make sure to keep up with the latest NBA playoff odds, trends, injuries and more by visiting our free NBA odds page.
Have any questions for the staff at Sports Insights? Utilize our live chat to speak with a customer service representative or e-mail us at help@sportsinsights.com.