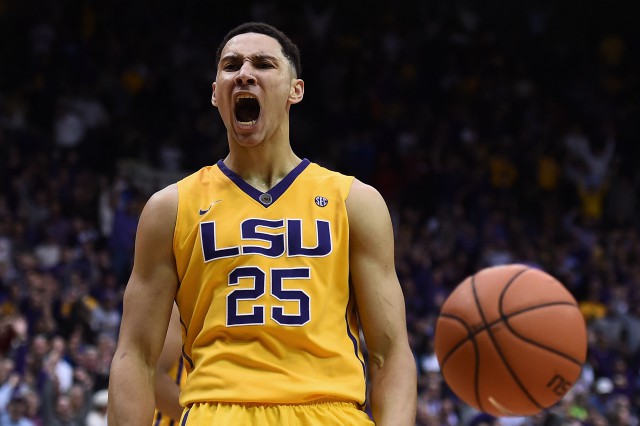 Will Ben Simmons be the First Pick in the 2016 NBA Draft?
The 2016 NBA Draft will take place on Thursday, June 23 at the Barclays Center in Brooklyn, New York. We won't know which team will own the first selection until the NBA Draft Lottery on May 19, but many basketball fans believe that LSU's Ben Simmons will be the top pick regardless.
The 6'10" forward was the top-ranked prospect coming out of high school, and he certainty lived up to the hype. This season Simmons averaged 19.2 points, 11.8 rebounds, 4.8 assists and 2.0 steals per game while shooting 56% from the floor. Although the comparison seems hyperbolic, many analysts have compared Simmons to LeBron James.
Much like King James, Simmons combines élite size and athleticism with an unselfish attitude and tremendous passing abilities. Simmons is also an excellent rebounder with a tremendous handle and the ability to finish in traffic. However, Simmons game isn't without flaws.
Despite being a down year for the SEC, Simmons was unable to guide LSU into the NCAA Tournament. There have also been several questions about his jump shot, work ethic and leadership qualities. Simmons doesn't seem to have three-point range, which could prove troubling given the evolution of the NBA game.
Earlier this season it seemed like a foregone conclusion that Simmons would be the first overall pick in this year's draft, but clearly his stock is dropping. When Paddy Power first posted a prop bet on the first pick in the 2016 NBA Draft back in late December, Simmons was listed at -275 with the field at +170. Those odds began to steadily climb, reaching a high of -750 in early March. That's when Simmons' top contender emerged.
Despite being the third-ranked player in this season's freshman class, Duke's Brandon Ingram seemed to fly under the radar earlier this season. During an early three game stretch, the 6'9″ forward struggled posting just 4-points against Kentucky, 8-points against VCU and 5-points against Georgetown. However as the season progressed, it became obvious that Ingram was a future star.
With a 7'3″ wingspan, slight frame, and outstanding shooting ability, Ingram has reminded many fans of a young Kevin Durant. Throughout the season he's become more assertive and has proven to be a matchup nightmare — shooting over smaller defenders and blowing past slower big men. Despite that slow start, Ingram averaged 17.5 points and 6.8 rebounds per game while shooting an impressive 41.3% from downtown.
It's also worth pointing out that Ingram was phenomenal during March Madness, while Simmons was likely watching the games from his couch. Ingram averaged 23 points per game in three NCAA Tournament games including a game-high 24 against top-seeded Oregon.
With their draft values seemingly going in opposite directions, several mock drafts have Ingram being selected ahead of Simmons. These changing tides caused Simmons' odds of being the first overall pick to drop from -750 to -333 between March 2 and March 23.
Although Paddy Power has taken this prop off the board, Sportsbook.com recently posted updated odds with Simmons listed at -260 to be the first overall pick. These are the shortest odds of the season, but Simmons is still clearly the favorite for that top spot. After accounting for the juice, we find that oddsmakers give Simmons a 68.75% implied probability of being the top pick come May.
The table below tracks the odds and implied probability for this prop bet throughout the season.
| Date | Sportsbook | Yes | No | Implied Probability |
| --- | --- | --- | --- | --- |
| April 9 | Sportsbook.com | -220 | +160 | 65.52% |
| April 7 | Sportsbook.com | -260 | +180 | 68.75% |
| March 23 | Paddy Power | -333 | +210 | 73.08% |
| March 4 | Paddy Power | -475 | +265 | 78.72% |
| March 2 | Paddy Power | -750 | +400 | 85.19% |
| February 29 | Paddy Power | -675 | +350 | 83.68% |
| February 26 | 5Dimes | -490 | +330 | 80.39% |
| February 2 | Paddy Power | -450 | +260 | 78.02% |
| January 8 | Paddy Power | -333 | +210 | 73.08% |
| December 29 | Paddy Power | -275 | +170 | 68.99% |
We will continue to monitor these odds as the draft approaches, and will post any updates that become available. Be forewarned that Sportsbook.com is very square and has a poor track record of paying out their members.
Personally, I believe that oddsmakers are overreacting to recent results. Although Ingram's skill set seems like it will translate well to the professional game, he hasn't been under a microscope all season and fans haven't taken the time to point out some of his deficiencies. There are still many concerns about Ingram's weight, foot speed and defensive ability that haven't been addressed.
It also seems like people are over-blowing the importance of team need when drafting. The 76ers may have a surplus of big men that would seemingly make Ingram a more desirable choice than Simmons, but you always take the best player available at the top of the draft. Simmons has the potential to be a franchise building block, and I'm not sure that the same can be said about Ingram. At -220, Simmons still seems like an excellent value.
What do you think? Will Simmons be the first pick of the draft? Are the oddsmakers overreacting to late season results? Leave your thoughts in the comment section below.