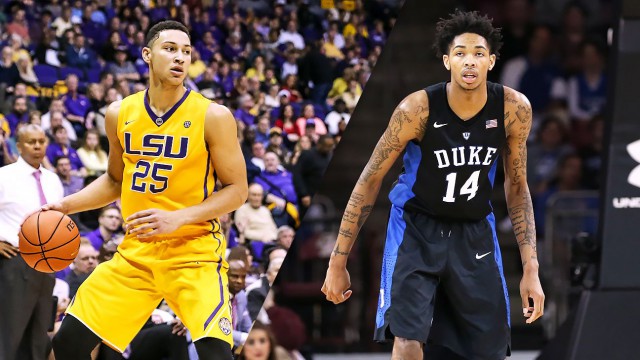 2016 NBA Draft: An Early Mock Draft from the Oddsmakers
The 2016 NBA draft will be held on Thursday, June 23rd at 7 p.m. ET as teams search for the best collegiate and international talent. Even though the draft lottery won't take place for another three weeks, sportsbooks have already begun to post prop bets pertaining to the first few picks.
[ Get all of our NBA Best Bets by signing up for a 4-Day trial of Sportsbook Insider Pro ]
Several weeks ago, we published an article which looked at Ben Simmons odds of being selected with the first overall pick in the NBA Draft. Propelled by a hot start, Simmons' odds moved from -275 to -750 before analysts began to lambaste his shooting ability, defensive effort and leadership qualities. These criticisms, along with the rising stock of Duke's Brandon Ingram, caused Simmons' odds of going number one to plummet from -750 to -220.
Although Simmons may not be the franchise changing talent that people were expecting earlier in the season, he's highly reminiscent of Milwaukee's Giannis Antetokounmpo — a tall and athletic forward with tremendous athleticism and a point guard's skill set. The Greek Freak averaged 16.9 points, 7.7 rebounds and 4.3 assists per game last season, and I think Simmons is more than capable of that type of production — perhaps with even more upside as a rebounder.
Earlier this week, TopBet posted a new prop bet that confirmed what I already believed — Ben Simmons will be the first overall selection and Brandon Ingram will be the second overall selection.
The odds of Ben Simmons going 1st and Brandon Ingram going 2nd in the NBA Draft are -260. via @topbetsports

— David Solar (@TheDavidSolar) April 25, 2016
Those top two picks are essentially set in stone, but there are still a lot of questions about who will be selected with the third overall pick. Obviously the draft lottery will determine the draft order, but most teams in the top-five aren't picking for need — they're looking for the best player available.
Luckily, TopBet posted a prop bet including four of the most likely players to be selected with the third overall pick in the NBA Draft, although they did omit two potential dark horse candidates: California's Jaylen Brown and Marquette's Henry Ellenson. According to their odds, reigning Wooden Award winner Buddy Hield (+120) is the favorite to be selected after Simmons and Ingram.
Which of these players will be drafted the earliest? via @topbetsports

Buddy Hield +120
Dragan Bender +200
Jamal Murray +220
Kris Dunn +500

— Sports Insights (@SportsInsights) April 25, 2016
Using these prop bets, we were able to create a rudimentary mock draft for the top six picks which we compared with some of the most respected NBA Draft experts.
| Team | Oddsmakers (4/26) | Draft Express (4/26) | NBADraft.net (4/25) | Chad Ford (4/24) |
| --- | --- | --- | --- | --- |
| 1. Philadelphia 76ers | Ben Simmons | Brandon Ingram | Ben Simmons | Ben Simmons |
| 2. Los Angeles Lakers | Brandon Ingram | Ben Simmons | Brandon Ingram | Brandon Ingram |
| 3. Boston Celtics | Buddy Hield | Dragan Bender | Buddy Hield | Jamal Murray |
| 4. Phoenix Suns | Dragan Bender | Jaylen Brown | Dragan Bender | Dragan Bender |
| 5. Minnesota T'Wolves | Jamal Murray | Kris Dunn | Jamal Murray | Henry Ellenson |
| 6. New Orleans Pelicans | Kris Dunn | Jamal Murray | Kris Dunn | Buddy Hield |
It's interesting to see that the oddsmakers' mock draft is identical to the most recent mock draft from NBADraft.net. It's also worth noting that Draft Express disagrees with the oddsmakers that Ben Simmons will be the first overall pick. That's particularly interesting since Draft Express actually had the most accurate mock draft last season.
If you believe that Draft Express will continue their success this season, you may want to consider taking Dragan Bender (+200) to be drafted the earliest of those four players listed. The 7'1″ Croatian forward is being compared by many analysts to Knicks rookie Kristaps Porzingis, although Bender doesn't appear to have the same level of athleticism from the highlights that I've seen. That said, he's definitely a versatile player with an excellent handle for a seven-footer.
Personally, I agree with Chad Ford that Jamal Murray (+220) should be the third overall pick. It's true that Hield was the more productive player last season, but Murray is three years younger and has shown the ability to play point guard. It's also worth pointing out that Murray's loan season at Kentucky was superior to Hield's freshman, sophomore and junior seasons at Oklahoma.
Throughout the playoff bettors can keep up with the latest odds, trends, injuries and more by visiting our free NBA odds page.
Have any questions for the staff at Sports Insights? Utilize our live chat to speak with a customer service representative or e-mail us at help@sportsinsights.com.