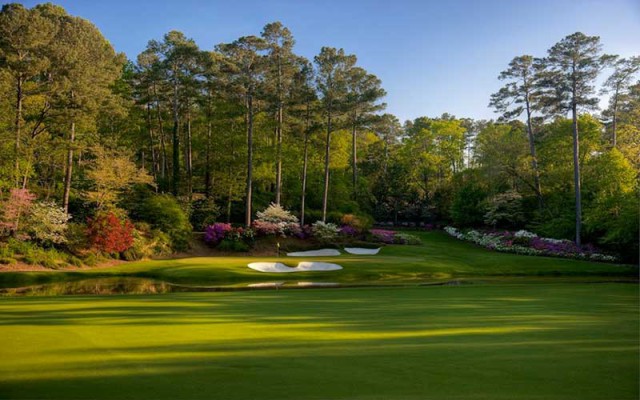 2016 Masters Prop Bets
The 2016 Masters Tournament will begin tomorrow, running from Thursday through Sunday. Held at the prestigious Augusta National Golf Club, the Masters has the smallest field of the four major golf championships.
Jordan Spieth and Rory McIlroy opened as the co-favorites back in October; however, they have dropped from +600 to +750 over the past few months. Conversely, Jason Day has emerged as the new front-runner after seeing his odds of winning jump from +800 to +650.
Though most golf bettors tend to gravitate towards these odds to win or head-to-head matchups, there can also be tremendous value found in prop bets.
Bookmaker, which is one of the sharpest offshore sportsbooks, posted several intriguing props ranging from the number of hole-in-ones to whether the winner will cry on the 18th hole. Most of these props have max bets of between $250 and $500, and some have already been hammered.
The over/under on the highest 18-hole score opened at 82.5 (-110), but with forecasts calling for strong winds and cold temperatures there has been considerable action on the over. This one-sided public betting has caused the total to jump to 83.5 with -240 juice on the over.
In another major line move, the most strokes on any hole has jumped from 8 (-110) to 8.5 (-175) based on several max bets taking the over.
The list below displays the current odds for the available prop bets at Bookmaker. It will be updated as new information becomes available.
Who will be the 2016 US Masters Champion?
SPIETH/DAY/MCILROY +210
FIELD -240
What will be the highest 18-hole score in any round?
OVER 83.5 (-241)
UNDER 83.5 (+195)
What will be the lowest 18-hole score in any round?
OVER 65.5 (-122)
UNDER 65.5 (-104)
What will be the most strokes recorded on any hole by one player?
OVER 8.5 (-175)
UNDER 8.5 (+150)
Will there be a wire-to-wire winner?
YES +685
NO -1215
Will there be a playoff?
YES +250
NO -300
Will the winner cry on the 18th green?
YES +325
NO -400
What type of putter will the winner be using on the final green?
BLADE -500
MALLET +350
SPONSORED WINNER WILL BE (LOGO MUST APPEAR ON HAT)
TITLEIST +465
PING +705
CALLAWAY +1015
UNDER ARMOR +725
TAYLORMADE +205
NIKE +525
COBRA/PUMA +1015
OTHER +1415
WHO WILL THE WINNER HUG 1ST – (EXCL CADDY)?
WIFE/GIRLFRIEND +145
WIFE HOLDING CHILD +185
CHILD +385
PARENT +1415
NO HUG +825
WHICH AMATEUR WILL HAVE THE BEST FINISH?
BRYSON DECHAMBEAU -145
DEREK BARD +1215
ROMAIN LANGASQUE +385
JIN CHENG +405
PAUL CHAPLET +2050
SAMMY SCHMITZ +3050
MASTERS — TOP DEBUTANT
RAFAEL CABRERA BELLO +600
KEVIN KISNER +750
ANDY SULLIVAN +700
JUSTIN THOMAS +750
DANIEL BERGER +1200
EMILIANO GRILLO +1500
RUSSELL KNOX +1500
KIRADECH APHIBARNRAT +1500
SMYLIE KAUFMAN +1400
DAVID LINGMERTH +1400
BRYSON DECHAMBEAU +1600
CAMERON SMITH +2000
TROY MERRITT +2200
JIM HERMAN +2500
FABIAN GOMEZ +2500
ROMAIN LANGASQUE +5000
JIN CHENG +5500
DEREK BARD +8000
PAUL CHAPLET +15000
SAMMY SCHMITZ +20000
MASTERS — TOP SENIOR
BERNHARD LANGER +225
VIJAY SINGH +225
DAVIS LOVE III +275
MARK OMEARA +1200
TOM WATSON +2000
IAN WOOSNAM +4000
SANDY LYLE +5000
LARRY MIZE +6600
Will the Winner of the Par 3 Contest Win the Masters?
YES +2050
NO -4050
What will be the winning score of the Par 3 Contest?
OVER 21.5 -165
UNDER 21.5 +140
HOLE-IN-ONE SHOTS RECORDED DURING PAR 3 CONTEST?
0 +1215
1 +605
2 +225
3 +225
4 OR MORE +205
Will any player make a hole-in-one skipping ball across pond on No. 16 during Wednesday practice round?
YES +685
NO -1415
Will Jack Nicklaus' Ceremonial First Tee Shot settle in the Fairway?
YES -240
NO +200
Will Gary Player's Ceremonial First Tee shot settle in the Fairway?
YES -240
NO +200
What will be the age of the winner?
OVER 30.5 (-110)
UNDER 30.5 (-110)
Have any questions for the staff at Sports Insights? Utilize our live chat to speak with a customer service representative or e-mail us at help@sportsinsights.com.