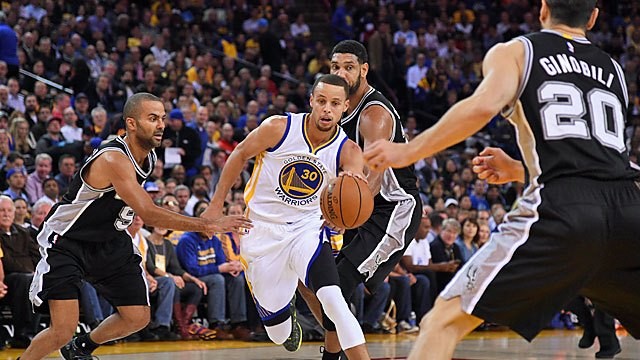 2016-17 NBA Game of the Year Lines
If Olympic basketball does not satisfy all of your basketball needs, don't worry. The 2016-2017 NBA season is just around the corner and many sportsbooks have released an assortment of props.
Sportsbook.com recently posted Game of the Year odds for several matches taking place during the opening week of the upcoming season. The NBA season starts for a few teams on Tuesday, October 25, although most teams open the following day. Bettors should keep in mind that Sportsbook.com takes fairly low limits on these kinds of bets, and has a checkered past in regards to paying out bettors.
Below are the Game of the Year Odds as they appear on Sportsbook:
October 25
New York Knicks vs. Cleveland Cavaliers (-8)
Utah Jazz vs. Portland Trail Blazers (-5.5)
San Antonio Spurs vs. Golden State Warriors (-8.5)
October 26
Oklahoma City Thunder (-3.5) vs. Philadelphia 76ers
Houston Rockets (-2.5) vs. Los Angeles Lakers
October 27
Boston Celtics vs. Chicago Bulls (-2.5)
Los Angeles Clippers vs. Portland Trail Blazers (-3)
Golden State Warriors (-5.5) vs. New Orleans Pelicans
One matchup that I believe bettors should note is Celtics-Bulls on October 27th. Although the Bulls added two former All-Star guards in Rajon Rondo and Dwyane Wade, there are some serious questions regarding how the Rondo, Wade, and Jimmy Butler can coexist. Historically, Rondo and Wade are poor 3-point shooters and in the current meta, it is a necessity to have reliable perimeter shooters in order to spread the floor. The Celtics had one of the best defenses in the NBA last year and enter '16-'17 with an even stronger defensive squad thanks to the addition of Al Horford.
As my colleague David mentioned earlier this summer, the Bulls were often a public favorite last season even though they had the second-worst ATS record in the league. With the Rondo/Wade/Butler core, I expect Chicago to draw a similar amount of public support this season, which could set them up to be profitable fade if that trio cannot figure it out.
Have any questions for the staff at Sports Insights? Utilize our live chat to speak with a customer service representative or e-mail us at help@sportsinsights.com.