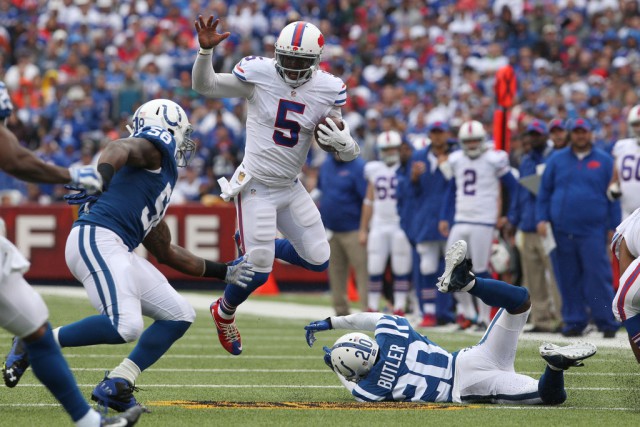 2015 NFL Season: Week 1 Betting Recap
Every Tuesday morning, the team at Sports Insights will examine some of the most interesting trends and results from the past week's NFL action. We'll also look at our betting systems, prop bets, bad beats and more before looking ahead to the following week.
– Week 1 was one of the worst openings every for Las Vegas sportsbooks. According to Jay Kornegay, chief of the Westgate SuperBook, "I don't remember a worse opening Sunday."
– The public overwhelmingly supports favorites and overs, and this past week favorites posted a 9-7 ATS record while the over also went 9-7.
– These figures are confirmed by our public betting trends. Teams receiving more than 50% of spread bets were 9-6 ATS, teams receiving more than 60% of spread bets were 6-4 ATS and teams receiving at least 75% of spread bets were 2-0 ATS.
– There was no home-field advantage during Week 1 with home teams and visitors both posting 8-8 ATS records.
– It was not a great season for last season's cellar dwellers. Teams who won 5 or fewer games last season were just 2-5 ATS in Week 1.
– The first bad beat of the season came in the NFL's kickoff game when Antonio Brown's garbage time touchdown gave Pittsburgh (closed +7) the improbable push.
– The under looked fantastic in Sunday's Packers/Bears game (closed 48.5) as the Green Bay led 17-16 at the start of the fourth quarter and 24-16 at the two-minute warning. However, late touchdowns by Eddie Lacy and Martellus Bennett gave over bettors the last second win.
– Perhaps the worst beat of the week was for bettors who had the under in Sunday's Giants/Cowboys game (closed 52). The Giants led 16-13 entering the fourth quarter, but the teams combined for 24 fourth quarter points including a game-winning touchdown pass from Tony Romo to Jason Witten with just seven seconds left. The final score of 27-26 gave over bettors yet another improbable win.
– Philip Rivers threw for a league-high 404 yards in Week 1. He closed at +2500 to lead the league in passing.
– Carlos Hyde ran for a league-high 168 rushing yards in Week 1. He closed at +3500 to lead the league in rushing.
– Keenan Allen hauled in a league-high 166 receiving yards in Week 1. He closed at +4500 to lead the league in receiving.
– Many people are calling Buffalo over Indy the week's largest upset, even though the Colts only closed as 1-point favorites. In fact, St. Louis (closed +3.5) defeating Seattle was the week's biggest upset.
With their big win this weekend, the #Rams odds of winning the NFC West improved from +900 to +600 at BetOnline. pic.twitter.com/TJfzwYJbbd

— Sports Insights (@SportsInsights) September 15, 2015
– Although bettors can track the latest injury updates on our free NFL odds page, here are a few players to monitor:
Dallas Cowboys WR Dez Bryant (Foot): will miss 4-6 weeks
Arizona Cardinals RB Andre Ellington (Knee): will miss 2-3 weeks
Washington Redskins WR DeSean Jackson (Hamstring): will miss 3-4 weeks
Indianapolis Colts WR TY Hilton (Knee): is out indefinitely
Baltimore Ravens LB Terrell Suggs (Achilles): is out for the season
Carolina Panthers LB Luke Kuechly (Concussion): is questionable Sunday (9/20) vs. Houston
Oakland Raiders QB Derek Carr (Hand): is questionable Sunday (9/20) vs. Baltimore
Cleveland Browns QB Josh McCown (Concussion): is questionable Sunday (9/20) vs. Tennessee.
– If Derek Carr is unable to go, Matt McGloin is likely to get the start. In Cleveland, Johnny Manziel would get the start if McCown isn't cleared to play. There's another quarterback controversies in Houston where coaches are already debating between Brian Hoyer and Ryan Mallett.
– Marcus Mariota had the 5th best odds (+1000) to win NFL Rookie of the Year. In his first career start, Mariota completed 13 of 16 passes for 209 yards, 4 touchdowns and no interceptions – good for a perfect QB rating of 158.3. Expect Mariota to emerge as the favorite when those odds are re-opened.
– Before the start of the season we posted lines for every single NFL game this season at CG Technology. The list below shows those lines followed by the actual line.
Denver Broncos (-1 | +3) at Kansas City Chiefs
Houston Texans at Carolina Panthers (-2.5 | -3)
Tampa Bay Buccaneers at New Orleans Saints (-6.5 | -10)
Miami Dolphins (-4 | -6) at Jacksonville Jaguars
Baltimore Ravens (-5 | Off Board) at Oakland Raiders
New England Patriots (-1 | PK) at Buffalo Bills
San Diego Chargers at Cincinnati Bengals (-3 | -3)
Tennessee Titans at Cleveland Browns (-4.5 | -2.5)
San Francisco 49ers at Pittsburgh Steelers (-2.5 | -6.5)
Atlanta Falcons at New York Giants (-3.5 | -3)
Dallas Cowboys at Philadelphia Eagles (-2 | -4.5)
St. Louis Rams (-2 | -3.5) at Washington Redskins
Arizona Cardinals (-1 | -2) at Chicago Bears
Seattle Seahawks at Green Bay Packers (-1 | -3.5)
Detroit Lions at Minnesota Vikings (PK | -3)
New York Jets at Indianapolis Colts (-7.5 | -7)
– The top five consensus SuperContest picks were all winners last week:
Top 5 Consensus SuperContest Picks for Week 1: Dolphins (-3.5), Cardinals (-2.5), Rams (+4), Jets (-3.5) and Packers (-7).

— WagerMinds (@WagerMinds) September 12, 2015
– Looking forward to next week? New Orleans and Indy may offer bettors value:
Good news for Saints and Colts fans: Brees (39-24 ATS) and Luck (14-1 ATS) are two of the top three QBs after a straight up loss.

— Sports Insights (@SportsInsights) September 14, 2015
Have any questions for the staff at Sports Insights? Utilize our live chat to speak with a customer service representative or e-mail us at help@sportsinsights.com.