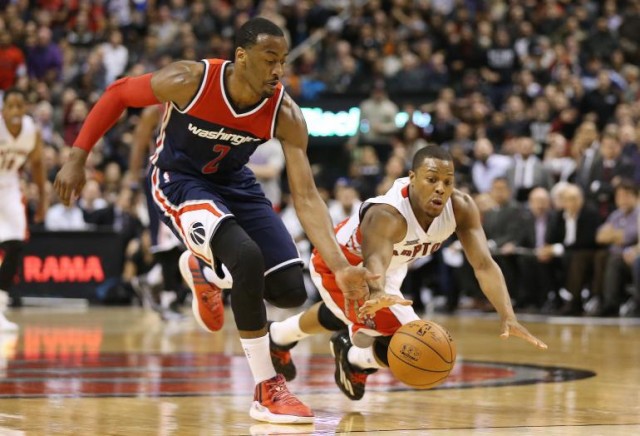 2015 NBA Playoffs: Updated Zig-Zag Theory Betting System
For years, the Zig-Zag theory was one of the most successful betting systems for NBA playoff bettors. The beauty of this system has always been the simplicity — just take whichever team lost the previous game in their playoff series.
We always stress the importance of having a strong driving hypothesis when creating a betting system and the logic here makes all the sense in the world. After losing a game, teams will fight ever harder to make up for lost ground and stave off elimination. Unfortunately, when a betting system continues to be profitable over a long duration, oddsmakers begin to wise up and adjust their odds accordingly.
With sportsbooks posting sharper lines, it's increasingly important to modify our system and look for the sweet spots when taking NBA playoff teams coming off a defeat. Since 2005, teams who lost their previous game have gone 392-363 ATS (+9.96 units won) but most of those profits have come over the past two seasons. During the 2013 and 2014 postseason, teams who lost their previous game have gone 85-71 ATS with +9.95 units won.
While these results show a clear advantage, the return on investment (ROI) isn't enough to recommend betting every single team who lost their previous game. However, when we focus on teams who lost their previous game as the favorite, the system produces a 133-109 ATS record (+17.25 units won) and the ROI jumps from 1.3% to 7.1%.
The screenshot below is taken from our Bet Labs software and displays the performance of playoff teams who lost their previous game as a favorite.

It's interesting to note that this system has been profitable for both home teams (69-58, +7.32 units won) and visitors (64-51, +9.93 units won). It's also been extremely lucrative for both favorites (80-69, +7.15 units won) and underdogs (53-40, +10.10 units won).
Within that cross-section, the highest return on investment comes when we focus on underdogs. Our past research indicates that 'dogs have been undervalued in low-scoring games, so we wanted to know what type of impact lower totals would have on our system. We quickly found that as the over/under decreased, our winning percentage increased.
The table below displays how the Zig-Zag Theory is impacted by low-scoring games.
| Closing Total | Record | Winning Percentage | Units Won | ROI |
| --- | --- | --- | --- | --- |
| All | 133-109 | 55.0% | +17.25 | 7.1% |
| <215 | 130-104 | 55.6% | +19.45 | 8.3% |
| <210 | 121-93 | 56.5% | +21.67 | 10.1% |
| <205 | 110-82 | 57.3% | +22.24 | 11.6% |
| <200 | 104-76 | 57.8% | +22.47 | 12.5% |
| <195 | 88-64 | 57.9% | +19.41 | 12.8% |
| <192 | 78-48 | 61.9% | +25.92 | 20.6% |
To summarize, playoff teams who lost their previous game as a favorite have gone 78-48 ATS (+25.92 units won) when the over/under closes at less than 192. This includes a 7-0 ATS record (+6.68 units won) during the NBA Finals. In fact, the only round where this system has been less than stellar is during the conference finals.
First Round: 40-26 ATS (+11.4 units won)
Second Round: 21-12 ATS (+8.22 units won)
Conference Finals: 10-10 ATS (-0.38 units lost)
NBA Finals: 7-0 ATS (+6.68 units won)
There is a current game match on the Toronto Raptors (-5 vs. Washington) but Bet Labs members can view all system matches and receive email/text alerts by copying this system from the Think Tank.  Bettors can also track the latest odds and public betting trends by visiting our free NBA odds page.
Have any questions for the staff at Sports Insights? Utilize our live chat to speak with a customer service representative or e-mail us at help@sportsinsights.com.
David Solar is the Content Manager for Sports Insights and can be reached directly at David@sportsinsights.com.