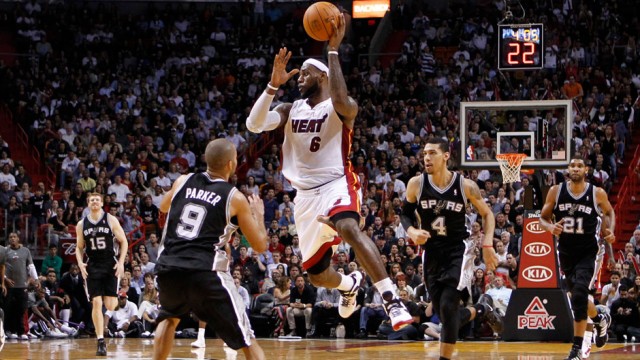 2014 NBA Playoffs: Are Low-Scoring Home Favorites Undervalued?
During the NBA regular season, we've noticed that visitors and underdogs have been historically undervalued. Although neither criterion covers the spread at the 52.38% rate needed to overcome the standard 20-cent juice, there has clearly been a bias towards underdogs (5,722-5,678 ATS, 50.2%) and visitors (5,834-5,580 ATS, 51.1%) since 2005. However, the script gets flipped come playoff time.
Using our Bet Labs software, we were able to quickly determine that favorites have gone 396-351 ATS during the postseason. We then discovered that home teams have gone 390-357 ATS during the playoffs. These trends run in stark contrast to those that we've noticed during the NBA regular season.
One hypothesis for this 180 degree change is that the playoffs feature the league's elite teams, and this knowledge makes bettors more inclined to simply take the points and hope for a close game. Since home field advantage is typically worth 3-points to the spread, bettors are more likely to take visitors as they are likely to be larger underdogs.
Knowing that both home teams and favorites are being undervalued during the playoffs, we opted to combine these two filters within Bet Labs. We quickly determined that since 2005, home favorites have gone 327-288 (53.2%) for +22.96 units and a 3.7% ROI. Although this represents a winning system, we knew this system could be improved with minor tweaking.
We've often times found that high scoring games create more unpredictability, which tends to favor the underdog. During the 2013-14 NBA regular season, there were 202 combined points scored in an average game. Knowing this, we chose to focus on low scoring games (defined as any game with a total of less than 191).
After narrowing our focus to look at home favorites in low-scoring games, we found that teams fitting these criteria have produced a 198-140 (58.6%) ATS record which increases both our units won (48.39) and ROI (14.3%). You can also see from the results graph below that this system has produced consistent year-to-year returns.

Want to create your own winning betting systems for the NBA playoffs? Make sure to try our 6-day Bet Labs trial for just $25 and start winning today!
[adrotate group="3″]