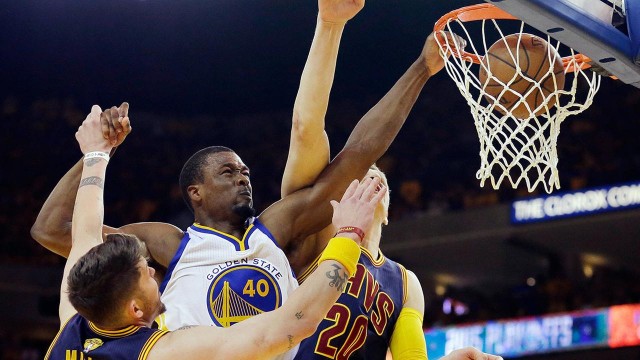 2015 NBA Finals: Game Six Preview
The Golden State Warriors defeated the Cleveland Cavaliers 104-91 in Game 5 of the NBA Finals on Sunday evening, and will attempt to wrap up the series this evening at the Quicken Loans Arena.
The Warriors opened as 4-point favorites at the market-setting Pinnacle sportsbook and, at the time of publication, were receiving 50% of spread bets. Even with this 50/50 split, Golden State has moved to -4.5 across the sports betting marketplace.
The screenshot below displays the public betting trends at our seven contributing sportsbooks:

While the public is split on the spread, the moneyline is an entirely different story. The Cavs, who are +165 underdogs, are currently receiving just 28% of moneyline bets. This is noteworthy since NBA playoff favorites receiving at least 70% of moneyline bets have gone 99-30 with +4.3 units won, although this has occurred just once during the NBA Finals.
The Cavs are +165 to win tonight's game straight up and +800 to win the next two games en route to the championship. However, bettors may be wondering whether they should be taking the future price or simply rolling over two straight bets on the moneyline. If we assume that the Game 7 line would be similar (if not identical) to the Game 5 line, these are the two potential options:
Option A:
$100 bet on Cleveland +800: $100 initial bet + $800 for series win = $900
Option B:
$100 bet on Cleveland +165: $100 initial bet + $165 for Game 6 win = $265
$265 bet on Cleveland +370: $265 initial bet + $ 980.50 for Game 7 win = $1245.50
Even if sportsbooks shade their lines to Cleveland +300 in order to account for an influx of public money, that second bet would still pay out $795. Add that to our initial $265 bet and our $1060 payout is still significantly higher than simply taking the series price. Long story short, bettors who believe Cleveland will still win the NBA Finals should bet the Game 6 moneyline and roll over their winnings for the Game 7 moneyline.
Another intriguing storyline involves tonight's officials: Scott Foster, Marc Davis and Zach Zarba. These refs can all be considered "road-friendly," as visitors have winning records in games called by all three refs. One ref in particular has been particularly favorable for road teams:
Since 2007, road teams have gone 276-214 ATS (+50.3 units won) in games officiated by Scott Foster — the 2nd best record in our database.

— Sports Insights (@SportsInsights) June 16, 2015
Although there have been very few sharp money indicators on tonight's game, the Cavs are a current game match for one of our more profitable betting systems. Since 2005, top-4 seeds have gone 149-109 (+32.65 units, 12.7% ROI) in home playoff games following a loss. When the closing total is 195 or less, the record jumps to 108-68 (+34.48 units, 19.6% ROI).
These numbers can always change before tip-off, but bettors can track the latest line moves, public betting trends, breaking injuries and more by visiting our free NBA odds page.
Have any questions for the staff at Sports Insights? Utilize our live chat to speak with a customer service representative or e-mail us at help@sportsinsights.com.
David Solar is the Content Manager for Sports Insights and can be reached directly at David@sportsinsights.com.