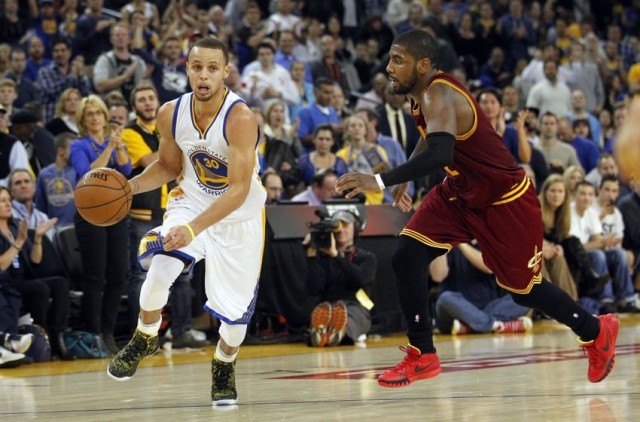 2015 NBA Finals: Game One Preview
After an excruciatingly long layoff, the NBA Finals are finally ready to tip off. Tonight at 9:00 PM ET, Stephen Curry and the Golden State Warriors will host LeBron James and the Cleveland Cavaliers as the King attempts to win his third career championship.
The Warriors opened as 5.5-point favorites at the market-setting Pinnacle sportsbook and, according to the betting trends available on our free NBA odds page, are currently receiving just 40% of spread bets. Despite this lack of public support, Golden State has moved to -6 across the sports betting marketplace.
The line graph below, which is available to Sportsbook Insider customers, displays how the line movement and betting trends have moved since opening last Wednesday.

While public betting has favored Cleveland over the past week, the Cavs line has consistently bounced between +6 and +5.5. In fact, this game provides the perfect example of why bettors should always shop for the best line since many square books (like BetOnline, Bovada and Sportsbook.com) are offering Golden State -5.5, while sharper books (like CRIS and 5Dimes) are currently listing Cleveland +6.
Two weeks ago in our write-up we also explained how bettors could fade the trendy underdog (i.e. taking favorites who are not receiving public support). Since 2005, favorites receiving less than 40% of spread bets have gone 82-56 ATS (+21.47 units won) which includes a 2-1 mark during the 2015 postseason. Bettors will need to keep a close eye on the public betting trends as game time approaches, but this data would seem to indicate that the Warriors are offering value tonight.
Also noteworthy is the value of contrarian betting during the NBA Finals. As we pointed out in our 2015 NBA Finals Betting Trends article, teams receiving less than 49% of spread bets have gone 31-24 ATS, teams receiving less than 45% of spread bets have gone 23-13 ATS and teams receiving less than 40% of spread bets have gone 9-4 ATS.
While the Warriors appear to be offering value for spread bettors, perhaps the more interesting line movement involves the total. Pinnacle opened tonight's total at 204 and, at the time of publication, 76% of bettors were hammering the over. Despite this one-sided betting, the total has actually dropped a half-point to 203.5. This reverse line movement indicates that there may be value on the under.
In fact, there was a fairly profitable bet signal that was triggered on the under at Carib. This season, the Carib reverse line movement alert has gone 16-10 with +4.7 units won.
Our Bet Labs software reveals that playoff unders have gone 466-440 (+1.03 units won) over the past decade, including a 31-25 record during the NBA Finals. Upon further analysis, we found that the record improves to 251-221 (+15.84 units won) when the total closes at 190 or higher, including a 15-12 mark during the Finals.
Have any questions for the staff at Sports Insights? Utilize our live chat to speak with a customer service representative or e-mail us at help@sportsinsights.com.
David Solar is the Content Manager for Sports Insights and can be reached directly at David@sportsinsights.com.