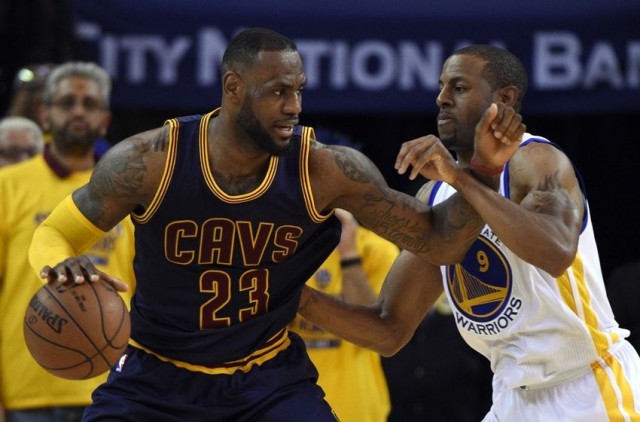 2015 NBA Finals: Game Four Preview
After losing Game 1 in devastating fashion, the Cleveland Cavaliers have won two straight games to take a 2-1 series lead against the Golden State Warriors. Despite season-ending injuries to stars Kevin Love and Kyrie Irving, LeBron James has been almost superhuman averaging 41 points, 12 rebounds and 8.3 assists while setting the Finals record with 123 points through three games.
Despite this historic stat line, bettors have been hesitant about backing the Cavs. Cleveland opened as a 2.5-point underdog at the market-setting Pinnacle sportsbook and, at the time of publication, was receiving just 38% of spread bets. This public betting has moved Golden State from -2.5 to -4 across the sports betting marketplace.
The line graph below, which is available to Sportsbook Insider customers, displays how the line movement and betting trends have changed since opening on Tuesday night.

It's interesting to see that Golden State is a 4-point favorite this evening, especially when you contrast it with previous lines. In Game 3, 66% of spread bettors took the Warriors which pushed the line from +1 to -2 at Pinnacle.
There were also 5Dimes look ahead lines posted before the start of the series. Granted those lines did not take Kyrie Irving's injury into consideration, but the Cavs were expected to be favored by 2.5-points and Irving is certainly not worth 6.5-points to the spread.
Seeing the Warriors favored by 4-points reeks of bettors buying into the "must-win" game mentality. In fact, traditionally teams have been vastly overvalued in these crucial games which could make the Cavs a good value this evening. Furthermore, seeing a road team favored after two straight losses is really without precedent.
In our database, no road team has ever been favored after two straight losses in the #NBAFinals.

— Bet Labs Sports (@Bet_Labs) June 10, 2015
Also noteworthy is the movement on the over/under. Clearly officials are allowing a more physical style of play than anybody expected and, as a result, these low-scoring games have led to waning totals. The table below displays the opening and closing total for each game along with the percentage of bettors on the over.
| Game | Opening O/U | Closing O/U | Over % | Points Scored |
| --- | --- | --- | --- | --- |
| 1 | 204 | 203.5 | 69% | 208 (OT) |
| 2 | 201.5 | 199 | 66% | 188 (OT) |
| 3 | 196 | 194.5 | 65% | 187 |
| 4 | 192.5 | 193.5 | 71% | ? |
During the 2015 NBA Finals, the under has gone 2-1 and that record would be 3-0 if not for Game 1 going into overtime. The total has continued to drop thoughout the series, however, in Game 4, 71% of bettors are taking the over. This one-sided public betting has moved the over/under from 192.5 to 193.5.
At the time of publication, two profitable bet signals had been triggered on this game — one on the spread and one on the total.
Cleveland +3 at BetEagle (21-15, +4.1 units won)
Under 194 at Bovada (33-23, +6.0 units won)
While bettors can actually find spreads that are a full point better than +3, no prominent offshore oddsmakers are still offering a total of 194. That said, 193.5 remains widely available and bettors can track the latest line movement and public betting trends by visiting our free NBA odds page.
There are also two noteworthy contrarian betting systems which further indicate value on the Cavs tonight. Since 2005, home teams receiving less than 40% of spread bets have gone 137-110 ATS (+20.33 units) and teams receiving less than 40% of spread bets during the NBA Finals have gone 10-4 ATS (+5.61 units).
Have any questions for the staff at Sports Insights? Utilize our live chat to speak with a customer service representative or e-mail us at help@sportsinsights.com.
David Solar is the Content Manager for Sports Insights and can be reached directly at David@sportsinsights.com.