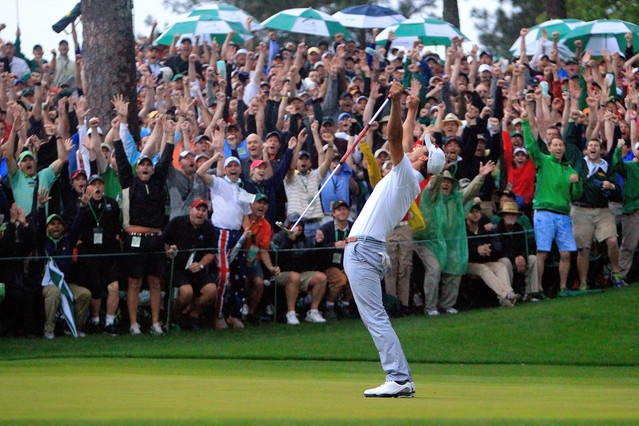 2014 Masters Preview
The Masters is upon us yet again but for the first time in 20 years the world's best player, Tiger Woods, will not be in the field. As usual, he had been the favorite to win the tournament when odds opened which created some additional value on other golfers' odds to win. Now that he's out with a back injury, Nevada's handle on the Masters is expected to decline 20%. While ratings and buzz will undoubtedly suffer without him, golf enthusiasts and sports bettors still have plenty to watch for this weekend.
Listed below are current Masters favorites and most popular bets from CRIS. Rory McIlroy and Adam Scott are the front runners but it's Jason Day and Matt Kuchar garnering the highest number of future bets:
| Golfer | Odds | % of bets |
| --- | --- | --- |
| Adam Scott | +915 | 2.6% |
| Rory McIlroy | +923 | 4.2% |
| Phil Mickelson | +1120 | 4.1% |
| Jason Day | +1424 | 5.6% |
| Matt Kuchar | +1517 | 5.4% |
| Sergio Garcia | +1934 | 3.4% |
| Dustin Johnson | +2506 | 4.1% |
| Bubba Watson | +2583 | 2.6% |
| Henrik Stenson | +2872 | 2.1% |
| Brandt Snedeker | +3264 | 3.0% |
| Jason Dufner | +3515 | 2.3% |
In addition to betting on the outright winner of the tournament, bettors can place wagers on different match-ups such as Bubba Watson vs. Brandt Snedeker, with the lowest tournament score to determine the winner.  There have been a few major line moves on tournament match-ups so far which indicates that either sharp money or public support has altered the odds:
Lee Westwood (-110 to -125) vs. Henrik Stenson
Phil Mickelson (+110 to +100) vs. Rory McIlroy
Matt Kuchar (-115 to -130) vs. Jason Day
Much like the Super Bowl, there is no shortage of props and novelty bets that are available for The Masters, which may be more suitable for the casual fan looking for action:
Will there be a hole in one? Yes (-125) vs. No (+105)
Winning Score: 274 or lower (+215), 275 or 276 (+332), 277 or higher (-124)
Winning Nationality: USA (+115), Australia (+425), Northern Ireland (+785), England (+1015), South Africa (+1415), Spain (+1815), Sweden (+2250), Other (+525)
A few of us here at Sports Insights have decided to have a go and select our winners for The Masters this year.  We'd love to hear your opinions and predictions in the comments section below.
Dan McGuire – Keegan Bradley (+3854).  Keegan has a ton of talent and the poise to perform in big moments. He's won a major before, hits the ball straight and long enough to handle this course, and has shown he can get hot with his putter when it matters most. If he can avoid the one bad round he's played in each of the last two years at Augusta, I expect him to be in the hunt at the top of the leaderboard.
Travis Reed – Jason Dufner (+3515).  Dufner always has a calm demeanor and should keep a level head during the tournament.  More importantly, I like to take a player that has the ability to make shots and go low (as Dufner did when he shot -10 to win the PGA Championship).  Dufner is averaging 3.63 birdies per round, good for 17th on tour.  Saturday is the key for Dufner as he has shot a 75 each of the last 3 Masters.  If he can go the other direction on "moving day" then he should be in contention on Sunday.
PJ Walsh – Dustin Johnson (+2506) D.J. has gotten off to a fast start this season, posting five Top 10 finishes, including one win, in only seven starts. While accuracy and greens in regulation are keys to winning the US Open, bombers like Tiger Woods, Phil Mickelson, Adam Scott, Angel Cabrera and Bubba Watson frequently find themselves in contention at Augusta. Johnson certainly fits the bill, trailing only Watson in average driving distance (310.8 yards) this year on the PGA Tour. D.J's game fits this course well and I expect him to be in the mix Sunday afternoon.
Besides, couldn't we all use a little more Paulina Gretzky in our lives? LPGA, please don't answer that.
[adrotate group="4″]