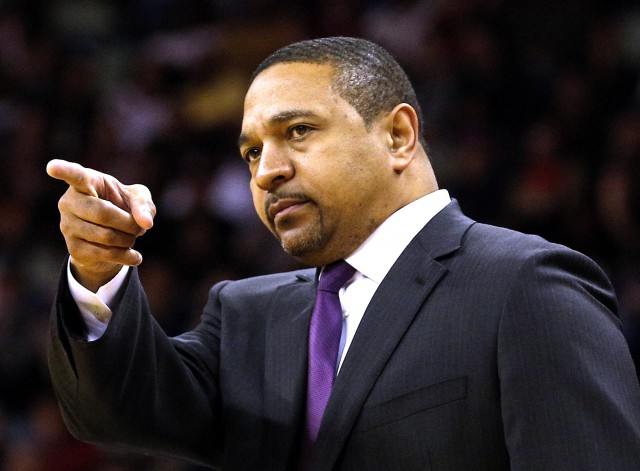 Who Will be the Next Head Coach of the Indiana Pacers?
In a press conference on Thursday afternoon, Pacers president Larry Bird announced that the team will not be retaining head coach Frank Vogel next season. This news was hardly surprising given that Bird did not give Vogel a vote of confidence following the team's first round loss against the Raptors. Still, many people around the league have been questioning Bird's decision.
[ Get all of our NBA Best Bets by signing up for a 4-Day trial of Sportsbook Insider Pro ]
Since taking over halfway through the 2010-11 season, Vogel has gone 250-181 straight up (58%) and 247-239 against the spread (50.8%). During his tenure the Pacers made the playoffs in five of six seasons including two appearances in the Conference Finals.
Some of the early speculation indicated that Bird would look to hire his former teammate, Kevin McHale, but those rumors were quickly shot down. "I would not do that to Kevin, to have him work for me. That's just not fair.  I respect the man too much and we've been through too many battles together to bring him in here and be my coach," said Bird. "I would love for him to be my coach, but it ain't gonna happen because of our relationship."
Despite that declaration, Kevin McHale was still listed as 25/1 long-shot when Bovada posted odds on the Pacers next head coach. In fact, oddsmakers believe it's more likely that Larry Bird would once again take the reigns as head coach. In his three seasons as head coach, the Pacers went 147-67 (68.7%) with Larry Legend behind the bench.
The table below displays the current odds for the Pacers next head coach at Bovada.
| Name | Bovada (5/9) |
| --- | --- |
| Mark Jackson | +300 |
| Mike D'Antoni | +300 |
| Brian Shaw | +400 |
| Jeff Hornacek | +750 |
| Vinny Del Negro | +850 |
| David Blatt | +900 |
| Nate McMillan | +900 |
| Randy Wittman | +1200 |
| Mike Woodson | +1200 |
| Larry Bird | +1500 |
| Kevin McHale | +2500 |
| Jim Boylen | +3300 |
It's interesting to see that Mark Jackson (+300) is listed as the co-favorite alongside Mike D'Antoni. Jackson was actually the Pacers starting point guard in all three seasons that Bird served as the team's head coach. It's also worth noting that Bird has consistently stated that he wants the team to play more small-ball lineups, which contributed to his schism with Vogel.
Clearly oddsmakers believe that Bird will be placing tremendous value on experience since Jim Boylen (+3300) is the only candidate without head coaching experience. Boylen was an assistant for the Pacers and Spurs before accepting the associate head coach position for the Bulls before the start of last season.
Personally, I believe that David Blatt (+900) continues to be undervalued around the league. The former Cavs head coach went 83-40 (67.5%) and helped guide Cleveland to the NBA Finals despite injuries to several key players. The Cavs forward-heavy roster wasn't built to support many small-ball lineups, but Blatt showed a willingness to downsize in certain situations.
Who do you think will be the Pacers next head coach? Are the oddsmakers overlooking any obvious candidates? Would Bird ever consider a return to coaching? Please leave your thoughts in the comment section below.