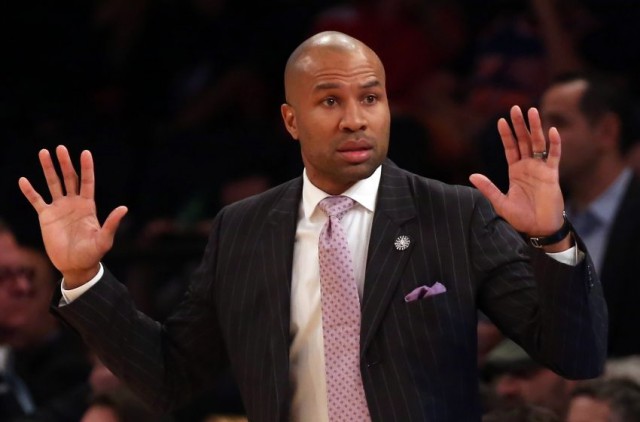 Who Will be the New York Knicks Next Head Coach?
This article was originally published on February 11th
Derek Fisher was fired by the Knicks earlier this week after less than two years with the team. Back in June of 2014, Fisher signed a five-year; $25 million contract which many believed was largely related to his close relationship with Knicks president Phil Jackson. Over his one and a half seasons as head coach, Fisher posted a record of just 40-96 (including 63-71 ATS).
It remains unclear whether this firing was based on Fisher's poor performance or his off-court behavior. There have been several reports about Fisher acting inappropriately including a fight with Matt Barnes and leaving the team during training camp to visit his girlfriend.
At the time of publication, the Knicks (22-32) were five-games back of the final playoff spot in the Eastern Conference. Kurt Rambis, who compiled a dreadful 32–132 record in two seasons with the Timberwolves, has been installed as the interim head coach. It is expected that Rambis will finish out the season before the Knicks decide to hire their next head coach, but which candidates will they target?
On Thursday morning, Bookmaker posted odds for the Knicks next head coach with former Chicago Bulls coach Tom Thibodeau (+400) listed as the early front-runner. Although Thibodeau has an excellent track record, his philosophies seem diametrically opposed to Phil Jackson's which make these odds somewhat surprising.
The table below displays the current odds at Bookmaker and will be updated as new information becomes available.
| Coach | Bovada (3/2) | Bookmaker (2/11) |
| --- | --- | --- |
| Luke Walton | +300 | +490 |
| Brian Shaw | +400 | +860 |
| Kurt Rambis | +400 | +580 |
| David Blatt | +600 | +1200 |
| Tom Thibodeau | +600 | +400 |
| Scott Brooks | +700 | +850 |
| Mark Jackson | +700 | +850 |
| John Calipari | +5000 | +2500 |
| Patrick Ewing | N/A | +900 |
| Kevin Ollie | N/A | +850 |
| Vinny Del Negro | N/A | +1400 |
| Isiah Thomas | N/A | +1750 |
| Phil Jackson | N/A | +2000 |
The sum of these implied probabilities is 132.05% which means bettors are essentially paying a juice of -132. That may seem high, but it's somewhat standard for this type of prop bet. That said, it's difficult to find value in these candidates, and it's entirely possible that Jackson goes outside the box for his next hire.
Luke Walton (+490) will be highly coveted after his success this season, but it's tough to imagine that he wouldn't prefer the inevitable vacancy with the Lakers this summer. Rambis (+580) and Brian Shaw (+860) are both former Jackson assistants, but both have a dubious track record at best. That said, we know that Phil Jackson will likely stick with the familiar since he's still desperately clinging to the triangle offense.
As a big market team with vast resources, it's fairly amazing to see such a lackluster list of candidates. Personally, I believe that David Blatt (+1200) got the short end of the stick in Cleveland and would be an excellent hire for New York. Unfortunately, that possibility seems highly unlikely. Anybody hoping for John Calipari (+2500) to leave the college ranks for this opening will need to keep dreaming.
---
3/2/16 Update
Roughly three weeks after this post was initially published, Bovada became the second major offshore sportsbook to post odds for the next Knicks head coach. Luke Walton, who was given the second best odds by Bookmaker, was listed by the favorite at Bovada. Although this may seem like an interesting development, we should note that Bookmaker is significantly sharper the Bovada.
It was also amusing to see that Patrick Ewing, Kevin Ollie, Vinny Del Negro, Isiah Thomas and Phil Jackson were all omitted by the oddsmakers at Bovada. It's also noteworthy that former Cavs head coach David Blatt, who I believed was offering value at +1200, has jumped to +600.
While we wait for this story to develop, make sure to track the latest odds and public betting trends on our free NBA odds page. Interested in following our winning picks? Sign up for a 4-day trial of our Pro subscription for just $49!
Who do you think the Knicks will hire? Are there any dark horse candidates that oddsmakers are overlooking? Please leave your thoughts in the comment section below.