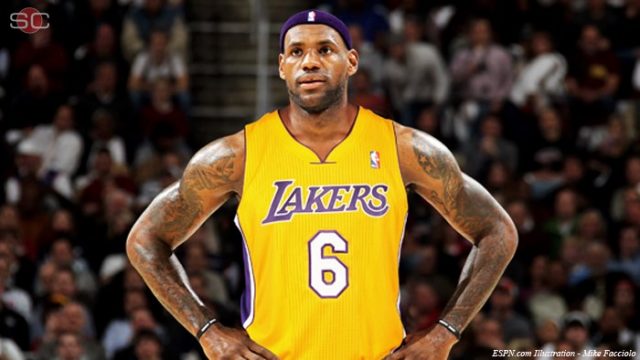 Where Will LeBron James Sign in 2018?
Despite being a year away, offshore sportsbooks are getting a head start on the LeBron James free agency hype train. BetOnline has posted odds on every team in the league to land the superstar and although they are the favorite at +250, the odds reflect that the Cavs will most likely be without LeBron for the 2018-19 season. 5Dimes also recently offered a Lakers vs. Field prop for 2018-19.
NBA source said today: "This will be LeBron's final season in Cleveland. He is 100 percent leaving. Relationship with owners beyond repair."

— Chris Sheridan (@sheridanhoops) August 16, 2017
Where will LeBron James play opening day of 2018-19? (via 5Dimes)#Lakers +180
'Field' -260 pic.twitter.com/IlcDsUp9Jw

— Sports Insights (@SportsInsights) August 18, 2017
Let's take a look at how the latest news has affected the odds.
Team
8/16/17
(BetOnline)
7/27/17
(BetOnline)
Cleveland
+250
+250
LA Lakers
+275
+300
Boston
+700
+700
San Antonio
+1000
+1000
Houston
+1000
+1000
Minnesota
+1400
+1400
Philadelphia
+1600
+1600
Miami
+2500
+2500
Golden State
+2800
+2800
Denver
+3300
+3300
Milwaukee
+3300
+3300
New Orleans
+3300
+3300
Chicago
+4000
+4000
Dallas
+4000
+4000
New York
+4000
+4000
Washington
+4000
+4000
LA Clippers
+4000
+4000
Oklahoma City
+5000
+5000
Charlotte
+5000
+5000
Portland
+5000
+5000
Detroit
+6600
+6600
Toronto
+6600
+6600
Indiana
+6600
+6600
Memphis
+10000
+10000
Atlanta
+25000
+25000
Brooklyn
+25000
+25000
Orlando
+25000
+25000
Phoenix
+25000
+25000
Sacramento
+25000
+25000
Utah
+25000
+25000
As you can see, the books love the Lakers' chances at landing James. It seems like just about every future free agent star wants to go to La-La Land. What could their lineup look like next year with the likes of James, Russell Westbrook, Paul George…Lonzo Ball?!?
The Celtics are next on the list at +700. As a Mass native, I can say without doubt that LeBron is one of the most disliked individuals in the Boston area. Though +700 doesn't imply that it is a likely event, it is strange that the Celtics are the third most likely landing spot.
Two more Western Conference powers, the Spurs and Rockets, are listed at +1000. Both are hoping to contend this year without LeBron, but adding him to the mix next season could put either team in contention with the Warriors.
Will the Cavs be gunning for a 2019 lottery pick? Are the Lakers the next super team? Only time will tell, but LeBron James' decision next summer could change the entire pecking order of the league.
Follow us on Twitter @SportsInsights for breaking sports news, betting information, injuries, and more.