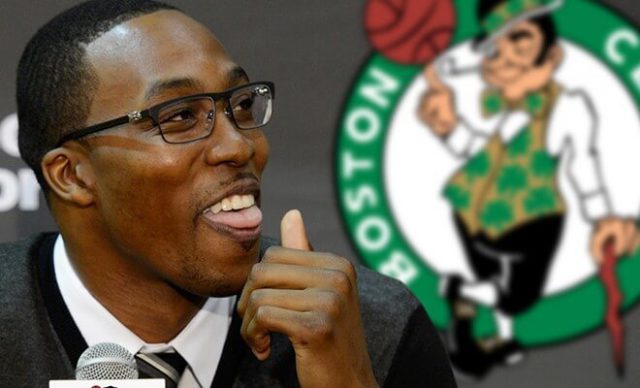 Where will Dwight Howard play next season?
Earlier today, it was announced that free agent center Dwight Howard would meet with the Boston Celtics and the Atlanta Hawks and Bovada immediately listed those two teams as the top candidates to land the big-name rim protector.
At the end of the season, it probably would have surprised most people if the Celtics were the favorites to sign Dwight Howard, but at even money, that's exactly what they are right now. At +175, the Hawks have a good shot as well, with the Rockets far behind at +1200. However, there are still plenty of unknown factors, which is why the field is right up there at +175.
| TEAM | ODDS (6/29) |
| --- | --- |
| Boston Celtics | +100 |
| Atlanta Hawks | +175 |
| Houston Rockets | +1200 |
| Field | +175 |
The 30-year-old center declined his player option with the Houston Rockets, which leads most people to believe he will not be returning. Howard spent three years in Houston after his brief and unsuccessful stint with the Lakers, averaging 16 points, 11.7 rebounds, and 1.8 blocks per game during his tenure.
The Celtics are also one of six teams scheduled to meet with Kevin Durant, so they seem like they are ready to finally land that big free agent name that has alluded them for years. If things don't work out with Durant, Howard could be a backup plan. There's a decent chance that a deal with Howard could be for just one year, so if things don't work out they won't be stuck with him for the long haul.
Meanwhile, Howard hails from Atlanta and could want to head home for the later portion of his career. Howard has played in three cities so far, all of which are warm-weather destinations. Add these two facts together and it would make sense if Howard ends up choosing Atlanta over Boston. The Hawks may also be without Al Horford next year, as he will be another impact player on the free agent market.
It's thought that Howard will plan meetings with a couple more teams, which is why the field isn't too far back from the Celtics and Hawks. Miami is thought to be one of the teams in the mix due to their big man concerns. Hassan Whiteside may be on his way out on his search for a max contract, while Chris Bosh's health remains a serious question.
Keep an eye on any updates as we are just a couple of days away from the start of free agency.
If you have any questions, feel free to reach out to the Sports Insights staff by utilizing our live chat feature, commenting below, or emailing us at help@sportsinsights.com.