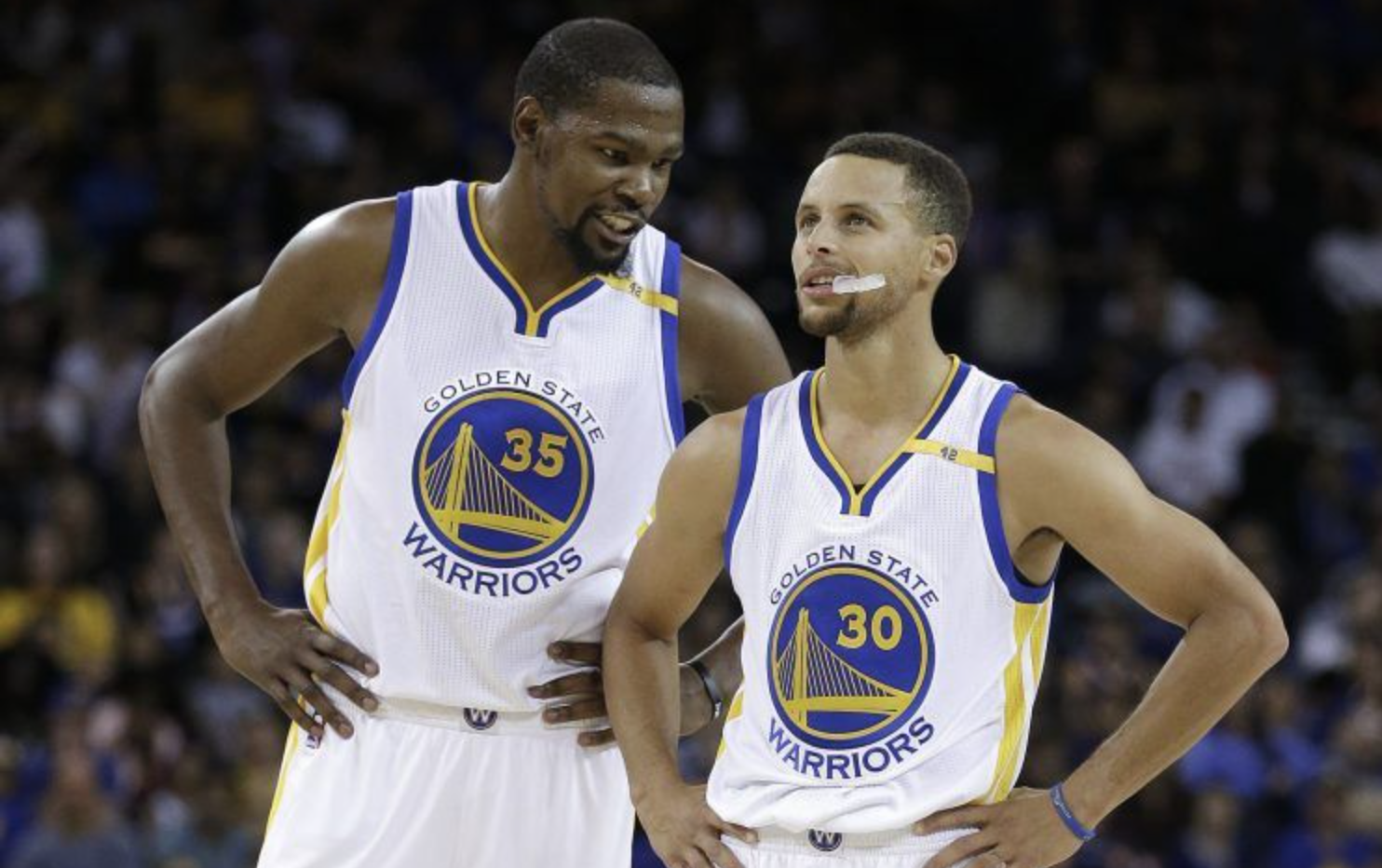 Want to Bet Warriors Games? Here Are the Best Spots to Target
The Warriors have played exactly 100 regular-season games over the past two seasons since acquiring Kevin Durant. Here is what you need to know when betting on or against the league's most dangerous team.
Straight Up
Golden State has an 80-20 straight-up record over this 100-game span, the best SU record in the NBA, eight games better than the Spurs. Don't get too excited: If you would've bet the Warriors on the moneyline in each team, you'd be down a total of $395 in that span ($100/wager), getting demolished on those 20 losses (9 of the 20 losses came at a price of -500 or higher assisted in the demise).
The Warriors have been underdogs three times. And in those rare instances, it's been profitable to take the Warriors moneyline.
| Date | Opp. | Moneyline | Result |
| --- | --- | --- | --- |
| 3/29/17 | at Spurs | +166 | W, 110-98 |
| 3/28/17 | at Rockets | +110 | W, 113-106 |
| 3/11/17 | at Spurs | +461 | L, 107-85 |
We're Going Back-to-Back …
Golden State has failed to cover the spread in five straight games and over the past two seasons, the Warriors have been mediocre ATS at 48-50-2 (17th in ROI). What about when digging into their back-to-back's to pry an advantage? Glad you asked …
When the Warriors are on a back-to-back, but their opponent has had a minimum of one day rest between games, bettors have profited a total of +$586 SU and +$431 ATS ($100/wager) betting against Golden State. [Actual math for those interested: 5-12 SU (+34.5% ROI) and 11-6 ATS (+25.4% ROI).] That combined total of +$1,017 only trails fading the Clippers in this situation since the start of last season (+$1,315).
Meanwhile, betting on a rested Golden State team vs. a team on a back-to-back has resulted in: 19-2 SU (-0.8% ROI) and 12-7-2 ATS (+21% ROI).
Fun note: Two of the three games the Warriors have been underdogs in the Regular Season since acquiring Durant (3/29 and 3/11 in the table above), have come with the Warriors on a back-to-back against the Spurs, where San Antonio had extra rest (friendly reminder: That 3/11 game didn't have 7-8 of the best players on both teams).
Below is the Warriors' remaining schedule where a bettor would have the opportunity to bet against Golden State in this situation (to say seeing Phoenix three times in this situation to end the year was a surprise would be a complete understatement).
| | |
| --- | --- |
| Dec. 30 | Grizzlies |
| Jan. 13 | at Raptors |
| Feb. 3 | at Nuggets |
| March 9 | at Blazers |
| March 17 | at Suns |
| April 1 | Suns |
| April 8 | at Suns |
Ride the Hand
Usually one might think it would be good to fade a team after an easy cover. But the Warriors have been the most profitable team in the league since adding Durant after a game in which they covered the spread by 10 or more points: 19-7 ATS, +11.30 units.
That'll work.
Don't Shop at Publix
Since the start of last season, the Warriors have received 70%+ of the spread bets on  55 different occasions, the highest such number in the league. The Warriors are 20-33-2 ATS in those games (-$1,377) for a ROI of -25%. For comparison, the league average ROI in these situations is -9%, while the Cavaliers, who have played 38 games with 70%+ of spread tickets, are 17-20-1 ATS (-$381, -10% ROI).
Translation: Golden State is a worse bet than your typical NBA team when getting heavy public support.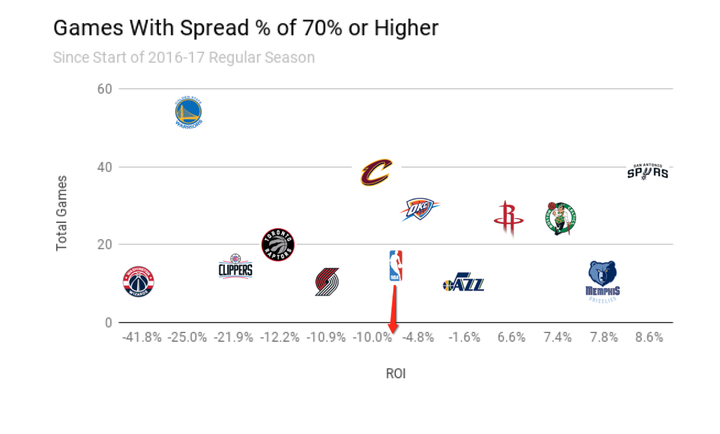 To monitor when the public is all-in on the Warriors, keep an eye on our Live NBA odds page the day of a game.