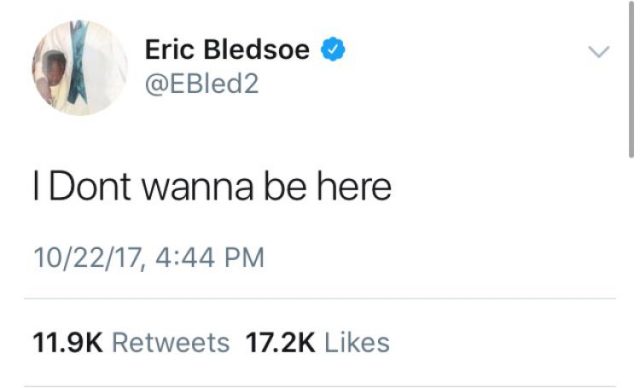 Which Team Will Eric Bledsoe Be Traded to?
This Sunday, Eric Bledsoe took his thoughts to Twitter as many a folk do in today's age and dropped this spicy little nugget.
I Dont wanna be here

— Eric Bledsoe (@EBled2) October 22, 2017
That certainly wouldn't cause any controversy, right? Oh wait, it basically burnt down bball Twitter and subsequently got him suspended indefinitely by the team. Anddd the Suns are actively trying to trade him.
But he was at a hair salon! That's a believable excuse, no? Ain't no one got time for that.
Eric Bledsoe told the Suns his "I Dont wanna be here" tweet was about being at a hair salon, per @abc15sports https://t.co/DbObeeVd8X pic.twitter.com/7ohvF0tbDf

— Bleacher Report (@BleacherReport) October 23, 2017
I don't think the Suns bought it. With that being said, MyBookie is offering odds on which team he will be traded to.

| Team | MyBookie (10/24) |
| --- | --- |
| Clippers | -150 |
| Cavs | +200 |
| Nuggets | +400 |
| 76ers | +600 |
| Bucks | +800 |
| Knicks | +1200 |
The Clippers, who Bledsoe spent the first three years of his career with, are the odds-on favorite at -150. I haven't seen any rumor significant enough to make them that big of a favorite, but then again, all of these payouts are kind of crappy.
The Cavs are a team that I actually have seen floating around on Twitter. Thanks to the Kyrie Irving trade, they have some trade chips to potentially work with if they indeed wanted to acquire Bledsoe.
The Nuggets would probably be my pick if I had to bet on this. They have young pieces that the rebuilding Phoenix franchise would want and based on the rumors, both teams are trying to work something out.
Suns and Nuggets have discussed a trade of Eric Bledsoe for Emmanuel Mudiay and other pieces, league sources told @BBallInsiders.

— Michael Scotto (@MikeAScotto) October 23, 2017
The 76ers and Bucks don't really make sense to me, as they are both young teams that don't need a point guard and probably wouldn't want to give up the assets to acquire Bledsoe. And then you have the Knicks, who are the Knicks.