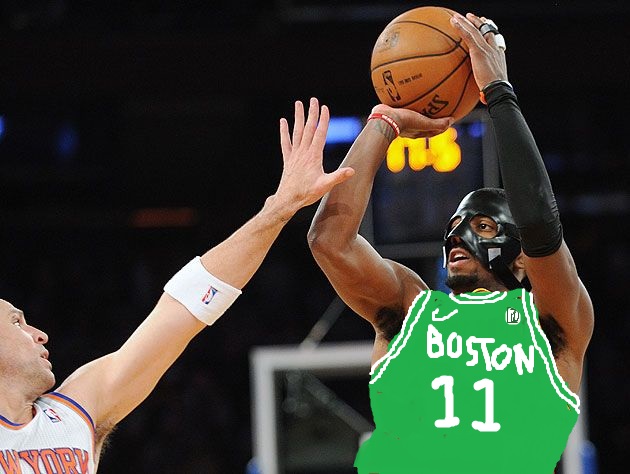 Sharps Expect the Celtics' Historic ATS Start to End Tonight in Brooklyn
Tonight, the Celtics look to snag an easy win against the Nets to extend their win streak to 13 before taking on the always-scary Warriors squad on Thursday.
The Nets don't suck quite as bad as they have over the past couple of years, but they'll certainly have a difficult time scoring points tonight against an elite Celtics defense without their leading scorer D'Angelo Russell. They'll also have to face the mythical beast known as Masked Kyrie (artist rendition pictured above,) who is expected to make his return after missing Sunday's game against the Raptors.
At 11-2-1 against the spread, the Celtics are off to a historic start. No team dating back to the 2005-06 season has ever had as good of an ATS record through 14 games.
With that being said, there has been some noticeable reverse line movement taking place in this game. We've triggered four bet signals on Brooklyn and by looking at our money% feature on the Sportsbook Insider odds page, we can see that money is slightly favoring the Nets despite Boston receiving more than 70% of bets.

As a Celtics fan, I'm not a huge fan of this. It's rather apparent that sharp bettors believe the Nets will put a halt to the Celtics' historic gambling start. Will they still get the win? I probably wouldn't bet on it because I never bet on huge moneyline favorites, but I can't picture Rondae Hollis-Jefferson, DeMarre Carroll, and Allen Crabbe scoring nearly enough points to win.
Check the latest lines and percentages on our free odds page.