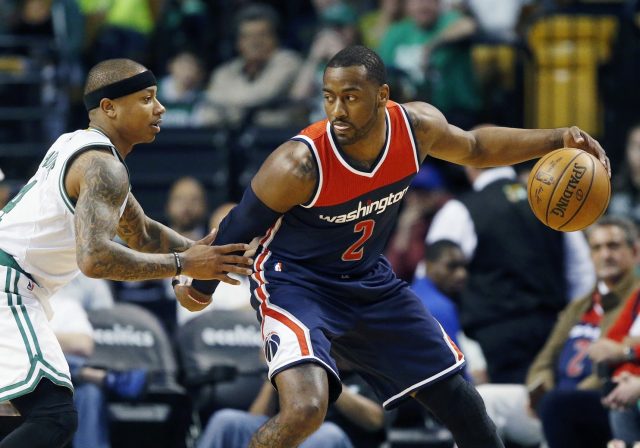 Does Sharp Money Like the Wizards to Bounce Back in Game 3?
After losing the first two games of their first-round playoff series against the Chicago Bulls, the Boston Celtics (47-42 ATS overall, 27-16 ATS as visitors) have rallied off six consecutive victories. They will look to build on that momentum against the Washington Wizards (45-44 ATS overall, 25-19 ATS at home) this evening at the Verizon Center. Leading 2-0, the Celtics odds of advancing to the Eastern Conference Finals have improved from -180 to -475.
The screenshots below, which are available to Sportsbook Insider subscribers, display the line movement and public betting information from the first two games of the series.
Game 1: April 30, 2017

Game 2: May 2, 2017


Public betting was balanced in each of the first two games with the Celtics (closed -4) receiving 51% of spread tickets in Game 1 and the Wizards (closed +5) receiving 51% of spread tickets in Game 2. Although Boston won and covered in both games, public betting is once again evenly split for tonight's Game 3 matchup.
Conventional wisdom dictates that home-court advantage is worth approximately 2.5 to 3 points, but the Wizards actually opened as 5-point home favorites at the market-setting Bookmaker.eu. The magnitude of every game increases during the playoffs, and the crowd becomes a larger factor. This causes oddsmakers to place additional value on home-court advantage.
Home-court advantage can be worth as much as 4-points during the NBA Playoffs according to @ByScottCooley @bookmaker_eu.

— David Solar (@TheDavidSolar) May 4, 2017
It's atypical for the majority of tickets to back the underdog, however, that tendency changes during the postseason and casual bettors are increasingly willing to take the points and hope for a competitive game. That's exactly what we're seeing tonight.
Since 2005, the majority of spread tickets have taken the underdog in 21.9% of regular season games and 38.7% of playoff games. Combine that tendency with the Celtics recent hot streak, and it's not surprising that the majority of spread tickets (54%) have been taking the underdog.
Despite that public betting, the Wizards actually moved from -5 to -6 in early action. Although it initially looked like sharp action was driving this line movement, it was actually a position play. Sharp bettors weren't looking to take Washington, they were looking to drive the line up so they could take Boston at a better price. After the line reached Celtics +6, sharp bettors pounced on the underdog at their inflated price. This caused the line to drop 1.5-points in a one hour span.
[click image below to enlarge]

Although the ticket count is fairly even, the Wizards were actually receiving 76% of early spread dollars (although that number has since fallen to 65%). This indicated that large wagers (presumably placed by sharp bettors) had been hammering the chalk. That sharp money was confirmed by a steam move on Washingon (-5.5) triggered at Heritage. It may not be a market-setting sportsbook, but Heritage is a fairly sharp book and their NBA steam move has consistently been an excellent indicator of sharp money. In fact, the Heritage steam move has gone 108-85 ATS (56%) this season and 430-363 ATS (54.2%) since their introduction in 2011.
Before sharp bettors hammered the Celtics, early action was all over the Wizards. "The wiseguys certainly think [the Wizards are the better team] as we've seen more action from them on Washington than we did on Boston in either of the first two games in this series," Scott Cooley, a spokesman from Bookmaker.eu. "They are very close in terms of rating. Public loves the over again in Game 3 but the wiseguys are siding with the under."
After the sharp buyback on Boston, Cooley acknowledged that their most respected bettors placed smaller bets on Washington so they could get a better number on the other side. "It was a position play," confirmed Cooley. "Driving it up and then hammering back down." Furthermore, Cooley stated that they took far more sharp action on Boston +5.5 and +6 than they did on Washington -5 and -5.5.
Sportsbook Insider Pro subscribers also have access to real-time odds, public betting trends, money percentages, bet signals (including steam moves and reverse line movement alerts), injury alerts, value meter, line watcher, line predictor, and many other unique features. Looking to try our service? Sign up now for a 4-day trial and start winning today!
Have any questions for the staff at Sports Insights? Make sure to utilize our live chat or call us directly at 877-838-2853.