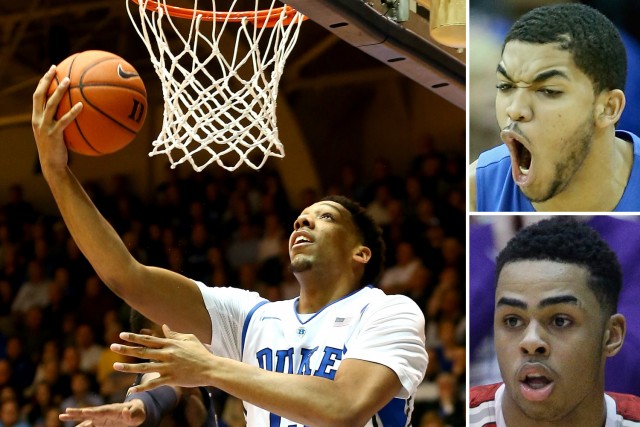 NBA Betting Trends: Take Advantage of Late Season Tanking
Welcome to a brave new world. In this world, fans actively root against their favorite franchise, hope for losses, and utterly disdain the possibility of making the playoffs. In this world teams don't seek to accrue more wins, they seek additional ping pong balls. This scourge may have existed for years, but it's only recently that tanking has gained notoriety in the mainstream media.
Last season supposedly featured one of the best draft classes since LeBron James entered the league in 2003. The line "Riggin' for Wiggins" was repeated ad nauseam as tanking took its place at the epicenter of the NBA universe. In fact, this epidemic reached such ridiculous proportions that ESPN's Chad Ford was inspired to write a weekly column known as the "Tank Rank" to examine the ten worst teams in the league and analyze their chances of landing the top overall pick.
Now many people dismiss the possibility of tanking, instead suggesting that NBA players are far too competitive to throw games simply to improve the number of ping pong balls they have in the draft lottery — and they're probably right. However, when teams like the Celtics continually trade away valuable role players for draft picks, it's obvious that their focus is on the future and not the present.
This tanking trend seems to become more obvious late in the season when teams know that they're out of the playoff hunt. If you're not playing in the postseason, why not give your young players a chance for some on the job training? They'll take their lumps and improve their skill set, all while increasing your probability of losing. This was the strategy employed by the Oklahoma City Thunder, and it has helped transform them from a laughing-stock to perennial contender.
Tanking is the reason why Celtics GM Danny Ainge dealt away arguably his top two performers — Rajon Rondo and Jeff Green — for protected first round picks. It's the reason why the 76ers gutted their roster of veterans and spent two lottery picks on players (Joel Embiid and Dario Saric) who aren't expected to log a single minute this season. It's the reason why five different teams (Boston, Orlando, Utah, Milwaukee and Philadelphia) feature starting lineups where the average age is less than 25 years old.
Our goal was to utilize our Bet Labs software to focus on losing teams during the last few months of the season. In order to accomplish this, we used the "game number" filter to focus only on the final 27 games of the season which roughly correlates with games played after the All-Star break. In order to examine the cellar dwellers, we focused teams with a winning percentage of less than 40% by using the "Team Win %" filter. We then selected the "underdog" filter to ensure that we were looking at the worst teams in the league.
This system produced a losing record and woeful return on investment (ROI); however, sometimes a losing system can be just as helpful to bettors as a winning one. By selecting the "fade system" option, we were able to find that it would be profitable to bet AGAINST these bottom feeders.
These criteria resulted in a 912-810 ATS record, which produced 58.39 units earned but a return of investment of just 3.4%. Our hypothesis was that tanking teams would be unlikely to put together any sort of winning streak. After all, every win pushes the team further and further from their goal of drafting a franchise caliber player. So what if we only looked at these tanking teams following a win?
The screenshot below, using closing lines from Pinnacle, shows the historical performance of this betting system.

As you can see, fading these "tanking" teams becomes significantly more profitable when they have won their previous game. Since 2005, teams fitting this criteria have gone 274-206 (57.1%) ATS with 55.09 units won and a 11.5% ROI.
Bettors should also know that this system fits the three main characteristics of a winning betting system: significant sample size, a strong driving theory and consistent year-to-year results. In fact, the table below shows that there has only been one season (2011-12) where this system lost more than one unit.
| Year | ATS Record | ROI | Units Won | #1 Pick |
| --- | --- | --- | --- | --- |
| 2013-14 | 24-22 | 2.10% | +0.99 | Andrew Wiggins |
| 2012-13 | 38-25 | 17.60% | +11.10 | Anthony Bennett |
| 2011-12 | 13-15 | -9.30% | -2.60 | Anthony Davis |
| 2010-11 | 30-28 | 1.70% | +0.98 | Kyrie Irving |
| 2009-10 | 38-23 | 22.10% | +13.46 | John Wall |
| 2008-09 | 30-26 | 4.70% | +2.61 | Blake Griffin |
| 2007-08 | 37-16 | 36.50% | +19.32 | Derrick Rose |
| 2006-07 | 19-18 | -0.30% | -0.13 | Greg Oden |
| 2005-06 | 22-21 | 0.10% | +0.06 | Andrea Bargnani |
| 2004-05 | 23-12 | 26.60% | +9.30 | Andrew Bogut |
As of our most recent update, the Knicks (19.2%), Timberwolves (20.5%), 76ers (22.8%), Lakers (25.6%), Magic (32.1%), Kings (34.6%), Nuggets (37.2%) and Pistons (38.5%) all have winning percentages of 39% or less, thus making them potential system matches. Strong recent performances by the Celtics, Pacers and Jazz have pushed these teams well outside of this range.
We've already seen a number of key players declare for the 2015 NBA Draft including seven players from Kentucky. It's worth monitoring the situation involving players like Jahlil Okafor, Justise Winslow, Stanley Johnson and D'Angelo Russell as teams may be further incentivized to tank based on the available player pool.
Bet Labs users are able to receive all current game matches for this system by copying it directly from our Think Tank. Bettors can also track the latest odds and public betting trends by visiting our free NBA odds page.
4/9/15 Update: This system has gone 24-20 ATS during the 2014-15 season and is now 298-226 ATS (+57.95 units, 11.1% ROI) overall.